Supportive Role of Health & Wellbeing Books
October 5, 2020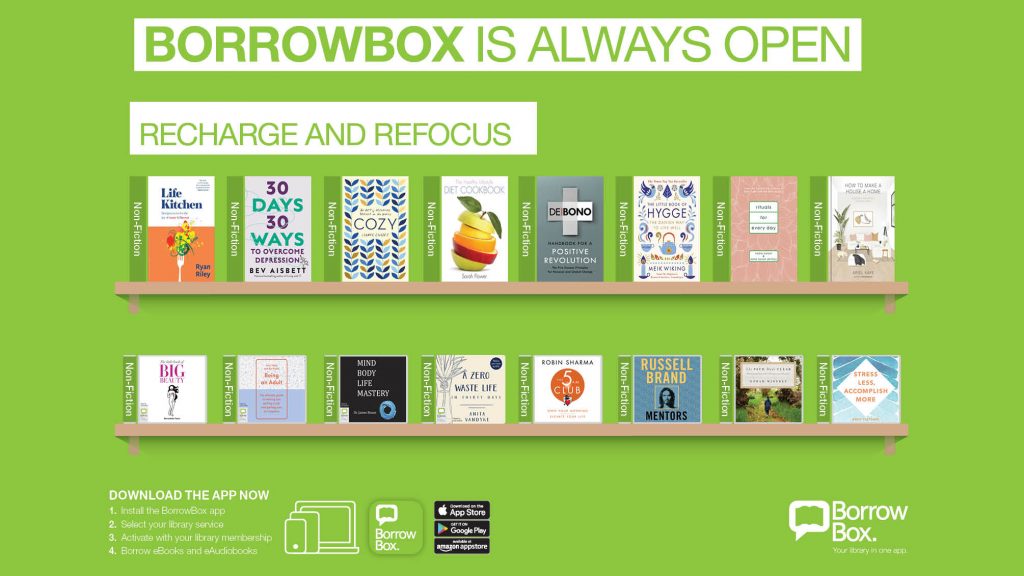 Over the last six weeks, Welsh Libraries in conjunction with Borrowbox, the All-Wales e-books and e-audioBooks provider, have brought you a wealth of Health & Wellbeing book recommendations available through your library's Borrowbox service.
These resources were made available thanks to additional Welsh Government funding made available to support users of public libraries in Wales as a result of library closures and self-isolation in response to the COVID-19 pandemic.
A new theme was introduced every week via the @WelshLibraries and @LlyfrgellCymru Twitter sites, and the @WelshLibraries and @LlyfrgelloeddCymru Facebook sites, and shared by individual library authorities across Wales. Book recommendations were made in Welsh and English, covering a wide range of health & wellbeing topics under the following themes:
Recharge and refocus
Feeling better
Joy at work
Happy parenting
Live well
Why not browse through these invaluable titles for yourself? To use the Borrowbox service you must be based in the UK and be a registered member at a participating Welsh library. Not a member of a library? 'Join the Library' here.
If you are already a library member, you can borrow straight away by following the link on your local library website. Local library members can browse and borrow bestselling e-books and e-audiobooks on any Apple iOS and Google Android device for limited periods through digital loans. Get the app now from the App Store and Google Play and start borrowing, downloading and enjoying e-books and e-audiobooks today.
https://libraries.wales/my-digital-library/borrowbox/