#ExpressYourShelf this Libraries Week to Celebrate Books and Reading
October 8, 2020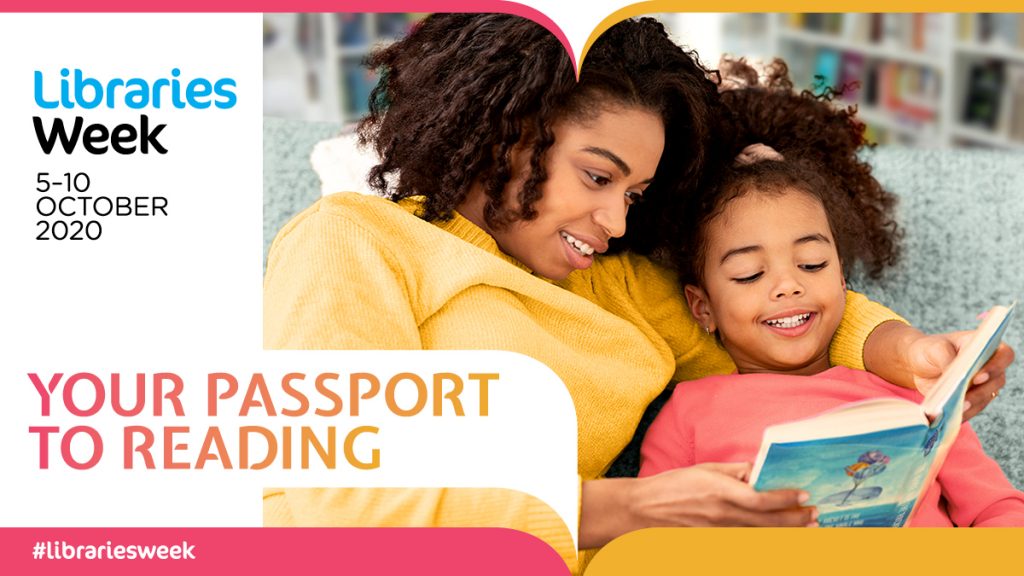 In 2020, Libraries Week will take place between 5-10 October, celebrating the nation's much-loved libraries and their vital role in the UK's book culture. It is a chance for libraries in all sectors to celebrate books and reading, showcase their reading offer and the contribution they make towards building a Nation of Readers.
'Libraries are the palaces of imagination', says Eloise Williams, Children's Laureate Wales. 'There is a truly magical connection being made every time a story is read. Each book is an enchanting spell of words. You, as the reader, are an essential part of creating that magic. Without you the story doesn't exist. All you have to do to be a magician is pick up a book and read!'
Here are some recent library initiatives to give you ideas & inspiration …
The #ExpressYourShelf hashtag initiative has been introduced this year as part of Libraries Week, with Kirsty Williams, the Minister for Education in Wales, Children's Laureate Wales, Eloise Williams, Bardd Plant Cymru, Gruffudd Owen, and our Authors of the Month, Stevie Davies and Daniel Davies, amongst others, taking part in sharing images of their reading shelves and favourite books on social media channels.
Libraries across Wales will be holding online events to celebrate Libraries Week such as author interviews & book launches. Denbighshire Libraries will be chatting to local author Kat Ellis and finding out about her latest novel, Harrow Lake during the week, and Ceredigion Libraries will be interviewing Welsh tenor Aled Wyn Davies and rugby star Luke Upton about their recent publications.
Welsh Libraries will be launching a new Teen Blog on their website, a bilingual platform for young people in Wales to share reading experiences! Look out for their first Blog, a review by Sian Williams of 'Girl with a Louding Voice' by Abi Dare. Click here to read the Blog.
Online Book Group Wales was formed in April this year to support readers during self-isolation whilst usual library reading groups can't meet, and since April almost 400 members have joined. Welsh & English-language titles become available at the start of each month through the Welsh Libraries Borrowbox service, and two discussions take place over the course of the month. The Book Group can be found on the @WelshLibraries Facebook page, and there is a warm welcome to new members during Libraries Week.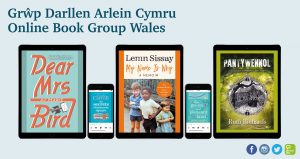 BookTrust Cymru HomeTime is a bilingual resource for you to explore and have fun with as a family. The website has a wide range of stories to enjoy, rhymes and songs to share, and fun games and activities from some great authors, illustrators and storytellers from Wales. Test your knowledge in book-themed quizzes, or even learn to draw some of your favourite characters. 
The National Shelf Service is a YouTube broadcast featuring book recommendations from professional librarians. Launched by CILIP and the Youth Libraries Group and supported by Nielsen Books, OverDrive, RB Digital, Bolinda and Libraries Connected, the daily videos have been helping children and families discover new, diverse reading experiences. From April to June broadcasts ran Monday to Friday at 11am with weekly broadcasts released over the Summer. The selected titles were available to borrow as e-books from most local libraries via their websites. For further information on how to access the e-book recommendations via your local library please visit www.cilip.org.uk/NationalShelfServiceFAQs.
Libraries Connected has been recently showcasing the best digital services from public libraries in England, Wales and Northern Ireland through their #LibrariesFromHome initiative. On their Libraries from Home pages you can find online rhyme times, story times and lego clubs that support early literacy and creative thinking. They are also promoting activities to keep adults connected through library reading groups and book discussion groups.
The Reading Agency Hub gives access to a wealth of ideas, activities and challenges from across their programmes to entertain and educate you and your family. The activities are available to download, and include Digital Reading Packs, Subject specific Book Lists, including supporting health & wellbeing in challenging times.
The Reading Agency supported a Digital Summer Reading Challenge this year, which was also available with a Welsh-language platform for the first time in Wales, supported by Welsh Government and the Welsh Books Council. The theme of the challenge this year was 'Silly Squad' and celebrated funny books, happiness and laughter
Keep up to date with Libraries Week 2020 by following @librariesweek and share your plans using #LibrariesWeek http://www.librariesweek.org.uk