Taking Action and Changing Lives for Libraries Week 2021
October 4, 2021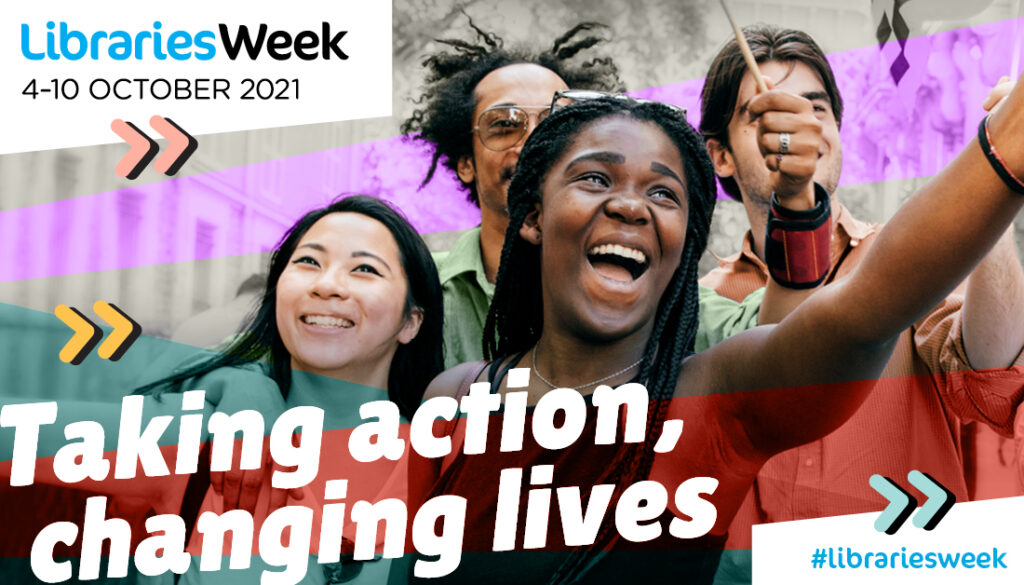 Libraries Week is a week-long celebration of the nation's much-loved libraries, with a focus in 2021 on supporting active and engaged communities and the central role that libraries play in their community as a driver for inclusion, sustainability, social mobility and community cohesion.
Throughout the week, libraries in Wales will be taking action through a variety of events to engage the local community, with activities for adults and young people, including the latest release of author content from the Estyn Allan Digital Project.
The project was set up thanks to a grant from the Welsh Government's Cultural Recovery Fund, and in 2020 launched an exciting digital training package for staff across all Local Authorities in Wales to access. The training programme has been invaluable in creating a foundation for Welsh Libraries to promote their library offers to existing and new audiences into the future.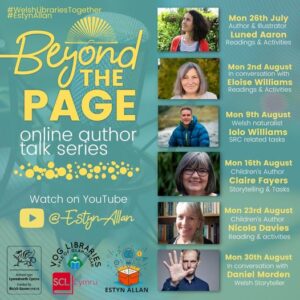 The project has been working with the Crime Cymru Welsh crime writing collective over the Summer and have a variety of content to release, including interviews, author videos and a live event featuring Crime Cymru writers Alis Hawkins and Katherine Stansfield. Both authors write historical fiction which covers a wide range of time periods from the medieval to the early twentieth century.
In the online event, taking place on 30 September, the pair will explore what historical fiction is (and isn't!), and how they craft their discoveries into gripping stories. The Estyn Allan Project will continue to release Crime Cymru Welsh crime writing collective author content over approximately 5 weeks starting  4thOctober (each week containing 4 or 5 videos from various authors).
During Libraries Week we will be celebrating the invaluable role of libraries in improving wellbeing and promoting equality through learning, literacy and cultural activity with regular events and activities held throughout the year. These activities include storytime & rhyme sessions for children (held both in the library setting and online), family history sessions, IT support sessions and author events. The newly developed library management service app PORI will be launched during the week, giving library users a more convenient way of accessing their library accounts online.
Denbighshire Libraries are launching a Reading Friends group in Rhyl Library during Libraries Week. If you are feeling isolated and would like to meet new people why not join the group for a cuppa and a chat? Please contact Rhyl Library to book a place on 01745 353814.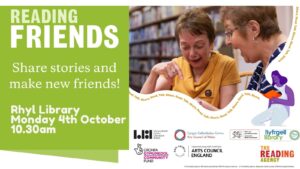 As part of Libraries Week celebrations, Ceredigion Libraries will be hosting the following excellent events on their Facebook page:
Monday, 4 October – Interview with Non Parry from pop group Eden (Welsh-medium).
Tuesday, 5 October – Announcement of Summer Reading Challenge competition winners.
Wednesday, 6 October – Gwenallt Llwyd Ifan, winner of the Eisteddfod AmGen 2021 Chair, reads an extract from his winning poem (Welsh-medium).
Thursday, 7 October – Interview with gardener and author, Huw Richards (English-medium).
Friday, 9 October – Launch of Booker Prize Poll.
During October, authors Nicola Davies and Bethan Gwanas will be featuring as Libraries Wales Authors of the Month, and readers will get a special insight into their new books, as well as finding out about their favourite authors and how libraries have inspired them. Nicola Davies's The Songs that Sings Us is a stunning environmental epic with cover and chapter illustrations by award-winning illustrator, Jackie Morris, and Bethan Gwanas introduces her latest adventure Cadi a'r Gwrachod in the popular series featuring Cadi, the mischievous little girl, with illustrations by Janet Samuel.
The popular Summer Reading Challenge returned this year and children aged 4 to 11 could become involved both through their local authority library or online. The Challenge, presented by The Reading Agency, is delivered in partnership with public libraries and funded by Arts Council England, and in Wales by the Welsh Government and Books Council Wales. The Challenge encourages children to enjoy the benefits of reading for pleasure over the summer holidays, providing lots of fun as well as helping to prevent the summer reading 'dip'. Each year the Challenge motivates over 700,000 children to keep reading to build their skills and confidence.
This year's Summer Reading Challenge theme was Wild World Heroes, created in partnership with WWF and illustrated by award-winning children's author and illustrator Heath McKenzie. Wild World Heroes inspired children this year to explore ways of helping to save the planet, with a focus on taking action for nature and tackling real-world environmental issues, from plastic pollution and deforestation to wildlife decline and nature loss. Through taking part in the Challenge, children were able to join the Wild World Heroes to help solve some of these threats, learning about the importance of the environment while helping to restore nature levels in the neighbourhood of 'Wilderville'.
In Wales, authors Luned Aaron, Emma Rea and Eloise Williams, and nature observer and television presenter Iolo Williams presented engaging videos supporting this year's Wild World Heroes theme, via the Estyn Allan Youtube Channel and the Libraries Wales website. The videos present current environmental issues, with suggestions for reading titles, reinforcing the invaluable role libraries play in offering engaging reading material for free to children in Wales.
Rebecca Evans, Minister for Finance and Local Government, said:
"Libraries play a vital role in our communities and can help change lives. Helping people, especially children, to form the lifelong habit of reading is central to many of the projects we support.
"I hope people will get involved and enjoy the programme of activities being carried out across Wales during Libraries Week."
Search the Libraries Wales website to find out more about all of the services and activities that libraries across Wales have to offer throughout the year to engage our communities.
New visitors can get involved today by signing up for a library card  and keep up to date with the latest news and updates, by following us at @LibrariesWales on Facebook, Twitter and Instagram. 
Libraries Week 2021 is sponsored by Nielsen and Bolinda / Borrowbox, organised by CILIP, the library and information association, and supported by partners including The Reading Agency, Libraries Connected, Arts Council England, London Libraries and the School Libraries Association