Swansea Libraries Celebrate 50th Year of City Status
February 18, 2020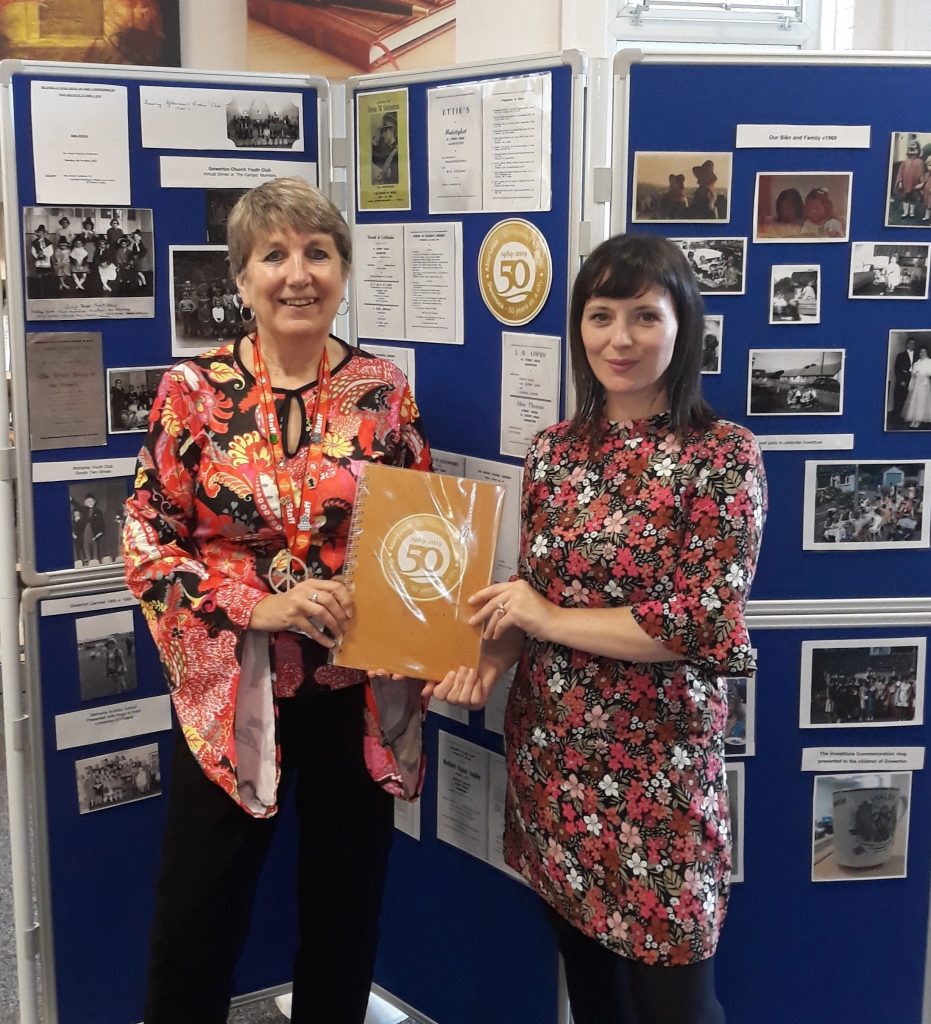 Swansea celebrated 50 years as a city in 2019, with Swansea Council leading a programme of events and activities to mark this special anniversary.
As a council service and one with a strong presence in many local communities, Swansea Libraries were keen to take part in the 50th Anniversary celebrations of the award announcement of city status to Swansea in July 1969.  Events to celebrate the anniversary included 1960s themed fancy dress, summer birthday parties, music and quizzes, plus traditional children's games.  Some libraries focused on the moon landings to tie the celebrations into the theme of the 2019 Summer Reading Challenge. The specially commissioned Swansea@50 logo appeared at library events, on posters and on bunting bedecking library counters and walls, and a giant Swansea@50 birthday card was produced for customers to sign, along with commemorative books and corporate displays, plus an oversized themed deckchair for selfies and other photos!
Community Library staff worked with local history societies to host displays of articles and photographs covering the local area over the last 50 years, with specific memories of 1969.  The biggest display was created by staff at Swansea Central Library covering items taken from our collections of historic photographs and newspapers, supported by a display of album covers from local singers, groups and choirs taken from the extensive Local Studies Collection housed at Swansea Central Library.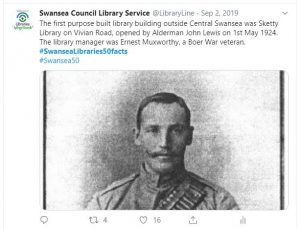 Social media featured strongly in the corporate agenda to promote the celebrations, and Swansea Libraries played their part by retweeting posts from @Swansea50 in our Swansea Libraries Twitter feeds @LibraryLine @DiscoverMore and on Facebook.  Carrying on from the theme of #Swansea50, Swansea Libraries staff created a Welsh and English social media campaign to promote #SwanseaLibraries50facts, based on the idea of promoting 50 things that people might not know about Swansea Libraries!  These included current information, historical facts, hidden 'gems' of our collections whilst others were based on highlighting resources or library services that customers might not be aware of. An additional display was created at Swansea Central Library from these posts.  We've also placed a selection of the material on our website, so that it is made available to support the broadest possible audience. 
Swansea Libraries also  supported initiatives to promote Swansea@50 organised by other Council services, for example, library staff contributed information and music items from the Local Studies Collection to '50 Years of Music in Swansea', an exhibition organised by the Fusion Programme and held at Swansea Museum. Library staff also created a display of material on Evan Roberts and the Welsh Revival to promote Calon Lân: The Musical, a show held at Swansea Grand Theatre and specially commissioned as part of the Swansea@50 celebrations.
Perhaps the biggest single event and the grand finale of the Swansea@50 celebrations took place at Swansea Central Library on 14 December 2019 with a special talk on Swansea's journey towards city status, marking the anniversary of the actual handing over of the charter of city status in December 1969.  Delivered by John Alban, former City Archivist, the event was introduced by Lord Mayor of Swansea, Councillor Peter Black, and was well received with the largest attendance of the year!
Find out more about Swansea's celebrations of fifty years as a city (with an honourable mention to Swansea Libraries!) in this review of the year.