Roy Noble and Karl Davies Publish New Children's Books with Graffeg
June 17, 2020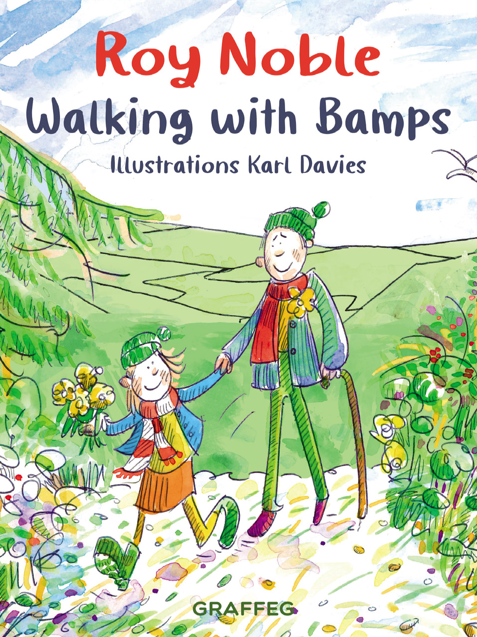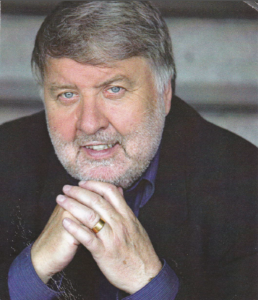 Much loved BBC broadcaster & presenter Roy Noble is a native of Brynaman in the Amman Valley of Carmarthenshire but has lived for over forty years in Aberdare. Following a career in education, rising to headmaster in two primary schools, he eventually joined the BBC, where his daily radio programme has attained high listening figures in Wales for many years, culminating in a national Sony Award. He has already established himself as an engaging writer, most recently with Down the Road and Round the Bend (Graffeg), a collection of traditional stories and urban myths from Wales. Now he's turned his hand to children's fiction, with two charming new releases this year, 'Walking with Bamps' and 'The B Team', both illustrated by Welsh artist Karl Davies.
We caught up with Roy to ask him about his latest publications …
What inspired you to write both Walking with Bamps and The B Team?
[Walking with Bamps] When I was in a pure career … education, before I ventured into broadcasting, I was a primary school headteacher. I was always a fan of inter-generational links. That  jump of a generation, child to grandparents, was very beneficial for children. Grandparents on occasions had more time, more patience in chatting and passing information to children in a gentle, informal and relaxed way. Passing the time of day with each other could be very rewarding.
[The B Team] I've always thought that all youngsters have a right to be, are unique and have something to offer. I always encouraged them to 'keep on keeping on'. It's not how low you fall in life, but how high you bounce.
Tell us something about the stories you've created 
[Walking with Bamps] Bronwen walked with her grandfather, Bamps, every Saturday. The walks were not strenuous – after all, Bamps needed a new hip, but his chat was informative, even if, on occasion, he'd 'elasticate', stretch the truth … I mean, is it true that planets in the sky don't twinkle, but stars do? Is it right that if a cow is bored, she will point her nose to the north?
As for Bronwen, she felt that she could tell Bamps anything, even things she couldn't tell her mother.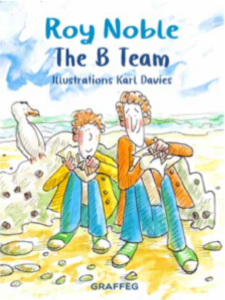 [The B Team] Rhodri, the main character in the book, is from a broken home, Dylan the dumped sheepdog Border Collie is afraid of sheep, and the knight Idris who has slipped through a portal from a parallel universe, missed out on a Round Table seat in the fabled hidden cave where King Arthur rests. He's on a square table in the back room.
All three are 'also rans', second raters … or are they truly? Will they prove that being a part of the B Team is actually a great place to be once you start putting the emphasis on 'team'?
What do you hope readers will take away from the story?
[Walking with Bamps] For children, a feeling that they should speak to grandparents more often. Grandparents are like a library, full of knowledge, stories and history. For grandparents, a satisfaction that they are passing on an important baton of facts and family. In fact, I think aunties have the same duty. I feel there aren't as many aunties about these days. When I was a child, I lived in a street of twenty houses and I had twenty aunties … only three were actually related to me!
What themes did you wish to explore and what are the key messages?
Feelings of low esteem. Lack of self worth and motivation … and how to get over them, with persistence and inner good-will towards yourself, being fair to yourself. Children suffer all of these emotions and they can be destroying.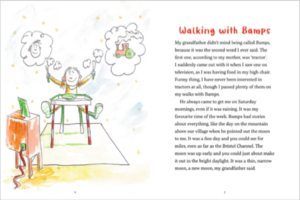 Why do you enjoy writing for children?
They are in their formative years. You have a responsibility to them. You are the sculptors to their future outlook in life. Give them that final feel good factor. Get them to feel accepted, that they have a place. Whatever so called failings, they can achieve inner contentment and satisfaction. Teach them that, also, praising others can make them feel good too.
What books inspired you as a young reader?
Beyond school books on the library shelves, I was a real fan of illustrated books. There were a few where you could follow the story by the illustrations, but underneath the drawings were two rhyming lines and a further, slightly longer prose on the actual facts … Rupert Bear in Nutwood, and my favourite adventure author, Robert Louis Stevenson. Treasure Island' was fine, but I preferred Kidnapped with David Balfour and Alan Breck Stuart, roaming the Highlands of Scotland and avoiding capture by the English soldiers. I was also an avid reader of The Eagle comic, with Dan Dare – pilot of the future, fighting the Treens and their leader The Mekon, riding on his very mini flying saucer. All the spoken words were in balloons. I still have The Eagle and Rupert Bear Annuals on my shelf now, and Kidnapped illustrated.
What books have you enjoyed recently?
Last Coal Train to Tenby' ... again! – I confess to writing the Foreword, but it takes me back, which I need to do often, to my annual holidays in Tenby. My paternal grandparents were from there.
The Master / Bryan MacMahon … also again! – I met him in Listowel, Ireland, years ago. Like me, once a headteacher. His tales are gentle trails of school-day memories, of children and happenings.
Peter Ustinov in Russia – I love his way with words, in description and colour … one quote –  'Love thy neighbour, but build a wall(!)'
Wind in the Willows – Charming … I often dip into it. I'm encouraged by it in writing for children.
Brecon Beacons Myths and Legends / Horatio Clare – I love such tales of Wales ad I was once Horatio's headteacher in Llangattock Primary School.
The Little Mistake / Nicola Davies – I love Nicola's children's books … illustrated by Cathy Fisher.
Gettysburg – I have an avid interest in battlefields and the 'what if's' of history. I have visited many.
Walking with Bamps & The B Team are Roy Noble's first two children's books, and have been published by Graffeg, and illustrated by Karl Davies. Both titles will also soon be available in the Welsh-language, and in e-book & audio book format (with Roy narrating in both Welsh and English) through Graffeg.