Rhymes and songs take centre stage as the Big Welsh Rhyme Time returns for 2022
February 4, 2022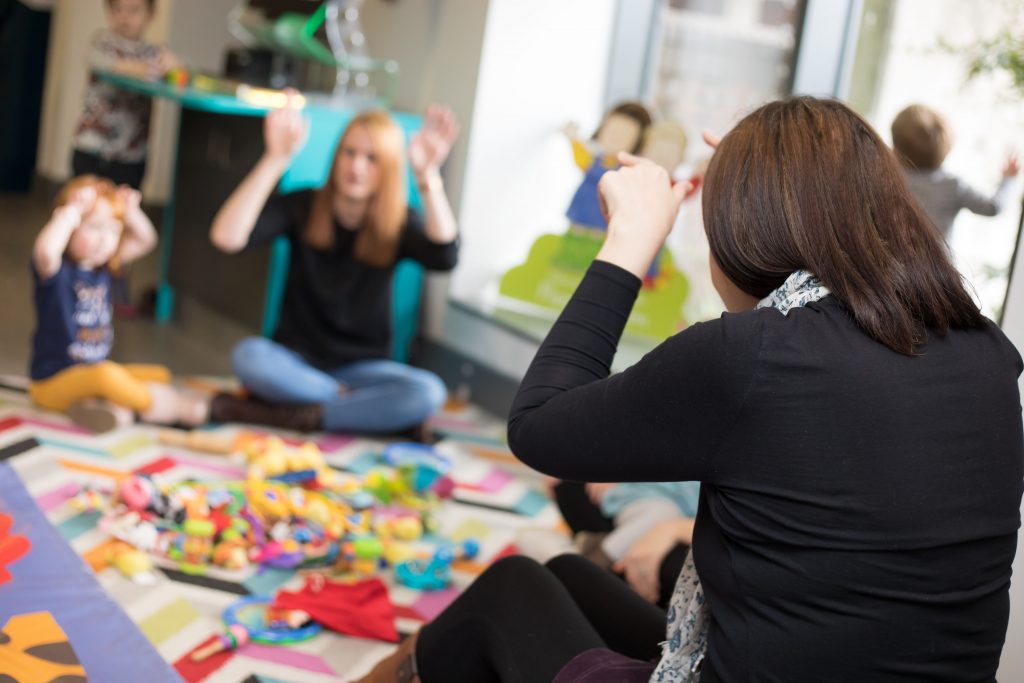 BookTrust Cymru, the children's reading charity, is encouraging families, schools, and early years spaces across Wales to join in with Big Welsh Rhyme time this February.
Now entering its fourth year, Big Welsh Rhyme Time is a week-long national celebration of sharing bilingual rhymes, poems, and songs with children in their early years. It is delivered in partnership with nurseries, schools, libraries and other settings supporting children across Wales.  Families can also take part online where they will find fun videos from authors and storytellers, activity sheets and competitions.
In 2021, the Welsh Government announced an additional £5m in funding for reading programmes across Wales to "ignite a passion for reading" including additional investment for BookTrust Cymru. This year, thanks to this additional funding, BookTrust Cymru is set to extend its reach through Big Welsh Rhyme Time. As well as reaching children and families through libraries, schools and early years settings, the charity will also engage those families who need the most support directly and ensure they are provided with support and encouragement to get involved. More than 450 settings and 24,000 children aged 0-6 are set to take part.
As well as creating fun moments for children, engaging with books, stories and songs at an early age is essential in encouraging a playful approach to language and social skills development and helps support the holistic development of babies and young children. Rhyming is a wonderful way for children to build their confidence to speak, sing and join in.
Big Welsh Rhyme Time 2022 will run from 7th – 11th February 2022 and this year's theme is #RhymingFunForEveryone with BookTrust Cymru aiming to demonstrate how rhyming and sharing stories can be accessible for all families and be incorporated into everyday life activities.
Kate Cubbage, Director at BookTrust Cymru said:
''It is hugely exciting to see the fourth year of our Wales-wide celebration of song and rhyme reaching more children and families than ever before. Funded by Welsh Government, Big Welsh Rhyme Time supports and encourages families all over Wales to have fun singing, rhyming, and engaging with books and stories. Taking part is a great way to strengthen children's relationships with language, build their confidence and support them on their wider reading journey. We are grateful for the contributions of our network of partners across schools, libraries and early years settings, who have worked with us to ensure that all children in Wales have the opportunity to take part in the week's celebrations."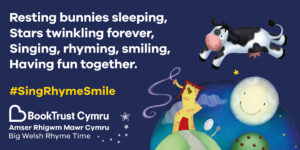 Minister for Education and Welsh Language, Jeremy Miles said:
"Rhyming and singing are so important for language development as well as being a fun and engaging way for our youngest learners to develop fundamental skills for life.  I'm delighted that more young children than ever will be able to take part in this year's Big Welsh Rhyme Time as a result of Welsh Government investment.  It's important that everyone has access to activities like this that help develop their skills and build their confidence – this is particularly important in supporting children from our most disadvantaged backgrounds. I hope that many families across Wales will enjoy taking part in the activities on offer throughout the week."
Big Welsh Rhyme Time 2022 will feature a new poem written by current Children's Laureate Wales, Connor Allen as well as rhymes and songs from Dai Woolridge, Gillian Brownson, David Lennon, and former Bardd Plant Cymru, Aneirin Karadog.
To find out more visit the BookTrust Cymru website or follow their Twitter @BookTrustCymru  
About BookTrust: 
BookTrust is dedicated to getting children reading because we know that children who read are happier, healthier, more empathetic and more creative. Their early language development is supported and they also do better at school.  
We are the UK's largest children's reading charity; each year we reach 3.9 million children across the UK with books, resources and support to help develop a love of reading, because we know that reading can transform lives. 
We work with a variety of partners to get children excited about books, rhymes and stories, because if reading is fun, children will want to do it. Our books are delivered via health, library, schools and early years practitioners, and are supported with guidance, advice and resources to encourage the reading habit.