Make some me-time this autumn in your library
May 24, 2018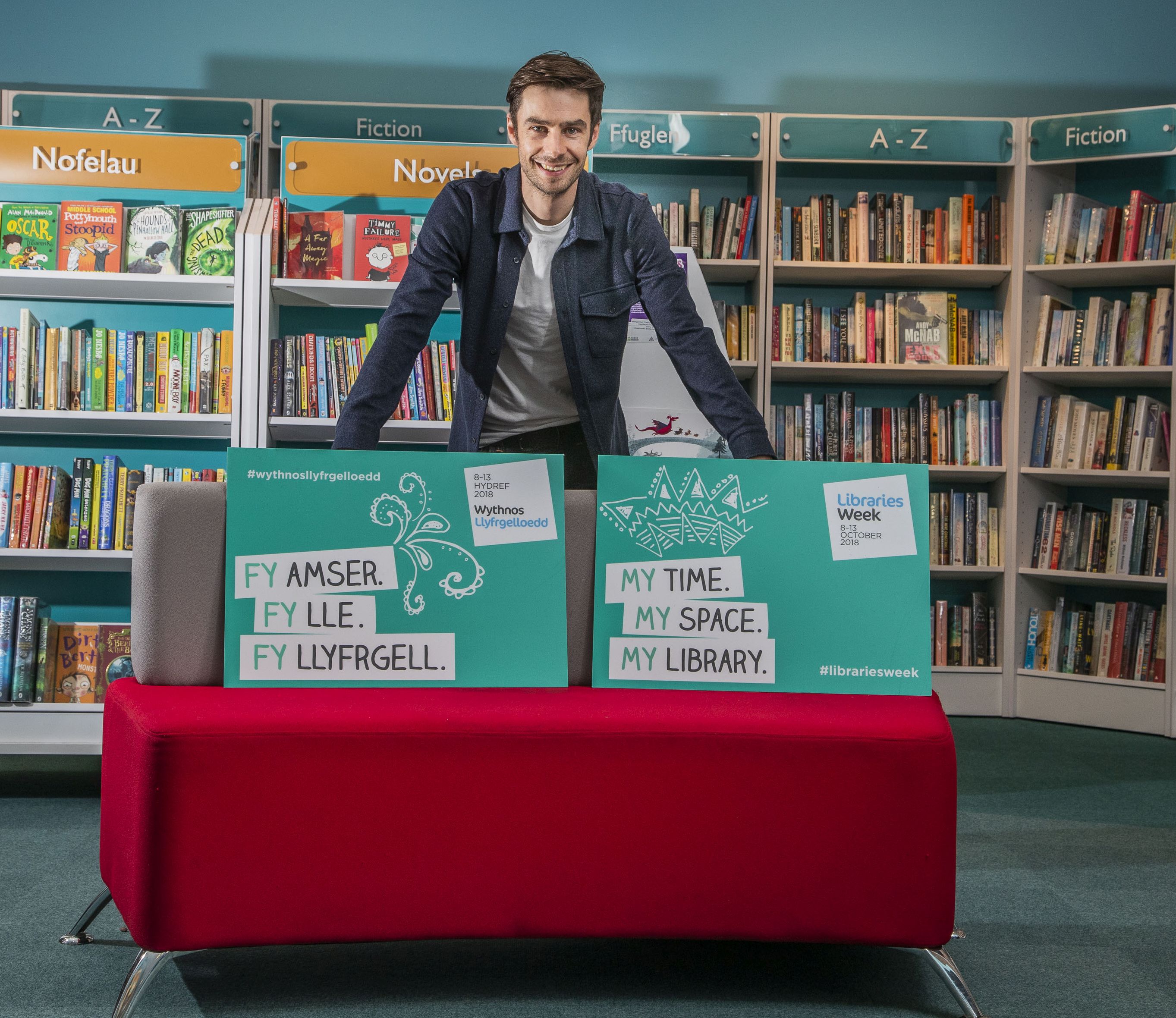 Libraries across Wales will be coming alive this October and showing how they can play a key role in our wellbeing. Across the country, libraries will be hosting guest authors and illustrators, group reading sessions, educational and literacy activities, musical events and much more to entice you during Libraries Week (8-13 October).
Libraries Week is the annual showcase of all the creative, innovative and diverse activities that libraries have to offer and this year, with a focus on wellbeing, they will showcase how they bring communities together, combat loneliness, provide a space for reading and creativity and support people with their mental health.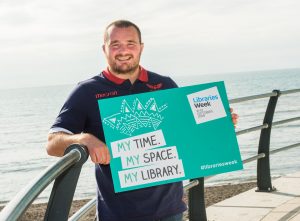 Award winning support
With so much going on, the week this year will be launched at Newtown Library by award winning author Hayley Long where she will hold a workshop with a group of local schoolchildren. In addition to winning the Welsh Books Council's Tir na n-Og Book award for her book, The Nearest Far Away Place, it has also been longlisted for the Brilliant Book Award 2019, and Hayley very much welcomes the focus of this year's Libraries Week,
"Our libraries are a much under appreciated resource for today's society as they provide valuable support to so many people. In my books I have tried to address the issues young people face in our modern world and how they deal with the issues and pressures that come in their wake. With Libraries Week focusing on wellbeing there is a recognition of the need to offer support, friendship, empathy and opportunities to allow for creativity to flourish in different ways. I feel privileged to play a part in the week itself and would encourage anyone to take the time to visit their local library and see what they have to offer – you may be pleasantly surprised."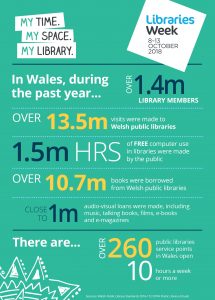 Welsh public libraries have seen a huge increase in their services and in addition to loaning books you can also download e-magazines and audio and more and more of them are offering spaces for people to come together to talk and chat, having identified social isolation as an issue within society.
Welsh Government Culture Minister Lord Elis-Thomas said,
"While Libraries Week is a great chance to discover the range of things you can do at your library, from play and learning for children, to managing your health, to accessing free wifi and games, to finding a job, the focus this year on wellbeing allows us to consider the wider role libraries can play to strengthen our communities. Many libraries are at the centre of people's lives and they have the potential to transform those lives by allowing a space for experiences to be shared and for promoting learning opportunities. 
"I've had great opportunities to see the excellent work that has been done in many libraries throughout Wales with help from the Welsh Government's transformation fund, where libraries have had the necessary investment to reinvent themselves and to make themselves relevant to people's busy lives."
Among other activities taking place this week will be musical gigs, a poetry and illustration day with Wales's Bardd Plant Cymru (Welsh-language children's poet of Wales), Casia William and illustrator Valeriane LeBlond and bespoke awareness sessions with dementia and similar support groups at libraries across the country.
Kathryn Parry is Development Manager for CILIP Cymru Wales, the library and information association and believes Libraries Week is important as it highlights the ongoing vital work of libraries,  
"Working for CILIP is a pleasure throughout the year as I am able to see the breadth of professions supported by librarians and library workers. The aspiration this year of concentrating on wellbeing is a perfect fit as it reflects the variety of services offered.  Our library staff support students in schools, colleges and universities,  while at the same time linking doctors and health professionals with those working in government to research and provide guidance when it comes to academic writing and policy creation. This week is about celebrating the profession as a whole while remembering that these services are delivered all year round and long may it continue to do so."  
Libraries Week is a great opportunity to showcase each individual library throughout Wales and with over 250 libraries across the country in many different shapes and forms, large and small, on wheels or within four walls, there is much to discover.
For the latest news and updates, visit www.librariesweek.org.uk