Llanrwst Library reopens in Glasdir
September 22, 2021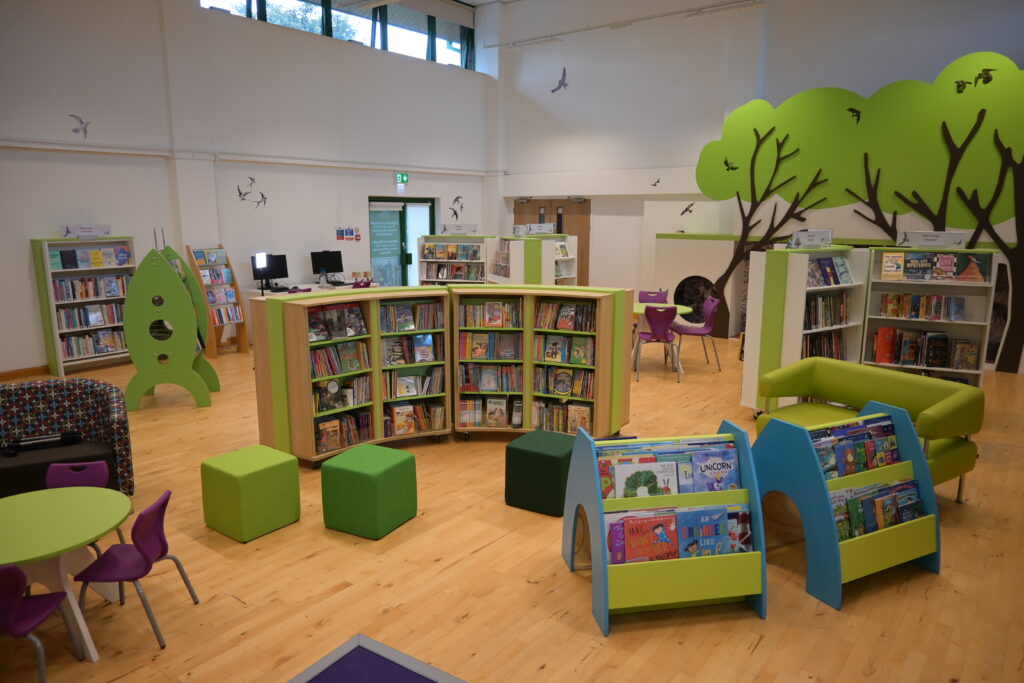 Are you ready for your next cultural adventure?
This week saw the opening of the new Llanrwst Library at Glasdir – a large reader friendly environment with a flagship children's library designed by Opening the Book, world leaders in public library design.
The library has a wide range of books to suit everyone including a health hub with books and information to support physical and mental wellbeing.
A new community hub model will be developed at the library, working with health, the third sector and other council partners to offer services locally. The library will also have computers and Wi-Fi for public use, an exhibition area and a flexible space for meetings, activities and workshops.
Conwy County Borough Council's Libraries team were thrilled that The Story of Wales by Welsh poet, author and publisher Myrddin ap Dafydd and illustrated by artist Dorry Spikes inspired the children's area of the Library at Glasdir.
Myrddin ap Dafydd, originates from Llanrwst, and owns Gwasg Carreg Gwalch publishing company based in the town.
With the support of Myrddin, Dorry and design company Opening the Book, Conwy Libraries have created a flagship children's library. A wide range of Welsh and English books for children of all ages can be discovered with interactive features to explore and spark the imagination. A 'big book' storytelling space has been created for the library's regular storytime sessions and to inspire author sessions and school visits. Dorry was commissioned to produce original artwork for the children's woodland feature.
Myrddin also kindly wrote a poem for the new library, displayed on the wall in the Library.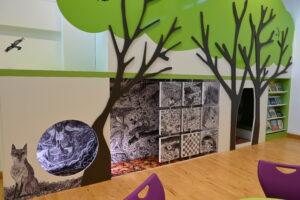 Cllr Mark Baker, Conwy County Borough Council's Cabinet Member for Arts, Heritage and Culture said "We thank Myrddin for his contribution to the Library at Glasdir. And his continued support, enthusiasm and inspiration to many.
"The Library at Glasdir offers the residents of rural Conwy a community hub to access council services, and much more, closer to home. We're proud of the facilities we have, and the services we offer. The Library generates opportunities to develop our cultural and health partnerships, once again highlighting why we're a strong contender for the UK City of Culture 2025. 
"Conwy 2025 will pioneer a community-driven approach. UK City of Culture is all about you, the residents, businesses and visitors of Conwy county – how culture can make a difference to you and your community. The Library at Glasdir can be the heart of your community." 
The relocation has been made possible thanks to Welsh Government funding through the Transforming Towns investment programme.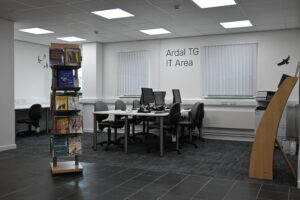 Lee Waters, the Welsh Government's Deputy Minister for Climate Change, said: "I would like to congratulate everyone involved in this project.
"Through our Transforming Towns programme, we are providing £136 million to further support the economic and social recovery of our town and city centres across Wales and our Town Centre First policy, embedded in Wales' national development plan Future Wales, means that town and city centre sites should be the first consideration for all decisions on the location of workplaces and services."
Why not come along and see for yourself? The Library at Glasdir is open:
Monday, Thursday and Friday 9:30am -12:45pm and 2:00pm to 5:00pm
Tuesday 9:30am to 1:00pm
Wednesday 3:00pm to 7:00pm
Saturday 9:30am to 12:30pm