Libraries Week hailed as great success
October 18, 2017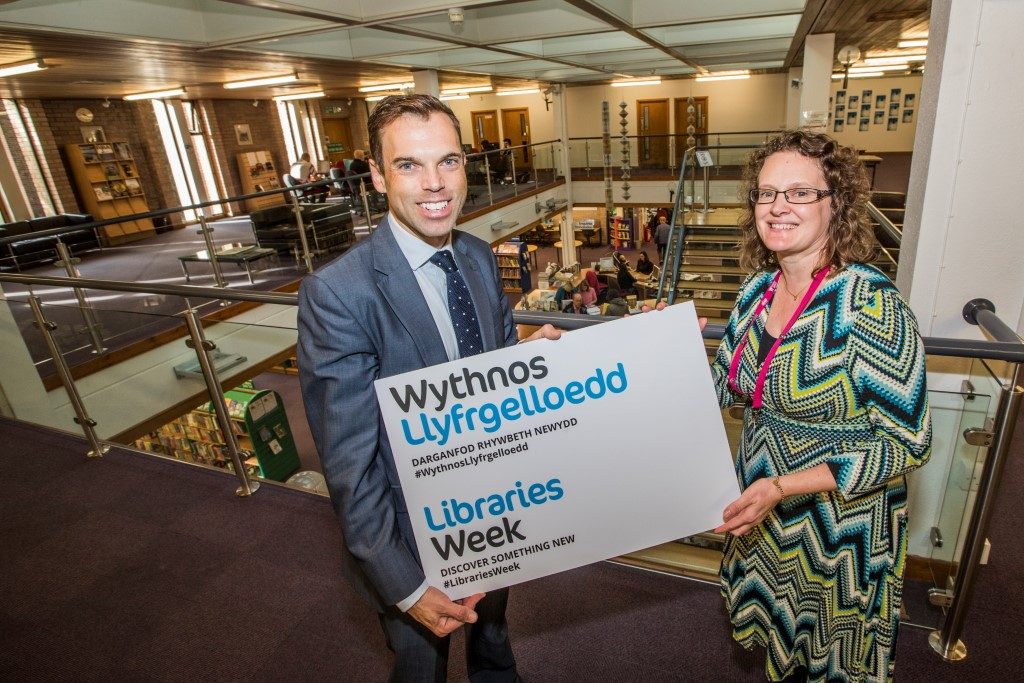 Libraries across Wales have celebrated Libraries Week by encouraging people to visit libraries under the banner of 'discover something new'. Across the country libraries hosted guest authors and illustrators, group reading sessions, educational and literacy activities and so much more.
Welsh Government Cabinet Secretary for Economy and Infrastructure, Ken Skates AM capped off the week by attending a charity coffee morning at Wrexham library,
"The range of activities we saw during Libraries Week is quite incredible but it only represents a snapshot of the wonderful events that are held throughout the year at libraries across the country. Our message is for people to pop along to their local library and discover something new – this could be how to manage your health, accessing free Wi-Fi and games, finding a job – you can even prepare for your driving theory test there.

"Coffee mornings such as the one I attended in Wrexham reflects how so many libraries have become the hub of the community. As well as being a place for learning, libraries are a place to interact, helping to combat social  isolation. Why not visit yours today and find out what it can offer you."
Welsh public libraries have seen an increase in their digital services and whether you are a casual comic reader or like listening to books being read to you, there's now a huge range of choice. Local libraries offer e-magazines, e-comics, e-books and e-audio books, all for free to download to read at your leisure. This has produced a 5% increase in downloads compared with the previous year.
This year's Libraries Week ambassador was comedian Elis James, who visited Cardiff Central library to conduct a Q & A session,
"I was brought up in an environment of having books around me and from a young age I appreciated the importance of reading and how it could broaden my mind. I loved visiting the library and still value what they have to offer, and they have naturally had to widen their appeal and done so very successfully. While Libraries Week shines a light on libraries I'd encourage anyone to take advantage of their local library throughout the year and discover what they have to offer."
In the Wrexham area a host of different activities were organised as Shan Cooper, Lead Librarian explains,
"To celebrate Libraries Week one of the events we hosted was a special evening in the company of renowned crime and thriller authors Paul Finch and Neil White. We then held our Macmillan Coffee morning on Friday as we believe libraries have a role to play in supporting the local community and offering them the opportunity to come together.

"It is great to have a chance to focus on our activities during Libraries Week but it is a a small reflection of what libraries offer all year round – so why not take advantage of it?"  
Among other activities held last week across Wales were reading events and workshops with people like award winning author Giancarlo Gemin and Wales's young people's laureate, Casia William while the shortlist for this year's Welsh Book of the Year award was also announced on Tuesday (10 October) by Literature Wales.