Keeping Our Communities Connected
October 5, 2022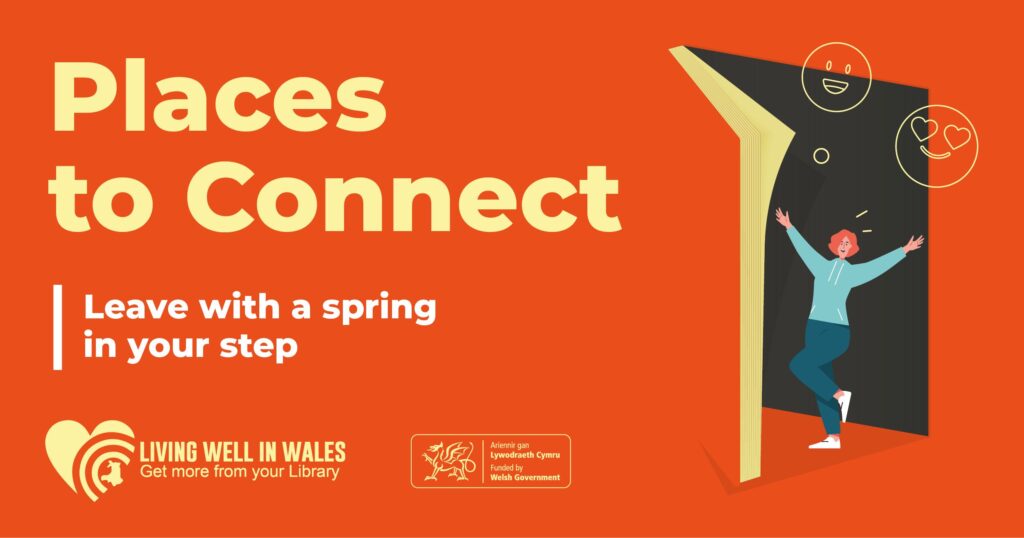 People are aware now more than ever how important it is for everyone to feel connected to others and to experience a sense of belonging to their community.
Studies have shown that a prolonged loss of social contact can have a significant impact on our health and wellbeing. Loneliness and social isolation are associated with an increased risk of depression, low self-esteem, reported sleep problems and an increased response to stress.
Libraries in Wales are working together to address these issues –  keeping their communities connected and supporting people to have positive and meaningful social connections.
They deliver a wide range of events and activities that allow people to connect with friends or meet new people, to try something different or learn a new skill, and to find out what else is available to them within their community.
In 2022 Welsh Libraries are highlighting this vital work through their 'Places to Connect' campaign.
Places to Connect forms part of the wider Living Well in Wales project, which highlights the important role Welsh Libraries play at the heart of their local communities and promotes the work they do to support people's  health and wellbeing.
Libraries are perfectly placed to deliver a range of health and wellbeing benefits to their local communities. They are a fantastic resource, both in terms of the information and materials they have on offer and as a hub or focal point within their community where people can get together for events or activities beneficial to their wellbeing. The Living Well in Wales project is a nationwide initiative that seeks to celebrate Welsh libraries and the important work they do as well as encourage people to get more out of their local library.
Health and Wellbeing lead for the Society of Chief Librarians (Cymru) and Libraries Development Manager at Aura Leisure and Libraries, Kate Leonard, said:
 "The last two or three years have highlighted just how vital social connection is to everyone's wellbeing ,we all remember how much we missed seeing and talking to other people. Welsh Libraries are working to provide that connection within their local communities, through events and activities, signposting to other services or simply by providing people with a space to relax and chat with others. Our 'Places to Connect' campaign will highlight the work our libraries carry out to support these connections and encourage people to take a closer look at what their local library has to offer "
Deputy Minister for Arts and Sport, Dawn Bowden, said:
"Libraries Week is a great chance to discover the range of things you can do at your library, from play and learning for children, to managing your health, to accessing free wifi and games, to finding a job. All these elements are excellent ways to bring people together, and to inspire people to learn and discover something new and to feel a part of a community – our libraries are a resource which is free for everyone to use and enjoy."
For more information about the Living Well in Wales campaign, please e-mail: livingwellinwales@llgc.org.uk