From Rugby to Rhymes: Rugby icon James Hook helps launch BookTrust's annual Big Welsh Rhyme Time
February 12, 2020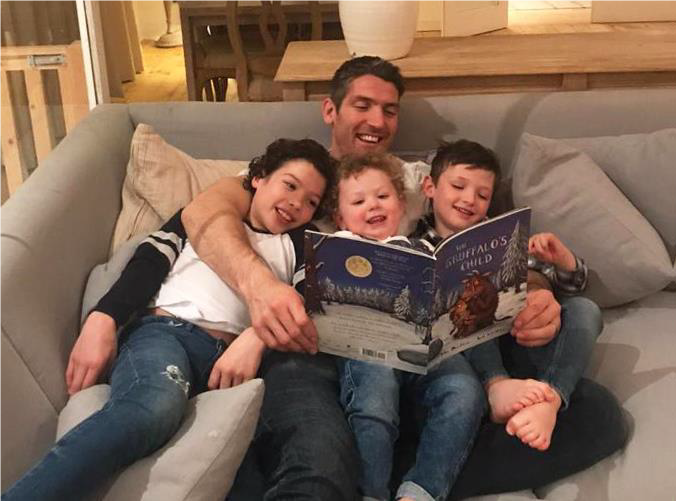 This week over twenty-two thousand Welsh children will be singing, rhyming and smiling as part of The Big Welsh Rhyme Time, BookTrust's (the UK's largest reading charity) Wales-wide celebration of sharing rhymes and songs, together in the early years with a little help from Welsh Rugby icon James Hook.
Each year The Big Welsh Rhyme Time encourages fun and enjoyable rhyme sharing activity for children in Wales aged 0-5, in Welsh and English, because rhymes and songs help children develop speaking, listening, communication and literacy skills, improve their attention and confidence and – crucially – have fun!
James Hook stated "Raising three boys has taught me how much fun reading and rhyming with your kids is! You get to unleash your inner child and be silly with the little ones. We have had so many great times giggling together after reading books and cosy times just before bed. That's one of the reasons I have decided to write a children's book and why I'm so excited to be working with BookTrust to help spread the word and get more families reading and rhyming!"
BookTrust, along with the help of Cyw, Books Council Wales, Literature Wales, Early Years Wales, PACEY Cymru, NDNA Cymru & Mudiad Meithrin will hold the events and activities in libraries, schools, nurseries and playgroups. As well as working with child minders, prisons and local authorities to inspire children.
This year we have a bespoke poem created for the week by Gruffudd Owen, Bardd Plant Cymru (Welsh Children's Poet). Based on Twinkle Twinkle Little Star and called 'Dewch i odli gyda ni!' (Come and Rhyme With Us), it's the perfect rhyme for families and children to share and have fun! It will be launched on Wednesday 12th February.
Helen Wales, Head of BookTrust Cymru, comments, 'We want families across Wales to really enjoy the Big Welsh Rhyme Time. Sharing rhymes and songs has so many benefits, including developing language, speaking skills and building confidence. But the most important thing really is to have fun together. Make silly voices, pull funny faces and do silly actions – it's all great for your child!'
The Big Welsh Rhyme Time is part of BookTrust Cymru's early years programmes, funded by the Welsh Government Education Directorate. Programmes like Bookstart and Pori Drwy Stori give every child in Wales free books and fun resources to help them enjoy books, reading and rhyming with their families, and develop essential literacy and learning skills. Kirsty Williams, Wales Education Minister said: "Speech, language and communications skills are essential to the success of our children and young people – not just in school but for later in life too.
"The Big Welsh Rhyme Time is a great way of developing these skills in a fun and rewarding way and I would encourage families across Wales to get involved with the campaign this week."