Get Down to Your Local Library This Summer for a Chance to Solve a Mystery!
July 24, 2017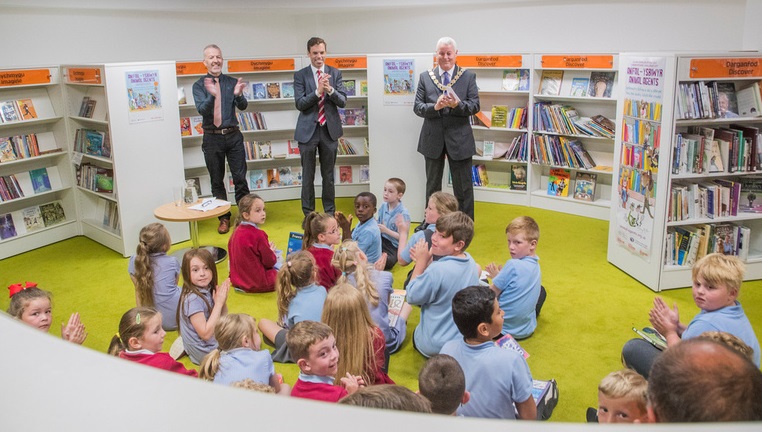 Animal Agents is here! Animal Agents – a whole host of clever creatures, ready to solve all kinds of crimes! This band of furry, slippery and feathered friends are specially trained to use their skills and natural instincts to unravel mysteries – with a huge helping of fun along the way. Let your children get caught up in solving a mystery in their local library over the summer holidays with the Summer Reading Challenge 2017! They'll even pick up some stinky stickers along the way! As they read over the summer, they will be working with the Animal Agents, the coolest band of crime crackers you've ever met!
Ken Skates, Cabinet Secretary for the Economy and Infrastructure, Welsh Government, and author Rob Lewis officially launched the Challenge in Wales at Prestatyn Library, Denbighshire, on Monday 10 July 2017.
Children's reading can 'dip' during the long summer holidays if they don't have regular access to books and encouragement to read for pleasure. This can be a problem for schools to put right in the new term, and The Reading Agency's annual Summer Reading Challenge really helps by getting three quarters of a million children from all over the UK into libraries over the summer. There is no other free reading activity that involves so many children, introduces families to their library, encourages children to choose books freely and independently and is endorsed by parents, teachers and the Welsh Government.
Support from the Welsh Government is crucial to the success of the challenge in Wales. Economy Secretary Ken Skates said:
"I'm delighted to be able to launch the 2017 Summer Reading Challenge in Wales. The challenge captures the imagination of children with the chosen theme, and this can help children enjoy reading for pleasure.
"We know that reading and literacy skills are vital for success later in life, and this campaign helps children and families engage with learning and culture in a fun way. I encourage all families to visit their local library this summer to take part."
Organised by independent charity The Reading Agency and public libraries, the Challenge is supported in Wales by the Welsh Books Council and the Welsh Government. Now in its 19th year, the Summer Reading Challenge in libraries is the UK's largest reading-for-pleasure programme for children of primary school age. Last summer, 39,222 children in Wales (44% of them were boys) took up the challenge to read six books or more at their local library; and Wales is the only nation in the UK in which 100% of local authorities take part.
Every year the Challenge has a new theme and this year it is Animal Agents, illustrated by the award-winning artist Tony Ross. Children aged between 4 and 12 are encouraged to read six or more books of their choice during the summer holiday, and with incentives to complete the Challenge it's a highlight of the holiday for thousands of children. Teachers comment that children who take part return to school as more fluent, confident readers.
Call at your local library or visit animal-agents.org.uk to find out more.