Get Creative with Makerspace in Llanelli Library
April 27, 2022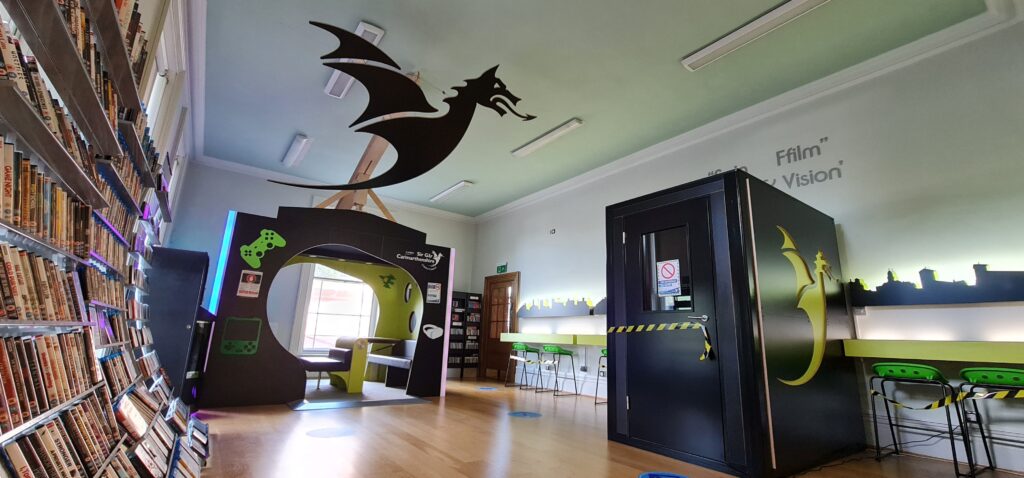 Llanelli Library is one of the largest libraries in Carmarthenshire, described as innovative, vibrant and inviting, there are many things on offer within the walls of this 1850's historic building. As you step through the doors of the Victorian façade don't be fooled as you enter a modern library building designed to tempt you to explore the many traditional and emerging technologies available.
Part science, community, and something entirely new, there is something here for all-ages as tech enthusiasts, crafters, educators, tinkerers, hobbyists, engineers, science clubs, authors, artists, students, and commercial exhibitors, enter our "maker/stordy" areas and learn and share new ideas!
Stordy Creadigol offers an accessible space to invent and create a comprehensive array of products. From printing to scanning 3D objects, recording your own music and producing a video, or coding your own software. We have the latest tools available to produce your concept into a functioning prototype.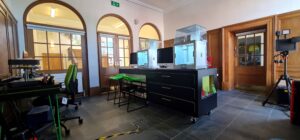 After the success of Ammanford's Makerspace back in 2017, and Carmarthen launching in 2020, Llanelli is now the third location to be available from Carmarthenshire libraries. Utilising unused office space and remodelling the audio-visual department, Stordy Creadigol has given the library a new image, creating a maker inclusive environment. Charge your tablet or mobile device while getting active! Our latest additions to Llanelli are two purpose built pedal charging power bikes, a first of its kind for public libraries in Wales.
The three Stordy locations focus on their own USP, for Llanelli we focused on the ever-growing gaming community. A purpose-built gaming pod has been installed, along with VR headset and high-end gaming PCs. It's not all new though – retro gaming consoles have also been added to the collection, including SEGA Megadrive, Sony PlayStation Classic and Nintendo. For a full list of equipment available visit Carmarthenshire Libraries website.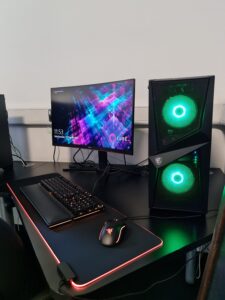 Stordy Creadigol is an innovative and exciting space for individuals or groups of people of all ages to work and collaborate 'to exchange best practice' in the process of designing, developing and creating various forms of media and traditional book formats.  Stordy Creadigol, can be described as an extension or an alternative way of learning and gaining knowledge to achieve a specific goal or task. In essence, Stordy Creadigol services provides the opportunity for users to access up to date technologies which are currently inaccessible to the community at large.
Regular activities, demos and workshops take place at all three Stordy Creadigol spaces. Whether it's 3D printing your concept to a physical object, gaming through the ages, printing vinyl for unique art or marketing, or to simply try something new – Makerspace has it all! Follow us on Facebook or search for us on Eventbrite.
Even as the service continues to evolve Llanelli Library continues to offer a comprehensive selection of fiction and non-fiction titles in both traditional book and non-book formats, with bestsellers available for loan in line with their publication.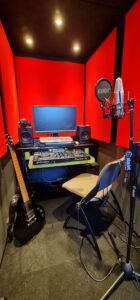 As an information service, we help with any query a customer may have, signposting and answering enquires on local history, the local community, the county and wider worldwide issues in person, by telephone and email, as well as supporting the use of IT for beginners and scholars alike.
For anyone interested in the history of the area, the extensive Local history Collection held at Llanelli Library is indeed an invaluable resource, containing a large collection of books, journals, newspapers, and maps. Additionally, the collection hosts a large collection of unpublished items and commemorative texts captured by various local groups and societies.
There are regular events and activities regularly held at the library for all ages, for further information please contact us on 01554 744327 or follow our Twitter and Facebook pages, we hope to see you soon.