Flint Library and Wellbeing Hub Offers a Listening Ear
June 9, 2022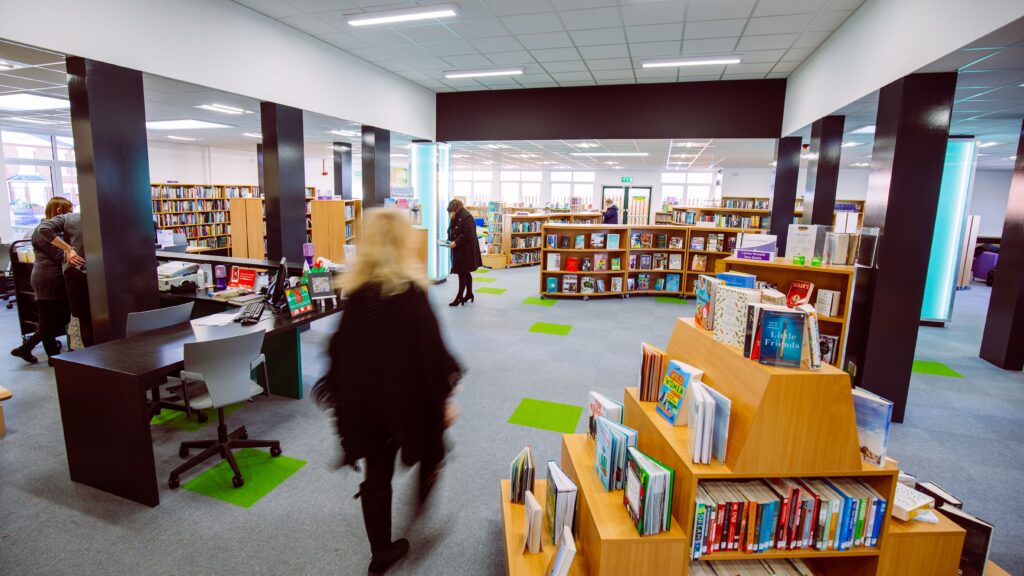 Flint Library underwent a major refurbishment in the autumn of 2019 and reopened in early 2020. The project was funded through the Welsh Government Transformation Capital Grant Programme with match funding from Aura Leisure and Libraries and partners Flintshire County Council.
The library was completely redesigned throughout to allow for a modern open flexible space with new shelving and furniture including a new playful children's space and areas for chat or study.  New ceilings, eco efficient lighting, windows and carpets were installed throughout the main library space which has completely transformed what was a very dark space into a light and welcoming space which has the wow factor for visitors and encouraged a new generation to use the services.
The existing exhibition area was also redesigned to provide an attractive Heritage and Exhibition space to allow the hosting of quality exhibitions, and the opportunity to work with the Aura Heritage and Museums service to showcase key material on the history of the area.  A recent exhibition has been in partnership with The Courtaulds Institute on the history of Courtaulds manufacturing in the area which was a major employer in recent history.
The funding also allowed modernization and refurbishment  of two existing meeting rooms and the construction of a fully equipped community kitchen.  This has enabled library staff to work with community partners to host a variety of events and activities and provide hire facilities to local businesses and organisations in the area.
 A key driver for the refurbishment was to improve health and wellbeing opportunities for local residents, and Aura Libraries worked in partnership with North East Wales MIND and Betsi Cadwallader University Health Board to explore and develop an offer. 
Flint Library and Wellbeing Hub was officially opened in early 2021 with initial support being offered virtually. The ethos behind the hub being that it is a non-medical community friendly space where anyone can come without judgement or referral.  
From September 2021 advice and support has been available onsite with trained counsellors available every day, and volunteers in the main library space for signposting and informal support. Initial monitoring and feedback has shown that this service is being well used and is having positive benefits. Hub staff provide information, advice, wellbeing coaching, wellbeing activities and self-management training for around 80 people each month.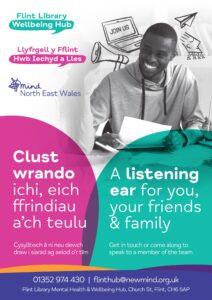 There is also a programme of free wellbeing activities available on-site with partners in the Flintshire Network for Learning Recovery and Wellbeing.
To continue to develop the wellbeing offer, the plan is to transform some waste ground at the side of the library into a wellbeing garden. This green space in an otherwise very urban environment will allow provision of further activities to engage with nature, learn new skills and encourage residents to keep active.
Flint Library and Wellbeing Hub Opening Times
Monday 9:00am-5:00pm
Tuesday 9:00am-6:00pm
Wednesday 9:00am-5:00pm
Thursday 9:00am-6:00pm
Friday 9:00am-5:00pm
Saturday 9:00am-1:00pm
Address: Church Street, Flint, Flintshire, CH6 5AP
Contact: 01352 703737 flint.library@aura.wales
01352 974430  flinthub@newmind.org.uk