G.B. Williams
November 25, 2021
G.B. Williams' novels include Locked Up (2016), Locked In (2018) and Locked Down (2019), and more recently The Chair (2020). She has also created a Crime Writing Blog
Estyn Allan is a collaboration between Welsh public libraries to create digital content, led by the Society of Chief Librarians Wales (SCL Cymru) and funded by the Welsh Government. Crime Cymru is a diverse collective of Welsh crime writers, spanning crime fiction and non-fiction. Estyn Allan and Crime Cymru together introduce 'Partners in Crime', a series of videos featuring presentations by Crime Cymru writers.
Estyn Allan presents G.B. Williams …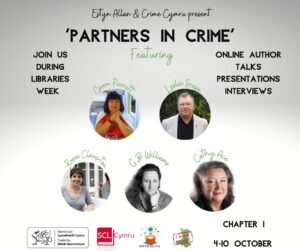 'Creu Cymeriadau / Creating characters' with G.B. Williams
'The Chair' by G.B. Williams.