Alis Hawkins and Katherine Stansfield
November 23, 2021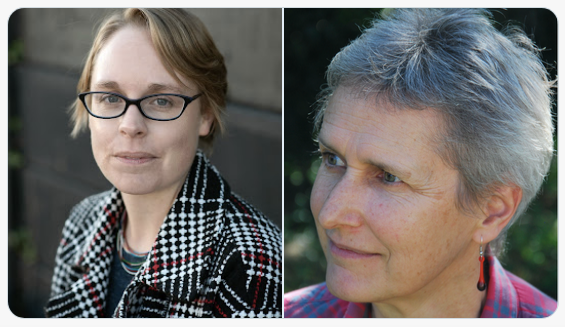 Alis Hawkins grew up in Cardiganshire, and now lives on the Welsh/English border. Initially fascinated by the medieval period, she began her crime and mystery career at Pan Macmillan with a historical novel set during the fourteenth century then fast-forwarded to West Wales in the nineteenth century to fulfill a long-held desire to write a book based on Wales's best kept historical secret: the Rebecca Riots. The resulting historical crime series features blind investigator Harry Probert-Lloyd and his chippy assistant, John Davies. She is a CWA Dagger shortlisted author of historical crime fiction and mysteries.
Katherine Stansfield grew up in Cornwall, and is now based in Cardiff. Her historical crime series Cornish Mysteries is published by Allison & Busby. She is also one half of the partnership DK Fields, co-writing the gaslit fantasy crime trilogy Tales of Fenest with David Towsey. Katherine's work has won the Holyer an Gof Fiction Prize twice, and she was shortlisted for the Winston Graham Memorial Prize. Katherine teaches the Writing Crime Fiction courses for Cardiff University's School of Continuing and Professional Education. She is also an Associate Lecturer for the Open University's new MA in Creative Writing, a Writing Fellow at the University of South Wales, and a mentor for Literature Wales.
Estyn Allan is a collaboration between Welsh public libraries to create digital content, led by the Society of Chief Librarians Wales (SCL Cymru) and funded by the Welsh Government. Crime Cymru is a diverse collective of Welsh crime writers, spanning crime fiction and non-fiction. Estyn Allan and Crime Cymru together introduce 'Partners in Crime', a series of videos featuring presentations by Crime Cymru writersA CWA Historical Dagger shortlisted author,
Here is Estyn Allan in conversation with Alis Hawkins a Katherine Stansfield …
Ffuglen Hanesyddol: Beth, Sut, Pam a Phryd? / Historical Fiction: What, How, Why and When?