Contemporary Facelift for Carmarthenshire Library and Archive
February 7, 2020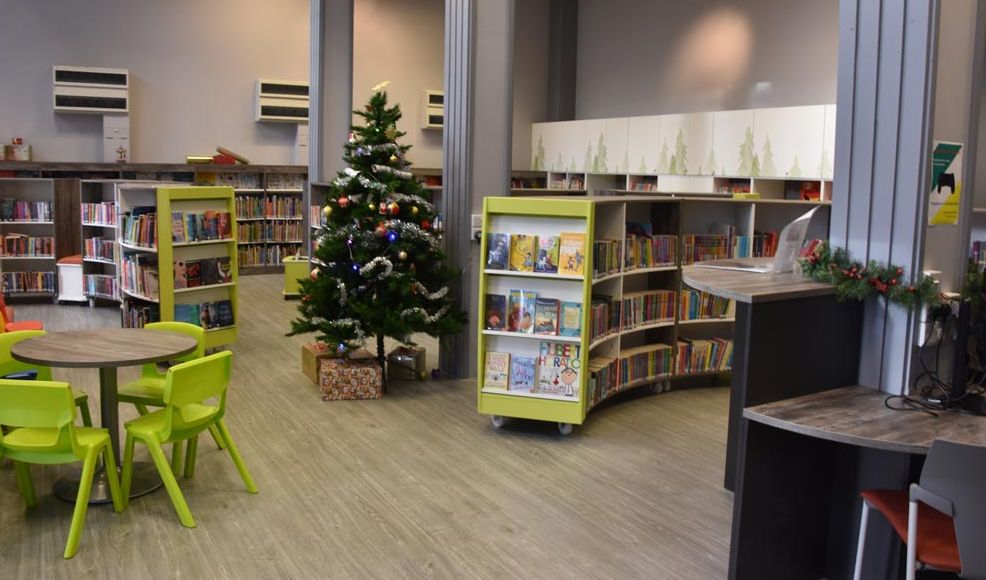 2.6 million investment has allowed for a state-of-the-art Archive and Library building, bringing Cultural Services to the forefront in Carmarthenshire. From a stunning external facelift, upon entering Carmarthen library, customers are welcomed in to a modern, bright open foyer which incorporates a vibrant and contemporary children's library; a space offering support for whole families to improve reading, literacy skills, and confidence. A new self-service station and comfortable seating areas are complimented by leading edge digital signage in the foyer area informing customers of what's on at the library and directions to all facilities.
After undergoing a refurbishment earlier this year, Carmarthen Reference Library re-opened in June with an innovative, fresh look, state-of-the-art technology and lots of space for study. The general Reference stock was given an overhaul and is now an attractive, up-to-date collection which complements the library's local and Welsh/Anglo-Welsh items. The new desks and study spaces are equipped with power sockets and USB ports enabling customers to work on their own devices in a comfortable and quiet area.  These facilities have proved very popular with students, and with local business people indicating the benefits libraries can bring to small businesses in the local area. Our station of dedicated PressReader Terminals compliment physical copies of newspapers and magazines as well as offering access to a host of other online services provided by the library service. In recent months, they have also been heavily used while staff have been assisting residents who are re-applying for their bus passes – a service which has been much-appreciated.
As part of the refurbishment, the IT Suite was re-located to another space on the same floor allowing the Reference area to be opened-up and a new exhibition space has been created.  Two custom-built display cabinets provide secure storage for exhibits while state of the art interactive multi-media tables and kiosks display images of relevant items from the county's archive, library and museum collections to enhance the visitor experience.  The first exhibition celebrated the 1819 Eisteddfod at Carmarthen which was the first to feature the Gorsedd of the Bards.  Ten classes of school-children, as well as several adult groups, participated in sessions run by our exhibition partners.  Library staff used Makerspace green screen equipment to give the experience a hi-tech element and every child received a photograph of themselves in an eisteddfod chair set against a dramatic background. Our new IT suite offers areas for study, group meetings and a dedicated Family History zone. A new IT training room facilitates class sessions and will offer access to 3D printers as part of the Carmarthen Makerspace facility coming in early 2020.
Carmarthen Library currently welcomes annual visitors of 365k, which with the re-opening of the county archives is expected to increase substantially during the 2020/21. Working with the National Library of Wales, Carmarthen Library has also been chosen as one of four locations across Wales to house a National Broadcast Archive Clip Centre. Materials charting almost 100 years of broadcasting including many iconic moments from 20th century Welsh history and culture will be made accessible to the public through digital technology, bringing the National Broadcast Archive for Wales to life in Carmarthenshire.
This has been a very exciting period for both customers and staff at Carmarthen Library and continues to be so as we look forward to welcoming the county archive service into its brand-new home at the rear of the library building next year and establishing the next Stordy Creadigol Makerspace facility at the Library. The 'new' Carmarthen Library is a unique and valuable resource that strikes the balance in providing a social space for interaction and knowledge exchange, a quiet space for contemplation, a maker space for innovation and most importantly a neutral and trusted space for public use.