Community Renewal Grant Funds Digital Community Hub in Knighton
November 9, 2022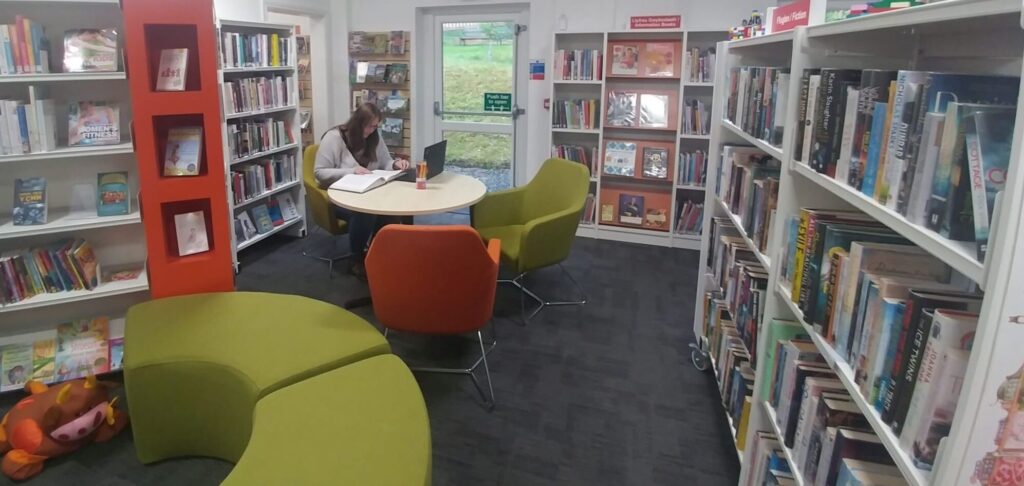 Knighton Library is situated within the Knighton and District Community Centre (The Comm) following a partnership agreement dating back to December 2017. The Library Service provides IT facilities and support, iPads for loan, eBooks, eAudiobooks and eMagazines in addition to books.  The public can access Council services, and Library staff support the public with a wide range of enquiries.  The service also facilitates author readings in a welcoming environment with friendly professional staff; whilst the management committee provide the premises and valuable support. 
2022 has been an exciting year for Powys Library Service, successfully obtaining UK Community Renewal grant funding to pilot digital community hubs in four areas, including Knighton. With the generous support of the Community Centre management committee, the pilot digital hub has seen the introduction of new hybrid meeting technology, including a 65" CleverTouch screen, and the transformation of the backstage "dressing room" into a co-working space. The Library has also introduced Wi-Fi enabled printing this year. These developments complement the work of Community Centre staff in compiling a local community directory and providing an information resource for the area. 
The Library runs a wide range of activities and events that include monthly Lego club, BSL sessions attended by Knighton School, English classes for refugees, story times, singing, craft and seasonal events. The Library Service has an exciting Autumn planned with indoor/outdoor Forest School sessions, funded by the Family centre, and Ancestry family history resource research sessions. The Library also started the first Knighton Literary festival in 2018, which has gone from strength to strength and is now run by volunteers. This year's Festival ran from 28 October – 6 November 2022.
The Library and Community Centre work closely together to provide a vibrant resource which is at the heart of the community in this remote rural area of Powys. The Community Centre management committee are very proactive in identifying needs and then seeking ways to support local people, including attracting fantastic volunteer support.
The Comm hosts a very wide range of services and activities alongside the Library Service, including the Tuesday café with all kinds of local agencies attending to offer support, free lunches on a Thursday, youth work project, Saturday markets, community garden, family centre, stay and play sessions, lego club, weddings and more! The PAVO (Powys Association of Voluntary Organisations) Community Connector is also based in the Centre.
As the weather turns colder, usage is picking up in the co-working room, and the staff and volunteers are planning a range of promotional activities to encourage use, including a digital drop-in and family research sessions. Library staff hope to see people using the equipment to work locally, and to attend digital appointments in their local area, to save travelling many miles, as well as for learning and having fun on the interactive screen!