CILIP Cymru Wales announces the Welsh Library Team of the Year Award winner and finalists
November 4, 2021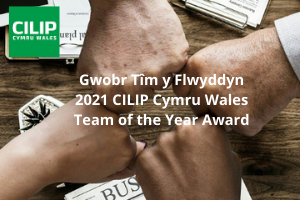 The Estyn Allan training and development programme has been selected as first place in the CILIP Cymru Wales Welsh Library Team of the Year Award. Joint second place was awarded to Coleg Sir Gâr Library Service and the Grŵp Llandrillo Menai Library & Learning Technology Service, and third place to the WHELF (Wales Higher Education Libraries Forum) EDI group.
Developing resilience in public libraries across Wales
Funded by a Welsh Government grant of £169,950, secured by The Society of Chief Librarians (SCL) in Wales, Estyn Allan went live in January 2021 and has already seen impressive take up from across 22 public libraries with 33 trainees. Estyn Allan develops staff skills, knowledge, and confidence in delivering bilingual digital activities in libraries across Wales and has been recognised by CILIP Cymru Wales for its innovative and confidence building work in 2021.
Nominated by Helen Pridham from the Awen Cultural Trust, Estyn Allan was led by Bethan Hughes, Principal Librarian of Denbighshire County Council and organised, planned, and delivered by Kerry Pillai from Swansea Libraries. Between January and March 2021 the trainees developed new digital skills and worked together to create public facing content, transforming the digital activity offer of Wales' public libraries.
Helen Pridham says "The Estyn Allan team learnt to interview, film, record, edit, publish, design, and publicise. They appeared in front of camera interviewing authors, running reading groups, hosting live events, singing rhymes, and telling stories.
The team pulled together four short films, for example, that were used in schools, with partners and on social media to promote the Summer Reading Challenge adverts with Iolo Williams. This is the first time there has been a Wales-specific national promotion of the Summer Reading Challenge and it was very well received."
The Welsh Library Team of the Year Award was presented by Rebecca Evans MS, Minister for Finance and Local Government at CILIP Cymru Wales' Open Day and AGM on Thursday 4th November 2021 celebrating outstanding professional achievements by teams working within library and information services in Wales.
As a presenter of the Welsh Library Team of the Year Award, the Minister comments: "The Estyn Allan training programme is an excellent example of how libraries right across Wales can work together to improve services. It developed staff skill, knowledge and confidence in delivering bilingual digital activities and promoting library offers and services. There were a high number of excellent nominations and I want to say a big thank you to everyone in our libraries who are working so hard to deliver such vital public services."
CILIP Cymru Wales Chair Lou Peck adds "Wales has an incredible library and information service community. We've all been through a tough 18 months, but library teams have particularly seen huge disruption with closures and staff being furloughed or redeployed to other departments and roles. That essential lifeline for local communities was suddenly gone. There can be no denying the sharp shift in digital demand the COVID-19 pandemic has had, but libraries continue to be resilient showing how they can adapt to changing environments and what society needs. The people in these libraries are the real gems in the community. Huge congratulations to all taking part in this year's Award. The projects nominated for the CILIP Cymru Wales Welsh Library Team of the Year Award just show what exciting and important initiatives are taking place and I hope they continue to inspire others. For a service reported to only take up approximately 0.6% of council spending , libraries are a valued service playing a significant role in supporting local communities. Make sure you visit your local library and discover how they can help you on and offline."
The CILIP Cymru Wales Welsh Library Team of the Year Award judging panel
The judges Beth Hall, (Natural Resources Wales and CILIP Cymru Wales committee), Mark Hughes (Cardiff Metropolitan University), Owain Roberts (National Library of Wales), and Amanda Bennett (Welsh Government) were impressed by all six nominations and pleased to hear about outstanding teams of different sizes from across the sector in Wales.
The judges comment "The strength of this nomination is that it celebrates the bravery and commitment of the staff who took part in the programme and those who led the team in the steering group. The programme has enabled greater collaboration across public libraries in Wales, resulted in the launch of new digital bilingual and specific Welsh language services and products, has upskilled staff, and has built the momentum for future projects."
The judges awarded joint second place to the Coleg Sir Gâr Library Service nominated by Mike Williams and the Grŵp Llandrillo Menai Library & Learning Technology Service, nominated by Ceri Powell.
Upskilling the library team and embracing technology and EDI practices
As well as upskilling the team during COVID-19 and embracing Google's Workspace Skills, Coleg Sir Gâr raised awareness of the CLA Education Platform, pivoted to Click and Collect, established a Virtual Library Helpdesk, and created Library Quick Clips, short bilingual video clips on a range of topics.
The Library and Learning Technology Service at Grŵp Llandrillo Menai responded to COVID by establishing a Library Technology team to support learners and staff. As well as one-to-one and group sessions, the team were instrumental to the first hybrid Teaching and Learning Conference. The team created a new bilingual Study Skills Site and online subject guides and coordinated a project to supply over a thousand devices to students to facilitate learning from home.
The judges state "Both Library Services have reinvented their online services, and they are at the very centre of the work of their institutions in bridging the digital divide and bringing digital technology to all their students including disadvantaged and non-traditional learners."
The judges awarded third place to the WHELF EDI group, nominated by Alison Harding of University of Wales Trinity Saint David.
The Wales Higher Education Libraries Forum Equality, Diversity and Inclusion Group was established in the summer of 2020 following the murder of George Floyd to reflect an anti-racist position and to provide development opportunities for staff. The Excluded Voices conference then opened out the conversation to the sector across Wales and beyond and the group is similarly looking to extend its membership.
The judges said "We recognise the bravery and initiative to start action to impact positive change, and to challenge the status quo. We hope that links will continue to be made with the wider GLAM (Galleries, Libraries, Archives and Museums) sector across Wales, and we hope that we can all work together to increase diversity and representation at all levels."
About the CILIP Cymru Wales Library Team of the Year Award
This Award, sponsored by the Welsh Government and CILIP Cymru Wales, is about celebrating the achievements of teams working within Library/Information Services in Wales.
Entries are welcome from all sectors, from teams working across different organisations, and from teams of all shapes and sizes. Nominations can describe special achievements, an innovative project, or resilience in the face of challenging circumstances.
First prize for the CILIP Cymru Wales Welsh Library Team of the Year Award is £500 second place is £150 each and third place is £100