Book Lovers Across Wales Celebrate World Book Day 2020
March 9, 2020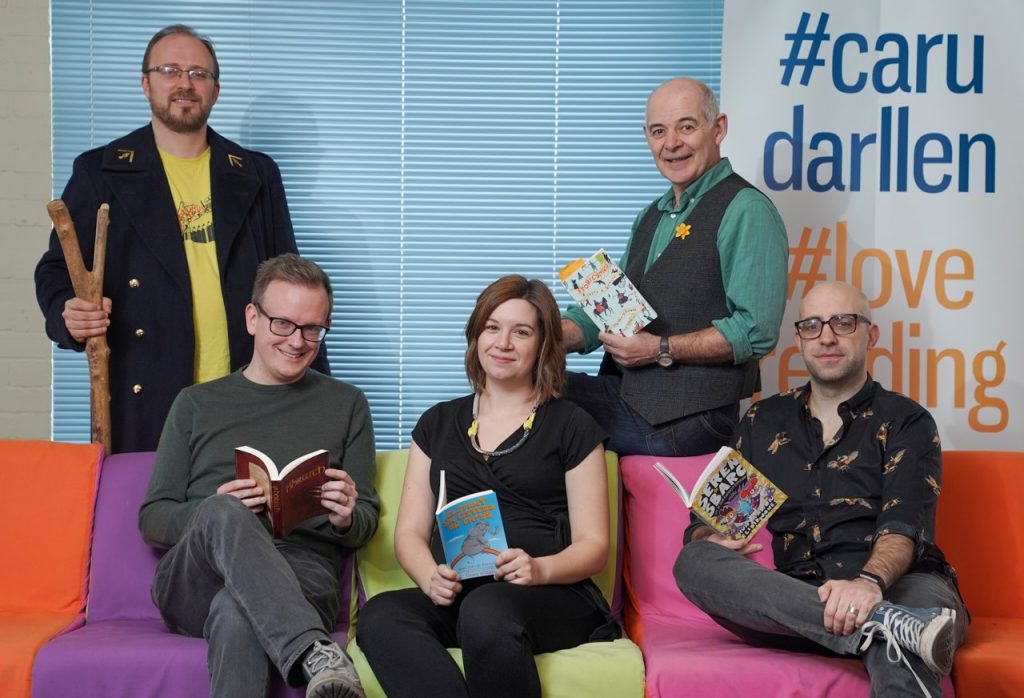 Book lovers across Wales joined together to celebrate World Book Day this year on 5 March 2020.
The Books Council of Wales invited schools, bookshops, colleges, libraries, businesses and households to join the largest annual celebration of books and reading in the United Kingdom and Ireland, by taking part in activities and events across Wales and by simply sharing in the pleasure of reading.
To mark World Book Day 2020, the Books Council of Wales announced the publication of two special edition books for children in Welsh, available to buy for just £1. Children can redeem their £1 World Book Day book token in exchange for one of the books. These titles will also be available in accessible braille, large print and audio versions, thanks to the support of the RNIB.
Darllen gyda Cyw, written by Anni Llŷn and published by Y Lolfa, follows the tales of popular S4C favourites Cyw and her friends and is aimed at younger Welsh readers, and families learning Welsh with young children.
Stori Cymru – Iaith a Gwaith, written by the Archdruid of Wales Myrddin ap Dafydd and published by Gwasg Carreg Gwalch, tells the history of Wales and the work of its people through story, image and song.
Storytelling and sharing stories was also an important theme with a UK-wide campaign to launch a 'reading revolution' by sharing a million stories, which reached it's target on World Book Day, thanks to a wealth of supporters. worldbookday.com/share-a-million-stories
As part of the celebrations, the Books Council of Wales has launched a special Top Trumps-style game for children across Wales, featuring characters from Welsh books old and new. The battle cards, which feature some Welsh favourites such as Sam Tân and Siôn Blewyn Coch, will bring a smile of nostalgia to the faces of parents too.
The Council also marked World Book Day with two special events for children at Theatr Felinfach in Ceredigion on 4 March and the Riverfront Theatre in Newport on 5 March. School children from across the region were invited to attend Theatr Felinfach to share a story with Welsh authors and illustrators, including Myrddin ap Dafydd, Casia Wiliam, Aneirin Karadog, Huw Aaron and Elidir Jones.
On World Book Day itself, children attended the Riverfront Theatre, Newport, for a further story-sharing event with BBC Wales presenter and children's author Lucy Owen, storyteller and author Atinuke, Mark Llewelyn Evans, author of ABC of Opera, and Rhondda writer and illustrator Siôn Tomos Owen.
And at a special event in Llandudno on Thursday 5 March 2020, a panel of six experts discussed the benefits of 'bibliotherapy' where self-help books are used to support mental health and wellbeing. www.cllc.org.uk/newyddion-news/news-detail?diablo.lang=eng&id=13336
A wide range of books is available as part of the Reading Well Books on Prescription scheme, which provides helpful reading to support health and wellbeing on a variety of topics including mental health and dementia. The scheme is delivered by The Reading Agency in partnership with public libraries across Wales and England, with the Books Council of Wales ensuring that a selection of the books is available in the Welsh language as well as in English.
The World Book Day campaign in Wales was coordinated by the Books Council of Wales and supported by the Welsh Government and Waterstones. Every year, with a host of publishers and booksellers, World Book Day curates a list of bespoke £1 books for children and young people across the UK and Ireland. World Book Day's mission is to encourage children and young people to explore the pleasures of books and reading by providing them with the opportunity to have a book of their own.
As well as distributing the tokens to nurseries and schools, from Wednesday 5 February to Tuesday 17 March, the £1 World Book Day token will also feature on every single McDonald's Happy Meal™ box across the UK and Ireland. Children and families can swap it for one of a wide range of World Book Day free books, including the Welsh-language books, or get £1 off a book or audiobook costing £2.99 or more, at their local participating bookshop or supermarket between 27 February and 29 March.