Shoo Rayner
March 2, 2021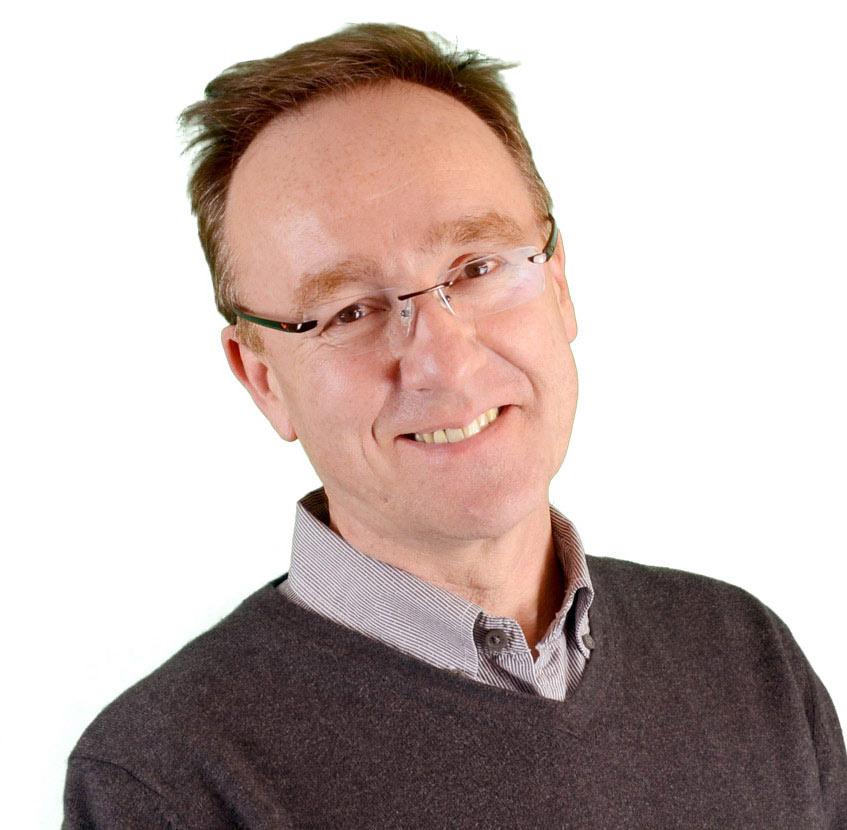 Shoo Rayner has illustrated more that 300 books for major publishers, selling millions of copies worldwide. He drew for Michael Morpurgo and Rose Impey, but editors kept encouraging him to write. Many years, and over 175 books later, Shoo, well known for his many fast-paced stories, has been building a worldwide following for his award-winning Youtube Channel, where he shows that everyone can learn to draw and that as well as developing knowledge and understanding, drawing improves both well-being and self-esteem.
Shoo is both the author and illustrator of the Dragon Gold trilogy and Walker: The Boy who can talk to dogs (2019). His latest title Walker: The Mystery of the Missing Millions will be published 25 March 2021 by Firefly Press.
We caught up with him recently to find out more about his latest Walker adventure …
What inspired you to write Walker: The Mystery of the Missing Millions?
This is the second book in what I hope will be a long series of adventures for my heroes, Walker and Stella.
My original inspiration was a story on the news about a puppy farm. I found the film quite distressing. The farm – or crime-scene – reminded me of a place near where I lived when I was young. I tried to imagine what it would be like to come across something like that as a child. Who could you tell? Would you be scared of the criminals? Maybe you know them, and that makes you even more scared! Who do you turn to?
I met a man at a book festival, who is a "dog listener". When he told me how he helped sort out dog's behavioural problems, I had a vision! It was like a movie playing inside my head! I knew in that moment that I would write a story about a boy who could talk to dogs, and that over a series of books he would build a very close relationship with one dog in particular, Stella.
I don't have a dog, but Stella is my fantasy dog, the dog I would love to share walks and conversations with.
Tell us a little about the story you've created.
In this book the baddie from the last book – Arlington Wherewithall – is in jail! He's a millionaire, but he won't tell his wife where the money is hidden. She is left all on her own, in a huge house in the country.
She's not the only one who's after the money! She is being watched by a criminal gang led by the horrible Osmo. Our hero walks dogs for pocket money and offers to help her out as she can't handle her husband's lively dogs.
Soon, Walker is caught up in a plot to steal the money and is in real danger. Can Stella save him, with the help of the neighbourhood dogs? Will the Police arrive in time?
What do you hope readers will take away from this story?
I hope readers will have come away breathless and entertained – it's a bit of a thriller!
I hope they will also have deepened their friendship with Walker and Stella and want to know what happens next… and before you ask, yes, I do know, and have the next Walker mystery plotted. Walker's growing relationship with the Police will lead him into all sorts of dangerous and intriguing situations!
'I hope readers will have come away breathless and entertained – it's a bit of a thriller!'
What specialist knowledge or research was required to write this book?
I am a bit of tech geek, so I've used quite a bit of specialist knowledge about internet security protocols and encryption, but I hope I've made it easy to understand. I suppose I should have specialist knowledge about dogs. I get on very well with dogs, but I don't have one of my own. I just imagine the dogs to be just like humans, except that they love smelling wee on lampposts and are always hungry!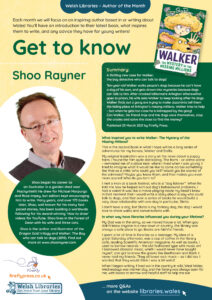 What led you to start writing?
I was useless at writing at school, I'm a bit dyslexic and my handwriting was terrible. I would often leave whole paragraphs out of stories. I would get so carried away with the story, my pen couldn't keep up! I failed my English O levels (the old version of GCSEs) three times!
So I became an illustrator. Illustrators are storytellers too. When I got my first computer, I found I could write and read back what I'd written. I'd been illustrating for great writers like Michael Morpurgo and Rose Impey. I had learned a lot from them, and I had lots of stories to tell. It's great that I can do the pictures too!
What books inspired you as a young reader?
My favourite were the Narnia books. I so wanted to be Prince Caspian when I grew up! CS Lewis created such a fantastic world. When I think of it today, it's almost like a place where I used to go on holiday. If I went through the wardrobe now, I'm sure I'd remember exactly where to find everything.
I loved the Enid Blyton Adventure Series too. The children went on such amazing adventures. I was very much into nature as a child and Enid Blyton described the settings so well, particularly when our heroic family went to the seaside. Enid Blyton would describe the pink thrift flowers growing up through the springy turf. I took my kids to the seaside in Cornwall many years later. I was overjoyed to experience exactly what she had described. Pink thrift growing through the springy turf, and a beach of golden sand with turquoise waters. I'd found that magical place in real life!
There were also a couple of books I've never been able to find again. They were about a brother and sister who spent their holidays climbing in North Wales. They had fantastic adventures in Snowdonia, with ropes and tents and carabiners and lots of Kendal Mint Cake. They were always getting lost in dense, swirling fog, and had to blow their whistles in three short blasts to call for help… thrilling stuff!
If you could choose a book character to be for a day, who would it be and why?
Deep down, I'd still like to be Prince Caspian, with Reepicheep at my side, standing tall in the prow of the Dawn Treader as we cut our way through a sea of flowering waterlilies on a journey to who knows where?
What character in your books are you least likely to get along with?
That's difficult! All the baddies in my books – Tiddles the cat – the Evil Dark Claw – Arlington Wherewithal, the baddie in the Walker books – they all have a little bit of me in them, so I don't think they are all completely bad!
But Osmo… he's the real baddie in this book – Walker and the Missing Millions. I don't think I'd get along with him. Something is missing inside him and it makes him not a very nice person!
In what way have libraries influenced you during your lifetime?
My Dad was in the army, so we moved house a lot. When you didn't know anyone in a new town or country, the library was always a safe place to go. Books are faithful friends.
I spent a lot of time in libraries as a teenager. My idea of a great Saturday afternoon, was a cup of coffee in the library café, reading Scientific American magazine. As well as books, I used to borrow records – the old-fashioned type with music on! I borrowed classical music, which I would never have bought myself, and got to know the greats like Beethoven and Bach. I never told my friends. They all loved rock music – as I did too. I worried that they would think I was a bit weird!
When I began writing, I lived out in the country in wild, West Wales. Wednesdays was market day, and the library was always open for me, with books to borrow and helpful staff to help me out.
'The world always needs new stories. It will never run out of stories and it will always need great storytellers…'
What message do you have to inspire young writers?
The world always needs new stories. It will never run out of stories and it will always need great storytellers. There is always room for new writers.
I think the big thing I learned as a writer is that the words are not for you – they are for the reader. Always think about the person who is going to read what you write. Make it clear and readable, but mostly make it funny or sad, pacey or thoughtful, thrilling and exciting, informative and knowledgeable – make it something someone else will want to read.
Most of all, if you want to be a writer… read lots of books – that way you get to see how great writers do it well!
Read our Get to Know the Author Flyer for further information about Shoo and Walker: The Mystery of the Missing Millions.  See also our Author of the Month writing in Welsh.
Find out more at www.shoorayner.com