Sharon Marie Jones
July 1, 2021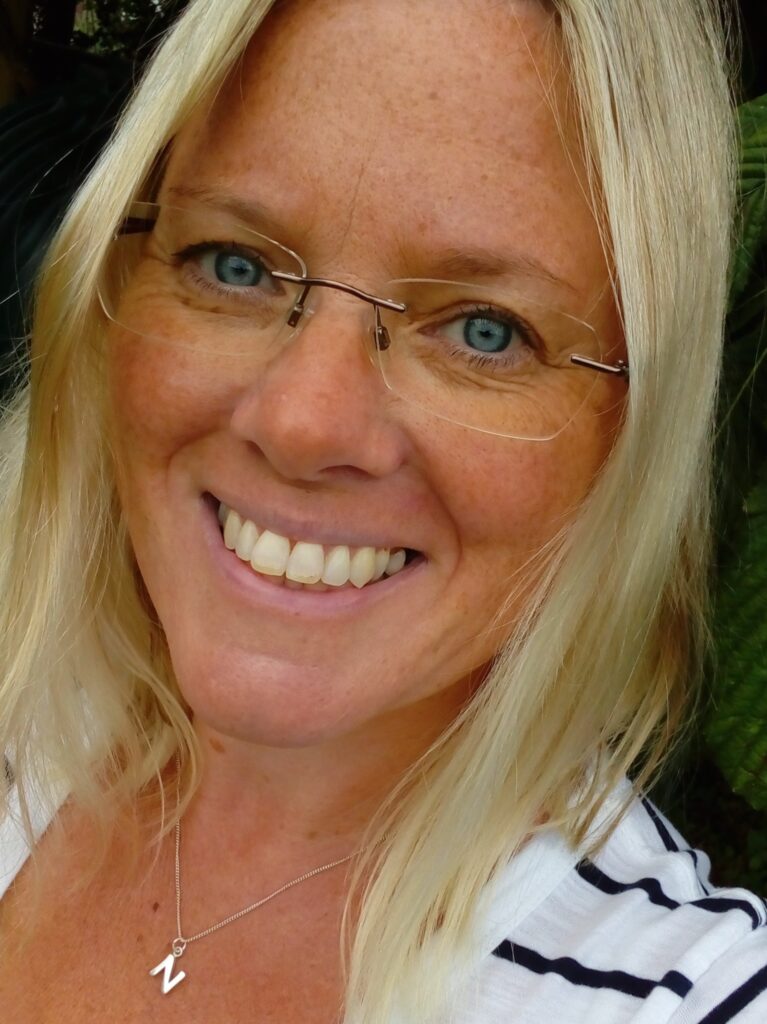 Sharon Marie Jones was born and raised in mountainous North Wales, immersed in magical folktales of giants and fairies. She now lives near Aberystwyth with her husband and sons. She studied English and Education at the University of Wales, Aberystwyth, graduating with first class honours. She worked as a primary school teacher for 12 years, before becoming a full time writer. 
We caught up recently with Sharon to find out more about Grace Ella: Pixie Pandemonium, the latest magical addition to the Grace Ella series published by Firefly Press…
What inspired you to write Grace Ella: Pixie Pandemonium?
This book is the third in the Grace-Ella series, and so it's a continuation of Grace-Ella's magical adventures. When Buddy Whiffleflip, the forest pixie, appeared in the second book, Grace-Ella: Witch Camp, I knew instantly that he was a character that I could have lots of fun with, and so he was the inspiration behind the third book. The story grew around him.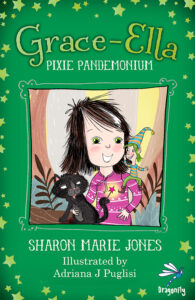 Tell us a little about the story you've created…
Grace-Ella has just returned from her week at Witch Camp and unbeknown to her, Buddy Whiffleflip has stowed away in her rucksack. When Grace-Ella discovers him, she decides to let him stay – having a pixie staying would be so much fun after all! But as the title of the book suggests, Buddy not only brings a lot of fun with him, but more than a peppering of pandemonium too. In the midst of the pixie pandemonium, Grace-Ella is once again up against her arch-enemy, Amelia. This time, Grace-Ella must find a way to prove that Amelia is a cheat and a liar, without of course, breaking any of the Nine Golden Rules, which as a witch, she must adhere to. The story is a bubbling cauldron of magic, mischief and mayhem.
What do you hope readers will take away from this story?
Writing for the 7-9 years age group, what I always hope is that the reader enjoys the book so much that they'll read it again and again! It's the age group where children can really fall in love with reading and become readers for life. But aside from that, the story focusses on woodlands and trees, and I hope it inspires its young readers to get outdoors and explore nature, to go for a woodland walk and experience the magic of their environment; to be hands-on and creative with natural materials such as leaves, twigs, pinecones.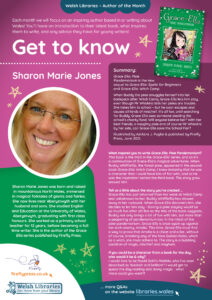 What specialist knowledge or research was required to write Grace Ella: Pixie Pandemonium?
Clearly I had to consult my own Spell Book to look up a 'Tell-it-True' spell!! Only joking!! I explored the Woodland Trust's website to find out exactly what they do as a charity, as this is the charity that Grace-Ella and her friend Fflur choose to receive the school's fundraising money. I also had a few practise runs of making a pine-cone pixie which was great fun.
What led you to start writing?
It may be cliched, but it had been a dream since childhood to become a published author and there just came the day when I decided to give it my best shot at turning the dream into reality. I also knew that I wanted to write for children. I was an avid reader as a child – I devoured books. I wanted to let my imagination fly away on similar adventures to the ones I experienced as a child, through books.
What books inspired you as a young reader?
There are so many stories I loved as a child. I loved Enid Blyton's books, especially The Enchanted Wood and The Magic Faraway Tree, which I read over and over again. I also loved traditional Welsh folktales about giants and fairies. I loved stories with magical elements, which inspired my imaginary play. I was always mixing up pretend potions with leaves and flower petals from the garden. We had a crab apple tree at the bottom of the garden, and halfway up its trunk was a real fairy door. I would close my eyes and tap on the door three times, then when I opened my eyes I would be transported to the land of the Crabble Fairies!
If you could be a character from a book for the day, who would it be & why?
It would have to be Roald Dahl's Matilda, who I've seen described as 'bookish and brilliant'! I would get to spend the day reading and doing magic – what more could you want?!
In what way have libraries influenced you during your lifetime?
As a child, a visit to the library was the highlight of my week. I would totter home with arms piled high with books. I would never have experienced the imaginary worlds and adventures I did had I only had access to bought books. My friend and I would meet at the library and time would melt away as we browsed the shelves and sat on the floor poring through books. I was a shy child, I'm a pretty shy adult, and I've always been introverted. I loved the quiet of the library and that feeling it gave me of stepping out of real life and being transported to a world of books. As a parent, I've enjoyed taking my boys to the library, spending that quiet half an hour or more looking at books. Books are timeless – we will always need books and a library fulfils that need for each and every one of us.  
Do you have any further titles planned?
I'm currently writing a children's story called The Boy and The Giant, which has been awarded a Literature Wales Bursary. Once I've finished writing this one, I'm very excited to start writing the adventures of a new character that has come to me – again for the 7-9 year age group. And I'd certainly love to write another magical story for Grace-Ella.
What message do you have to inspire young writers?
Just simply to love stories. Allow yourself to escape inside a book and let the words carry you far away. Feed your imagination, let it grow and grow and have fun with it. Sharon 
Read our Get to Know the Author Flyer for further information about Sharon and Grace Ella: Pixie Pandemonium. See also our Author of the Month writing in Welsh.