Richard Owain Roberts
November 2, 2020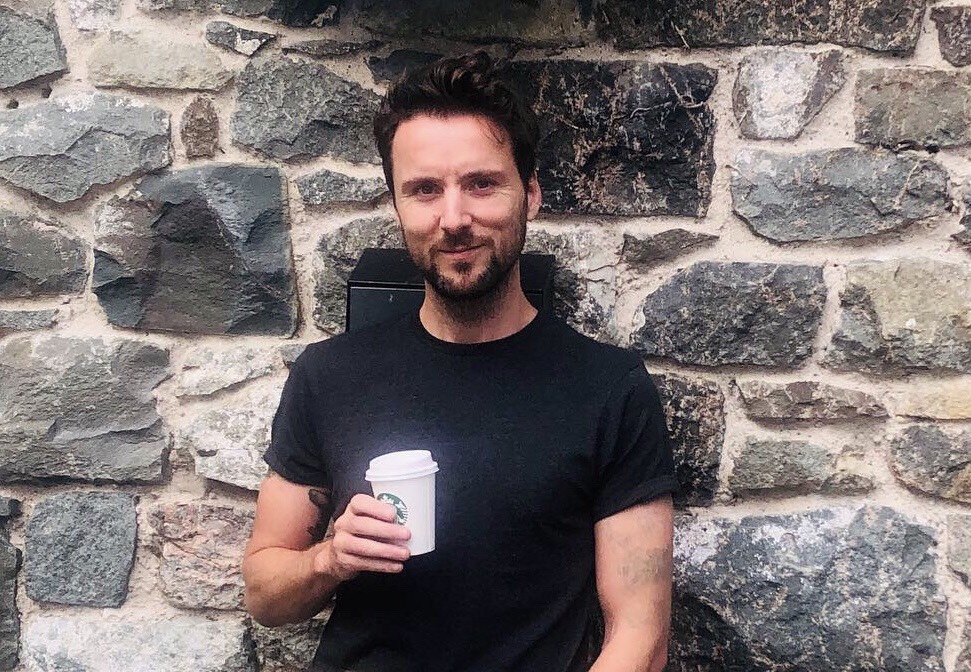 An English Literature graduate of Manchester University and Liverpool John Moores University Writing MA, Richard's debut novel Hello Friend We Missed You was recently announced as winner of the Guardian's Not the Booker Prize 2020. 
'It took me by surprise when I read it, and it's haunted me ever since,' said Sam Jordison, Guardian Not the Booker Prize judge, 'It's formally daring, with clipped sentences, short elliptical chapters, and almost impressionistic streams of thought. It's also very funny. (The title itself turns out to be a fine joke about Domino's Pizza.) But it's the emotional complexity and gentle melancholy of the book that endures. It's a moving experience – and that matters. Especially in a difficult year such as this one.'
Hello Friend We Missed You is a deeply poignant and bleakly comic debut novel about loneliness, the 'violent revenge thriller' category on Netflix, solipsism, rural gentrification, Jack Black, and learning to exist in the least excruciating way possible.
Its story of depression and death on the small Welsh island of Môn, of people armed with every social media completely failing to communicate, is far, far funnier than it has any right to be. It's also, ultimately, extremely moving. An incredible debut novel from a truly unique prose stylist. It was recently published by Parthian.
Born and raised on Ynys Mon, Richard lives in Cardiff with his wife, daughters, and cat, Abi The God. We recently caught up with him …
What inspired you to write Hello Friend We Missed You?
The truth of the novel seemed clear to me. The images, locations, important moments, sadness, humour, all of it appeared in my head and I began typing.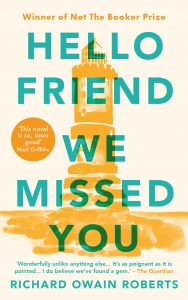 Tell us a little about the story you've created.
Self-pity is a destination, grief a journey. I feel like I've created a story that speaks to isolation, depression, narcissism, friendship, healing, love, laughter, nature, and, most importantly, acceptance. 
What do you hope readers will take away from this story?
I hope they'll find themselves in Hill's world, the island interior, laugh a lot, shake their heads in exasperation, bang their fists on the table, laugh more, hug their loved ones, human and animal alike.
What led you to start writing?
I began writing a huge amount from the ages of eight to ten, having a great time, unburdened, putting together my interpretations of the things I was seeing around me and in the media I consumed. To have found my way back to that moment is unreal.
What books inspired you as a young reader?
As a young reader I loved the illustrated Rupert the Bear books. The stories were very dark, the threats to Rupert and his friends feeling intensely real to me. Sali Mali and Rala Rwdins definitely. The original run of Transformers comics, certainly.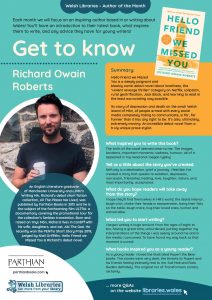 What life experiences have shaped your writing most?
Every single life experience has shaped my writing, definitely, so much so it seems crazy to even broach specifics. Or, alternatively. Watching Robocop aged nine was transformative in how it showed me a crystalized auteur, high-low art sensibility that is a crucial template for me. Paul Verhoeven is my art dad, I feel, and I thank him for his work.  
If you could choose a book character to be for a day, who would it be and why?
The book itself doesn't matter so much, but as for character I'd be a peripheral extra and just see what happened when the protagonist left to continue the plot somewhere else. I'd probably spend the rest of the day wandering around, seeing what's up, 'West World style' searching for answers. 
What character in your books are you least likely to get along with?
I love all my characters unconditionally, but fortunately I can always close the laptop when I've had enough of them. 
What message do you have to inspire young writers?
Be an independent thinker, a keen, open minded listener, find your truths and enjoy the work. 
Read our Get to Know the Author flyer for further information about Richard and Hello Friend We Missed You. See also our Author of the Month writing in Welsh.