Nicola Davies
October 1, 2021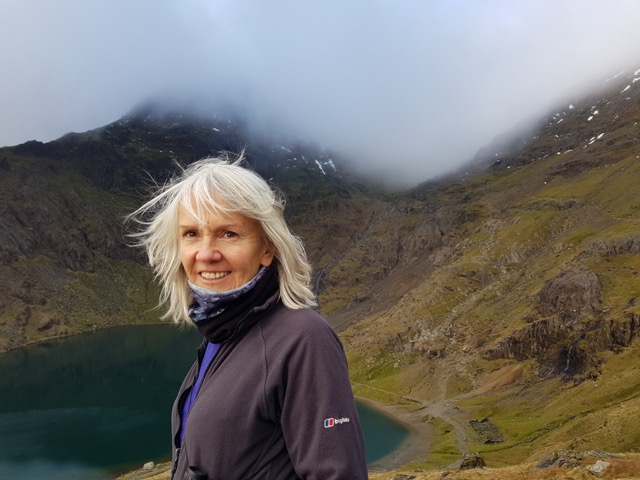 Nicola Davies is an award-winning author, whose many books for children include The Promise, Tiny, A First Book of Nature and King of the Sky. Nicola graduated in Zoology from King's College, University of Cambridge, and studied geese, bats and whales before becoming a presenter for The Really Wild Show and the BBC Natural History Unit.
She has been writing for children for more than 20 years. Underlying all Nicola's writing is the belief that a relationship with nature is essential to every human being, and that now, more than ever, we need to renew that relationship. Nicola lives in West Wales.
Nicola's latest work for children, The Song that Sings Us, is a stunning environmental epic with cover and chapter illustrations by award-winning illustrator, Jackie Morris. Nicola recently gave us an insight into her incredible new book, & also said a few words about how libraries have inspired her as we celebrate Libraries Week (4-10 October).
What inspired you to write The Song that Sings Us?
I've spent my entire career communicating biological science to children in various ways, trying to raise passionate zoologists, environmental advocates and campaigners. So almost all of my previous books are in some way about nature and human relationships with the natural world. Almost all draw on my background as a field zoologist: I began my career following humpback whales in boats, and spending hours looking at bat poop down a microscope! In some ways, The Song That Sings Us is entirely consistent with that history, with deep roots in  zoological science and in what I know about the human connection with all living things. But, this time, I wanted to write about it in a really different way, in a way that would be more emotionally engaging, in a way that would take my readers on a really exciting journey, in a way that would deliver a powerful message that everyone needs to hear.
So, I invented another world. A world where some humans have always had the gift of eavesdropping on animal thoughts. They don't always understand what they hear, they don't always behave well when they do. Yet from that gift of listening, a society is born where respect for nature is woven in to the warp and weft of human culture. (I was very aware of the many precedents in children's literature of 'talking animals' which I hope I have mostly avoided.) Standing in that other world allowed me to shine a light back on our real world and the engage my readers' minds and hearts in a new way.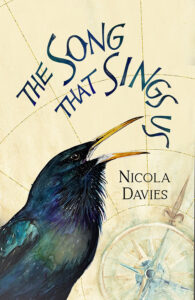 Tell us a little about the story you've created & what do you hope readers will take away from this story …
In my imaginary world, as in our world, things are changing. There are those who want to dominate nature, to use it, to own it and sell it, and they definitely don't want to listen to anything any animal has to say. These people are known as the Automators and they have seized power, outlawed the gift of listening, and are busy destroying the natural world, for their gain. They are opposed by a tiny, but determined, rebel movement called Green Thorn, whose mysterious leader, the Ghost, has been missing for a decade.
My story centres on three siblings: Harlon, a girl (the eldest) and her brother Ash and sister Xeno, twins who posses the forbidden power of listening. The story begins just before dawn, high in the mountains when, Automator forces come to take Ash and Xeno. While their mother gives them covering fire, the children escape, first by snowboarding down a terrifying, steep slope, pursued by robot falcons. An avalanche strikes, and the children are separated. They are forced to pursue different paths, uncertain of where to go, only guided by their desire to find each other and their promise to their mother, to find their way to an island, lost in the depths of the ocean.
There are other guiding forces at work in the story. Animal characters who guide and befriend the children. A wolverine called the Gula becomes Ash's special companion; an elephant called Enkalamba heals Harlon and guides her on a Green Thorn mission through the forest, and a tiger sea captain called Skrimsli, has a paw on the wheel of the action. There is friendship, laughter, chases, fights, escapes (I love writing action sequences) and there are very nasty baddies, ( I also love writing a really  poisonous villain). 
The ending is potentially an apocalyptic tragedy, as is the ending facing us in the real world. What can save my characters? Of course I'm not going to plot spoil and tell you, but I'll give a clue. It is the same things that could save us: the realisation that we are all of us, from microbe to mushroom, from hammerhead shark to human, wolverine, elephant, whale and songbird, one family of life, one kin.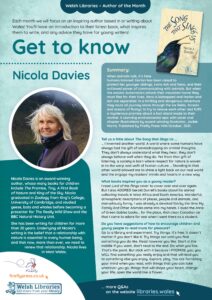 How do you go about writing a book?
I don't plan much, not early on anyway. I haver to discover the story and learn about the characters as I go. I usually have an image, a first scene which I can see and feel very vividly, like a video clip. I write that and then play it over and over until I start to see what happens next. I have a general direction for the story, I kind of final destination and I steer, vaguely for that. This stage takes a while, and it's often hard to keep believing in the process. Very hard actually. But at some point, when I have struggled and cried and angsted, it suddenly comes to life and then things happen without me pushing. I used to hear writers say that when I wasn't a writer and think 'what nonsense', but its true! Eventually I'm just watching a film of the book and describing what I see.
Do you think it's important to draw attention to special issues within stories?
I know that many people say 'don't have a message, don't have an agenda' but obviously, as a passionate environmentalist I do have an agenda and I do have a message! For me, there would be no point to any story without a real message. That's what narrative is FOR, delivering  information, realisation, insight, change. That's the job of the story. As Tyhrian Lannister says in Game of Thrones, a good story can change the world.
In your opinion, what makes a good book?
So many things! I'm pretty picky about good quality writing, but 'well written' can mean so many things. I think adverbs are a good, quick litmus test. I see too many adverbs, and I come out in a rash and can't read further. 'Best seller' is often an indication that I won't like a book … though not always; there have been best-sellers I've loved. I like good observation, good judgement about what to say and what not to say, writing that surprises me, writing that is clear, beautiful, that sounds good in the mouth. But I have guilty pleasure too – fantasy that I can devour, reading every fourth or tenth word just to get the plot .
What books inspired you as a young reader?
I read Lord of the Rings cover to cover over and over again. But I also ADORED Gerald Durrell's books about his animal collecting travels in West Africa and South America. Wonderful, atmospheric descriptions of places, people and animals, and marvellously funny. I was already a devoted fan by the time My Family And Other Animals came into my hands. I loved the Anne of Green Gables books… for the place, that clean Canadian air that I came to adore for real when I went there as a student.
Who are your favourite authors?
How long have you got? I learned reams of Keats from my dad and at school. My mum bought me all of Thomas Hardy for my 17th birthday. I read Tess until 3 am and sobbed throughout.  In my twenties I was a massive literary snob and ONLY read old  European classics: Elliot, Austin, Dostovesky, Zola (LOVE Zola!), Tolstoy, Gide. But I never liked Dickens. Then about a decade ago I decided I HAD to read Dickens and took Great Expectations on board the boat I was working on. At 2 am on deck, on watch, by torch light, I fell in love with him. Now Our Mutual Friend is one of my favourite books.
Generally now though my tastes are pretty catholic. I read less poetry than I did 15-20 years ago when it was all I read, (Les Murray, Sean Borrodale, Phillip Gross, Kathleen Jaimie …)  but coming back to it again now (my sister gave me Margaret Atwood's latest collection for my birthday…SOOOOO good) I read a lot of non fiction for research – sometimes just mining for facts but often discovering real loves. Richard Holme's wonderful Age of Wonders was another middle of the night on watch delight (I actually hugged it to my chest after reading the first page). Thor Hanson's books are fabulous – when I was working on the illustrations for my picture book Last (the only one I have done the pictures for) I listened to three of his on audio book, and then read them. Ditto Rob Macfarlane, Underland oh how I loved that one! I read All the Light we Cannot see by Anthony Doer and loved it deeply, but not as much as I loved his tender and wonderful non fiction acount of place and parenthood,  Four Seasons In Rome.
There are people I come back and back to Rose Tremain (of course) Anne Tyler, Anne Patchet, Barbara Kingsolver, Ali Smith, Hilary Mantel (adore her version of Cromwell), Annie Proulx, Cormac McCarthy. But I overdose on one author sometimes then jump ship find new people and new books through taking advice from friends.
A few years ago I discovered – late I know, so late- Penelope Fitzgerald's The Blue Flower. Just THE most wonderful writing. I think I've run out of her's now, but I've also discovered re-reading. I have almost stopped panicking in the 'so many books so short a life' fashion and decided really loving some books is better than trying to read everything. Tho' I'm going to start reading all the Booker shortlists, as I used to (there, I've said it, now I'm committed.) because I've discovered things I've loved that way…Douglas Stuart's Shuggie Bain, Bernadine Evaristo's  Girl Woman Other.
Shall I stop now? We could be here all day… Oh I'm reading Overstory by Richard Powers right now (how did that NOT win the Booker??). Writing that takes my breath away but the tragic content makes me stop and look away so I'm stuck 2/3 of the way through… I may need something else to sustain me which will probably be a David Almond.
In what way have libraries influenced you during your lifetime?
When I was very small, younger than 7, I went to the library every week, either with my mum or my grandparents. I adored it. Coming home with too many books to carry. Being able to just plunder them for pleasure of images, or stories…mostly images, I was a late reader. The smell of the shelves, the clear plastic covers on the books that made them special, they fact that I could choose whatever I wanted, find out about anything. After that  we moved moved to rural Suffolk and I started secondary school. Ah the school library, refuge of the misfit, my home. I really hated school, but I loved the library. I remember so clearly wandering the shelves, picking up books on all sorts of things. I developed temporary passions – cloisonné ennameling was one, Buckminsters Fuller's geodesic domes another-  and discovered authors I wouldn't have heard about at home from the excellent librarian – I would not have read Sons and Lovers or The Lost Domain without her (hated the former LOVED the latter, BTW) . She was not a teacher, she wasn't part of the system of endless assessment and judgement, I felt she saw me, for myself.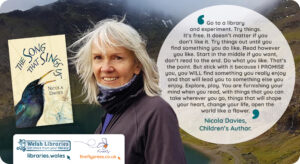 Do you have suggestions of how to encourage children and young people to read more for pleasure?
Go to a library and experiment. Try things. It's free. It doesn't matter if you don't like it. Try things out until you find something you do like. Read however you like. Start in the middle if you want, don't read to the end. Do what you like. That's the point. But stick with it because I  PROMISE you, you WILL find something you really enjoy and that will lead you to something else you enjoy. Explore, play. You are furnishing your mind when you read, with things that you can take wherever you go, things that will shape your heart, change your life, open the world like a flower.
The Song that Sings Us will be published on 14 October by Firefly Press.
Read our Get to Know the Author flyer for further information about Nicola and The Song that Sings Us . See also our Author of the Month writing in Welsh.
You can also read Nicola's latest Blog on her website www.nicola-davies.com and follow her on Twitter @nicolakidsbooks