Horatio Clare
June 1, 2023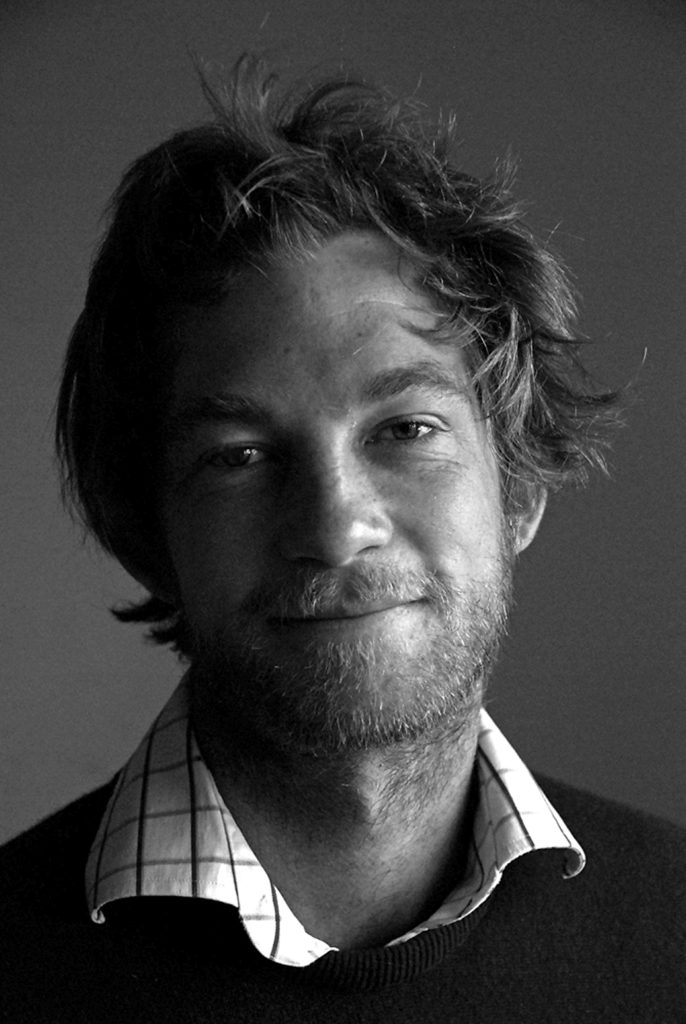 Horatio Clare is an English author known for travel, memoir, nature and children's books. He worked at the BBC as a producer on Front Row (BBC Radio 4), Night Waves and The Verb.
Clare's first book, Running for the Hills, an acclaimed account of a Welsh childhood, won a Somerset Maugham Award, was longlisted for the Guardian First Book Award and saw Horatio shortlisted for the Sunday Times Young Writer of the Year. His subsequent books include Truant, A Single Swallow (shortlisted for the Dolman Travel Book of the Year), The Prince's Pen, Down to the Sea in Ships (winner of the Dolman Travel Book of the Year), Something of his Art and The Light in the Dark.
His first book for children, Aubrey and the Terrible Yoot won the Branford Boase Award 2016 and the sequel Aubrey and the Terrible Ladybirds was nominated for the CILIP Carnegie Medal 2018. His essays and reviews appear regularly in the national press and on BBC radio.
Aubrey and the Terrible Spiders is the third book in the award-winning Aubrey series, with illustrations by Jane Matthews, and features a passionate and entertaining environmental storyline about how much is expected from children in this era of climate change. The books in the series are suitable for ages 8-12.
Thanks to Horatio for answering our Q&A recently…
What inspired you to write Aubrey and the Terrible Spiders?
I hate and abhor violence, so how come I can tell you the names of different tanks, machine-guns, pistols etc – and a lot of children can too?  I was thinking about that and how as a boy I loved guns, wars and the idea of fighting – tanks, rockets, planes. you name it – and why, and still do in some ways.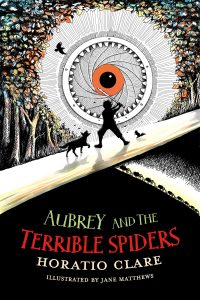 Tell us a little about the story…
Well there's this wasp. And it stings our hero, which is not so odd, except that before it flies away it apologizes and says it was ordered to do it. And things rather escalate from there. Our hero, Aubrey, named after my son but very much his own man, as it were, and aged about 9, can understand what insects, birds and mammals say. Having believed his whole short life that he was the only one who could do this (he hears what they say in his head, as you are hearing this as you read) he now discovers someone else can too! And this person apparently wants him stung…
Why do you write?
Like most children, I couldn't really help doing the things I loved to do – like, when I was 9, playing with sticks as though they were machine-guns and old trees as though they were tanks. Now I feel that the world would be a better place without tanks, machine-guns and every kind of weapon (even pointed sticks, tbh) but instead of campaigning to ban them, I play with ideas about them in my head, and make stories to try to work out what I think about things, what we should do about things, about what matters.
Truthfully, then, partly because part of me never grows up (this is the same for ALL adults!) and partly because part of me has. And the lovely thing is, writing feels just as fun as playing with machine-gun sticks did – or very nearly as fun, because I did that mostly with my brother, and writing you mostly do alone.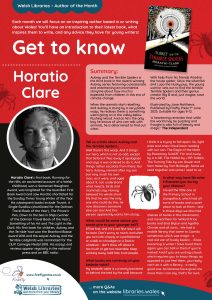 What inspires you?
[For Aubrey and the Terrible Spiders] – wasps!
How did you know you wanted to be a writer and when?
Around the time I realised what writers did – or thought I realised. So this wonderful writer called Alistair Maclean who had been in the war spent half his time, I reckoned, writing stories (I was about 10), mostly about the sea and war at first, but then about all sorts of places and situations, and half the time travelling. And thought, hang on a minute… !
Turns out he was incredibly good at it and became very successful quickly, and rich, incidentally. But you don't think about these sorts of things until you are literally penniless, turning 25 and very glad you are working in a pub, rather than sleeping on benches, and wishing you knew how to write a book, any book, definitely including an unsuccessful one.
Who are some writers you admire?
Virginia Woolf, A.A. Gill, Dylan Thomas, Sylvia Plath, J.D. Salinger, Shakespeare, Kurt Vonnegut, Joan Didion, Seamus Heaney – among very very many… 
Is writing the only artistic medium you do?
Not quite. I dance and I sing. Badly (singing) and with joy (both). I perform stage shows disguised as book talks. That counts as theatre. And I make radio programmes, which is even more fun than writing, except for the batteries and the early starts.
What would be some advice you would give to your younger self?
It'll be fine, and if it's not fine now it will be soon. Don't worry so much, and when you turn into a loony or a perfectionist or a slob or a hooligan or a Dad or whatever – don't show off about it too much or get too miserable. Keep working away, hold fast, trust people.  
What is your writing process?
Sit down and bang it out! Which is not a great method, honestly. It means you write some good books and some poorer ones. I like to think I could write better books if I gave them much more time and trouble, but either I am a bit lazy, or, more likely, I get distracted easily, or, quite possibly, I am a bit scared of what would happen if I spent, say, four years writing the absolutely best book I could. Would it be any good? Would it be – this is the main question – as fun as writing two or three less difficult books faster? I guess that shows that I haven't grown up as much I as I might have.
What books are currently on your bedside table?
 My bedside table is currently banished to behind the bed by the wall because I think it is trying to fall apart. So, light ones and ones I have been reading with our son: The Eagle of the Ninth by Rosemary Sutcliff, Far And Away by A.A. Gill, The Hobbit by J.R.R. Tolkein, The Turning Tide by Jon Gower and Sarn Helen by Tom Bullough. Some we read together and some I read to us.
In what way have libraries influenced you during your lifetime?
I loved the little one at Primary School in Llangattock, which had all sorts of books and a quiet place to look at them – and in those days we also had shelves of books in the classrooms, and I loved them for Willard Price books and Enid Blyton and Agatha Christie and all sorts. Then at secondary schools I loved libraries. You could half hide half explore in them for hours. And you could meet your mates including girls in them, and I didn't do much reading in them, often; I prefer to read in bed. Maybe the newspapers, a bit. And magazines. We had a mobile library that came to Cwmdu sometimes which was magic – a cool old van of lovely books!
At university the library really rather scared me, because everyone was so clever and seemed to have read so many books and I had no idea where to even begin. I avoided it except in a panic before exams, and then – well, at least it was a quiet place to panic.
Since becoming a writer I have loved them again: you can talk in them if you're invited! And if you are writing a book which requires you to know things, as opposed to just feel them, you really can't do it with a library – a really good one. So libraries have given me more than I can say, that's for sure.
Aubrey and the Terrible Spiders was published 1st June by Firefly Press [Twitter @FireflyPress]