Dave Lewis
April 28, 2023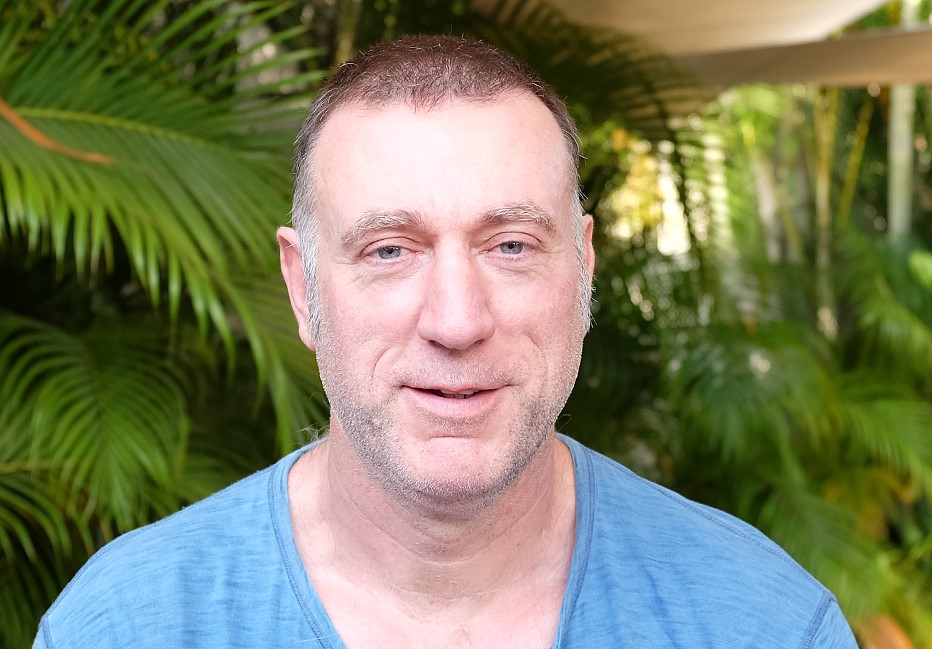 Dave Lewis is a writer, poet and photographer from the ex-mining village of Cilfynydd in Rhondda Cynon Taf. He read zoology at Cardiff University and studied Software Engineering at Glamorgan University. He has taught science, IT and photography in schools and colleges in south Wales. He has always lived in Wales apart from a year, teaching and volunteering in Kenya.
He founded the International Welsh Poetry Competition, and runs the Poetry Book Awards, the Writers of Wales database, Wales Trails and book publishing company Publish & Print.
He has published over twenty books since his first poetry collection in 2009. He was a runner-up in Literature Wales' 2009 Rhys Davies Short Story Competition, judged by Stevie Davies and Niall Griffiths, with his short story 'Onions'. 
His novel The Welsh Man is a journey through the underbelly of 80s and 90s Britain.
"Paul Thorne is no angel. A hard man with a troubled past, his mistake was to fall for the
wrong girl. When he said yes to love, he opened the door to death. A tragic accident finds him running for his life from a vicious London crime boss. He seeks sanctuary in a sleepy, Welsh seaside town but instead of solace, he finds jealousy and betrayal."
We caught up with Dave recently to find out more about what inspired him to write The Welsh Man, his poetry and future plans… 
The Welsh Man was a novel I'd wanted to write for many years. A short, sharp, shock of a book that details a working class Wales that isn't often visited these days. One of my favourite books is Saturday Night, Sunday Morning by Alan Sillitoe, and having worked in factories and on construction sites myself I knew I could give this a good go. It's certainly not autobiographical, although much is based on people I've known and events that happened back in the day.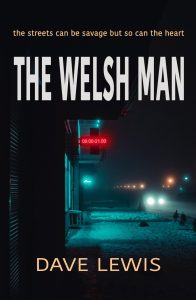 Tell us a little about the story … 
It's basically a road trip and an old-fashioned love story, set in 80's and 90's Britain. Our Welsh hero has had a tough upbringing and ends up working for a crime boss in London. A tragic accident changes everything though. On the run from gangsters he ends up in the Welsh seaside town of Porthcawl. It's quite a gritty read but very real. I like to think there is kindness, decency and hope there too.
Where do you draw writing inspiration from? 
Real life. A lot of my poetry is about me or the people and places I know. My Hagar crime thriller trilogy is set in and around areas I'm comfortable with or know something about and neatly slots into the 'Cymru noir' genre.
As for why I write, I don't really know, I suppose it's a bit like the 'Ancient Mariner' who is compelled to tell his tale to gain a sort of catharsis! Everyone loves a good story don't they?
What is the most difficult part of your writing process? 
Finding time to do it first of all. I'm easily distracted and often have too many projects, ideas on the go at once.  I'm a really poor editor! With poetry I tend to write something and if I'm happy that's it. I'm a lot better with prose because I'm not a natural prose writer, it's really hard work for me so I do take more time.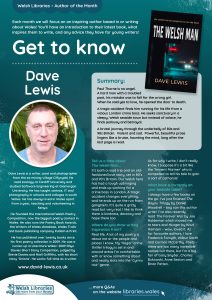 What books inspired you as a young reader?  
Willard Price adventure stories – I've read them all. I also loved anything that included animals, especially encyclopaedias. By about fourteen or so I had moved on to poetry – Dylan Thomas, Wordsworth and Coleridge. I liked Dylan Thomas's 'colour of the saying'.
What book is currently on your bedside table? 
I always have a few books on the go. I've just finished The Bayou Trilogy by Daniel Woodrell – boy can this guy write!  I've also recently read The Forever War by Joe Haldeman which moved me to tears and Hunger by Knut Hamsen – wow, loved it. At the moment I'm re-reading Naked Lunch (I went to Tangier in February so thought it appropriate). As for favourite authors, I love Frederick Forsyth, Wilbur Smith and Cormac McCarthy. Poets, there are too many good ones but Gary Snyder, Charles Bukowski, Anne Sexton and Brian Patten are pretty cool.
In what way have libraries influenced you during your lifetime?  
My mam took me to Pontypridd library when I was a child, and I've always loved books. I remember borrowing The Lion, the Witch and the Wardrobe from the library, and being amazed by the story. When I was in the sixth form I was into Shelley and Keats. I've also worked in libraries for a couple of years.
Do you have suggestions of how to encourage children and young people to read more for pleasure?  
Yes easy, take their phones off them! Or we could just tell them not to read books. Kids like to do the opposite of what you say! I guess if you surround and immerse our youngsters with books it just feels natural to pick one up occasionally. I love film as a medium and so casually mentioning to a child that their favourite film or TV character comes from a book might help.
Do you have any plans for future titles? 
I'm finishing off a new poetry collection, Algorithm, where I rant at the negative direction the world is going: AI, robots, CBDC, carbon credits, social media, rich/poor divide, war, environmental destruction…I'm also trying to finish a screenplay for The Welsh Man – so watch this space…(!)
The Welsh Man was produced by Publish & Print in November 2020.