Angela Johnson
December 1, 2021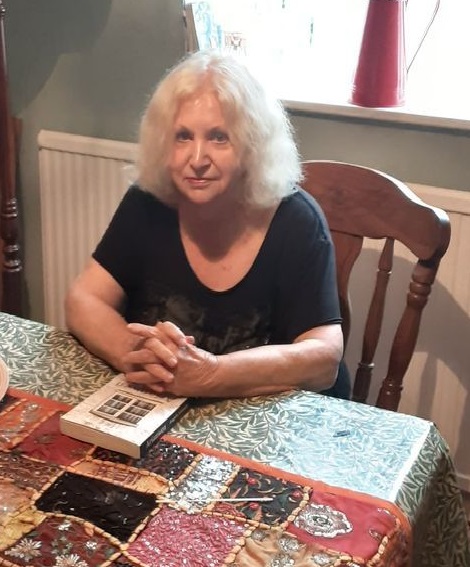 Angela Johnson was born in West Wales, and grew up in Newcastle Emlyn, a small market town on the banks of the River Teifi. Welsh was her first language, and the language of her family, and in her writing about Wales she is conscious of the rhythms of her language even though she writes in English. The landscape of her childhood is portrayed in Arianwen. During school holidays she stayed on her grandfather's farm where as the only child there, she learned the joy of solitude, and learned about narrative from the gossipy stories of the sub-Chaucerian gallery of characters who visited the farm and the little post office her aunt ran in the parlour.
She attended the local grammar school, and was encouraged to write by an inspirational English teacher, and in turn became an English teacher herself after studying in Swansea and later in London. After teaching in colleges and schools in North Kent she chose to study Creative Writing at the University of Kent and was awarded a Distinction.
Her novel Harriet and her Women was shortlisted for the Impress Prize for Fiction and she was also shortlisted for the H.E. Bates Memorial Short Story Prize for her story George and the Dragon.
Angela has travelled widely, especially in Southern Africa, and has a great passion for the tiny Central American country of Costa Rica, and loves its bird-teeming rivers and rainforests.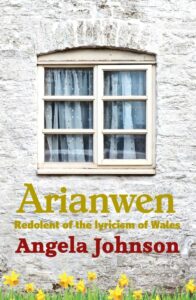 Her latest novel, Arianwen, is the story of a women who deems herself very ordinary, yet through the turbulent course of her life we see that she is a remarkable woman, a woman whose life ends prematurely. Brought up in relative comfort in the secret valley of dark trees and the beautiful old mill, she spends her formative years lodging in two very different households, then trains to be a teacher and goes to work in a North Pembrokeshire village. Her first marriage ends in tragedy and, ultimately, through the power of music, community and friendship she learns to live again.
We see how others depend on her quiet strength and pragmatism, her kindness and her empathy, and her gradual questioning of women's place in society. The novel is a portrayal of a changing society where the age old certainties are threatened by new ideas, and communities are evolving in unexpected ways and the Welsh language is under siege.
We caught up with Angela recently …
What inspired you to write Arianwen?
I was inspired to write Arianwen by an increasing need to write about the places, people and stories of childhood, part lived in a market town in the Teifi Valley and, partly on a small farm near the Ceredigion coast, and by the recurring rhythms of my native Welsh Language, even now, the main language of my mind.
Tell us a little about the story you've created …
The story portrays a women growing up in the early part of the twentieth century, a woman whose character is formed by family, love of music, a chapel upbringing, the community in which she lives, a practical woman bound by the expectations of her time, a woman who inspires love, and, ultimately,  a women who experiences great tragedy and has to learn to live again.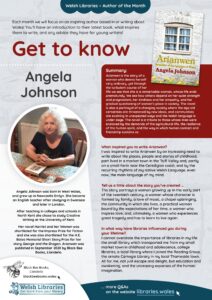 What were the key challenges you faced when writing Arianwen?
When a novel is inspired by childhood one of the main challenges is not to be entrapped by nostalgia or idealising place or the time in which it is set. As a writer I see myself as a detached observer and I avoid sentimentality. I love my eponymous main character – her humour, her practicality, her stoicism, her little acts of rebellion, and I  had to fight the inclination to become too emotionally involved with her ever since.
What inspired you to start writing?
 I decided I was going to be a writer after I was praised for writing a description of St.David's when I was eight, and later I was encouraged by a wonderful English teacher and yes, most definitely the library in Newcastle Emlyn where I spent time when I should have been doing my homework. I came to realise the power of the written word to entertain, to educate, and to expand our minds.
Where do you draw inspiration from?
I now live in North Kent, near where Dickens lived and wrote. I'm inspired by the wild beauty of the North Kent marshes, by the natural world, and my memories of the Teifi Valley, the little villages of North Pembrokeshire and the coast of Ceredigion, but, mainly, I'm inspired by people, the infinite complexity of human nature, and  by very fond memories of stories heard in a Welsh speaking community when I was very young.
Do you have a favourite character that you have written? If so, who? And what makes them so special.
I love Ianto in Arianwen, his love of music, his practical usefulness, his kindness, his tolerance. He is a man of his time, and beyond his time, is willing to embrace those who are different. He's not perfect, not particularly religious at a time when one was judged by assiduous chapel going. He likes a few pints, he's not averse to a fracas, he's brave and doesn't know it. We should all have a Ianto in our lives.
What, in your opinion, are the most important elements of good writing?
Good writing should ignite the imagination, should inspire empathy, should create interest. A writer owes it to the reader to make the book compulsive. We all love good stories, and they should be well told, and for me the best writers are those who employ the best prose.
What books inspired you as a young reader?
My very early years were steeped in Welsh language books, read by my Dadcu, and later when I realised that I could speak two languages, I discovered Enid Blyton, and later on I soon moved to adult books.
Who are your favourite authors?
My favourite authors are George Eliot, Thomas Hardy, Margaret Atwood, Bernardine Evaristo, Sarah Waters, Ian Mc.Ewan, and Helen Dunmore, and I love crime writers such as Barbara Vine and P.D. James. I was also greatly influenced by the poetry of R.S. Thomas and Seamus Heaney.
What book is currently on your bedside table?
I'm currently reading A Shot in the Dark by Lynne Truss, a comic crime novel set in Brighton, set at the same time as Graham Greene's noirish Brighton Rock, with some familiar tropes, violence and fifties shabbiness, but told with characteristic Truss humour.
In what way have libraries influenced you during your lifetime?
I cannot overstate the importance of libraries in my life, the small library which transported me from my small market town in childhood and adolescence, college libraries, a local library where I joined the Reading Group, the ornate Carnegie Library in my local Thameside town. All for me, not just escape and delight, but education and awakening and the unceasing expanses of the human imagination.
Do you have suggestions of how to encourage children and young people to read more for pleasure?
The best way to encourage children to read and to enjoy  books is to read to them at the earliest possible age, and allow them to handle books, and gradually they come to realise that inside those covers magic awaits them. As an English teacher at a boys' school I saw that after about the age of twelve there was a dropping off of interest in books. Screens offered easier, but less enduring pleasures. I always made sure there were plenty of books to look at in the classroom, and before the examination years a wide choice of appealing books to read as a class book. Children who have access to books at home have an advantage, but parents can help by encouraging visits to libraries even for older children.
And, lastly a mention for the new and innovative Welsh publisher, Black Bee Books, run by Seonaid and Huw Francis in Llandeilo. I thank them for their support and encouragement. Diolch yn fawr.
Read our Get to Know the Author flyer for further information about Angela Johnson and Arianwen. See also our Author of the Month writing in Welsh.