Angela Graham
December 1, 2022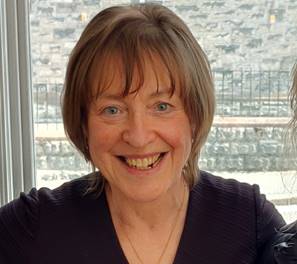 Angela Graham is from Belfast. A fluent Welsh-speaker, she is an award-winning TV producer and film maker. Her debut collection of short stories A City Burning (Seren Books) appeared in 2020 and was longlisted for the Edge Hill Short Story Prize 2021. Her poetry is widely published. She won first prize for poetry in this year's Linen Hall Ulster-Scots Writing Competition.
In May 2022, Seren Books published her poetry collection Sanctuary: There Must Be Somewhere. Angela divides her time between Wales and Northern Ireland and has invited five other writers from these places, each with their own experience of sanctuary, to contribute a poem to the collection, written collaboratively with Angela. In this way the book becomes a sanctuary in itself.
Angela explores themes of sanctuary from the inside. We encounter the personal, the political, the global, and the divine, and discover that sanctuary is not only a place, but also something that can be lived. 
"An urgent publication in times like these. Unfortunately, it is also urgent because sanctuary becomes a necessity for those who have to flee from their dwelling place. Seeking refuge, asylum and shelter from the fragility of  their homeland is indeed  their last hope  of survival.  Never was there more of a need — a need for the grace and goodness of strangers…" – Professor Emerita Menna Elfyn. 
Read our recent interview with Angela…
What inspired you to produce Sanctuary: There Must Be Somewhere?

The book was inspired by the circumstances of the pandemic and of the crisis of forced migration. It seemed to me that we, locally, were all experiencing the fragility of our lives, with a heightened sense of peril and of safety while also being aware of the enormous challenges being faced by people in many parts of the world who were risking their lives in the hope of living safely.
But we had, in fact, imperilled ourselves, globally, by our neglect of the planet itself, our ultimate sanctuary. One might say we are in the process of expelling ourselves from Eden. A traumatic experience.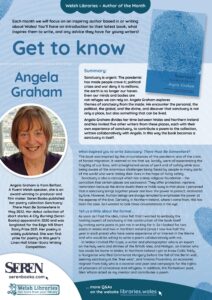 And I was aware, of course, of a crisis of values. Standards in public life were flouted. Trust was abused. In such circumstances it is easy for cynicism to take hold. Is anywhere safe? Is anyone reliable?
And meaning – the conviction that, ultimately, things will make sense and prove not to be random and impersonal – I felt that many people I knew were struggling to hold on to a sense of purpose; struggling not to retreat into individualism.
The theme of sanctuary allowed me to bring together these strands.
Sanctuary is also a concept which has a deep religious foundation − the conviction that certain places are sacrosanct. They offer protection, reprieve, restoration because the divine dwells there or holds sway in that place. I perceived that a sanctuary brings together power and love: the power to protect, motivated by love. However, human beings are always tempted to emphasise the power at the expense of the love. Certainly, in Northern Ireland, where I come from, this has been the case. So I wanted to look these circumstances in the eye.
Tell us a little about the format …
As soon as I had the idea, I also felt that I wanted to embody the hosting aspect of sanctuary in the construction of the book itself by inviting some poets to join me in writing for it. So I looked for two poets in Wales and two in Northern Ireland (since I now live half the year in each place) who have some experience of or interest in the theme and who would be willing to write a poem collaboratively with me. Such a writing approach is not the same as asking a poet to contribute a poem they have written on their own because it requires a greater degree of openness and flexibility to 'let someone in' to one's creative process. In Wales I invited Phil Cope, a writer and photographer who is an expert on the holy wells and shrines of the British Isles, and Mahyar, an Iranian who has made his home in Wales. In Northern Ireland I got to know Csilla Toldy, a Hungarian who fled Communist Hungary before the fall of the Berlin wall, seeking sanctuary in the 'free west' and Viviana Fiorentino, an economic migrant from Italy who is a novelist and poet and campaigns for the rights of prisoners of conscience and refugees. In addition, the Portadown poet, Glen Wilson acted as my mentor and contributes a poem.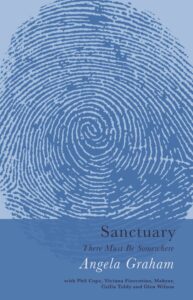 Where do you draw writing inspiration from?
I have paid close attention to my dreams for many years and they often bring up interesting material. Otherwise, regarding poetry, I draw my writing inspiration from anything which presses on my imagination, insisting I attend to it. That thing could be (and often is) an item of news, or something said. I've noticed that while I reflect on something, a scene creates itself in my mind and I see, clearly, a setting, an object, a person – some combination of these. I'm confident that, once I have paid attention to it, I can let it sink out of sight till I have the time to focus fully on it. It may be a long time between the 'sighting' and the attention but that doesn't seem to be a problem.
What is the most difficult part of your writing process?
It can be tempting to settle for third best just to get a poem finished. Waiting, respecting the process, staying true to the instinct that tells one that the pieces have clicked into place, that requires self-discipline and humility.
What, in your opinion, are the most important elements of good writing?
Being true to the material. One can tell if there is an element of falsity in someone else's writing. Not so easy to detect one's own. I know quickly when I start to read fiction or poetry if I am in the hands of someone I can trust. It's not so important what the format is. What matters is that the writer has the material in hand, has done the hard work of providing what is essential and cut the dross, has 'inhabited' the material, and (very importantly) not settled for the glib but made an honest effort to communicate.
If you had to describe yourself in just three words, what would those be?
A recovering perfectionist.
What books inspired you as a young reader?
The Wind In The Willows by Kenneth Grahame. I loved its variety of styles and the beautiful descriptions of nature. I was a city child.
Chambers Twentieth Century Dictionary in the version published in about 1910. We couldn't afford to buy books when I was a child. My mother brought this home from a junk shop. It fascinated me. It had supplements of useful information such as the right Latin phrase to use for particular occasions and the degrees of the British nobility, the meaning of Christian names and of medical abbreviations. Endlessly fascinating.
Palgrave's The Golden Treasury of English Verse (with Anglo-Irish supplement). This had belonged to my mother's sister and was published in perhaps 1920. It introduced me to the canon of English poetry but then it had this section at the end which included Patrick Pearse, Yeats, James Clarence Mangan – that sort of cohort. I believe it was important for me that I thought it normal to have poets from Ireland alongside the 'English'.
Diana and June and School Friend comics. An older girl in my street passed on to me a huge number of these and one of them had a Shakespeare play in each number, laid out comic-strip fashion. That was my introduction to all that drama.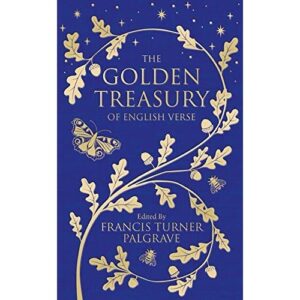 What book is currently on your bedside table?
Susan McKay's Northern Protestants: on shifting ground and Northern Ireland A Generation After Good Friday by Coulter, Gilmartin, Hayward and Shirlow.
If you could invite any three people for dinner, whom would you invite?
Gerald Dawe, Sam McBride, Jon Gower
In what way have libraries influenced you during your lifetime?
Libraries have been essential to me always. I remember the first time I bought a book. I was about twelve and an aunt who'd emigrated to America gave me half a crown on a visit home. I bought E.E. Nesbitt's Five Children and I'. My parents couldn't afford to buy books but they both used the local library. My father liked Zane Grey westerns and detective stories. My mother read as widely as she could. The production of books, the writing of them, the facility to create prose or poetry was respected although my parents had little contact with the middle class where such an attitude was considered to be more common. When my mother realised I was writing little poems at the age of seven she sent one of them off to a magazine. It was published and I learned from her reaction (which was calm satisfaction, as though it's a given that craft deserves its due) that to write and to read was something worthwhile. She never forced me. She didn't have to! Reading was part of normal life.
The respect for books may have come from my mother's mother. She grew up in a very poor area of County Kildare. She had carefully kept her school reader, which was passed on to me. It was heavily annotated and one could see the teaching process through these annotations – the proffering of accuracy of vocabulary and punctuation. It contained a demanding selection of English poetry and prose. The prose included very serious essays by masters of prose style. This book was tangible proof that a book was an important and cherishable thing.
Following on from that, libraries were to be respected and used. Even the likes of us could go into them and ask for things to read. In due course I studied English Language and Literature at Oxford, at a period when there were only eight colleges which accepted women so competition for a place was particularly high. My preparatory reading had been done by the grace of public libraries. True, eventually one of the tutors said to me, regretfully, 'Miss Graham, you haven't had the classic English education.' This could have discouraged me but my inner reaction was, 'How could I?' How ridiculous to think that that was even a possibility. Where did she think I could have laid my hands on one of those? I dismissed the comment and carried on. For two of my three years at the college I had a room directly above the college library. I could go down there in the middle of the night and read. I loved it. Nearest thing to living in a library!
The sense of potential in a library – all those treasures waiting to be discovered – has always stayed with me. A public library encourages and satisfies curiosity.
In my writing life public libraries have been essential sources of research material.
Do you have suggestions of how to encourage children and young people to read more for pleasure?
Give them opportunities to write, draw, create and perform so that books become friends who boost the enjoyment of being curious and looking for answers.
Do you have any plans for future titles?
I am currently editing a book of poetry and prose about place and displacement in the context of urban violence. It is a detailed exploration of the genesis of the house in which I grew up, in east Belfast and a search for my paternal grandfather who, was intentionally or not, 'disappeared' from the family.
I have my debut collection of poetry (as solo author), Shoot out on submission. I have written the first draft of a novel about the politics of language in Northern Ireland (English, Irish, Ulster-Scots).
Supported by the National Lottery through the Arts Council of Northern Ireland.
Sanctuary: There Must Be Somewhere was published in May 2022 by Seren Books.
For further information, visit Twitter @angelagraham8 @SerenBooks
Read our Get to Know the Author flyer for further information about Angela Graham and Sanctuary: There Must Be Somewhere.
Find out about our Authors of the Month writing in English