Young reading volunteers presented with certificates
November 5, 2015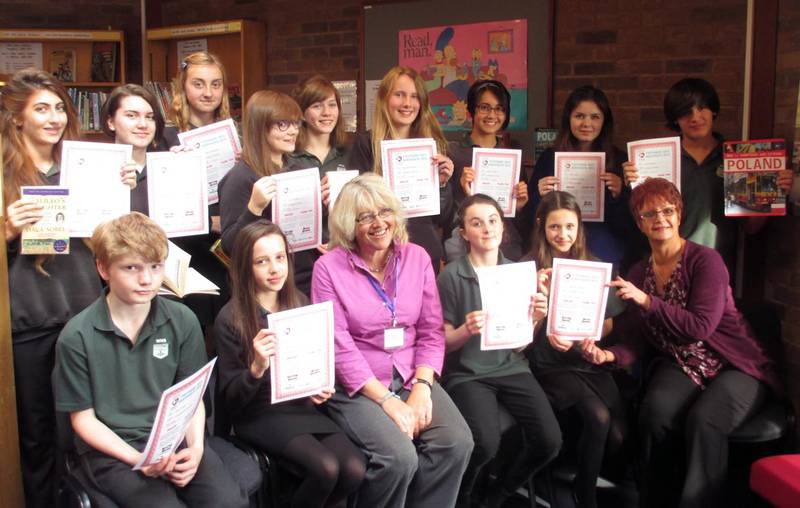 A group of young volunteers who helped encourage children take part in this year's summer reading challenge have been rewarded for their efforts.
27 high school pupils from across Powys become 'Reading Activists' and helped children aged four to 12 to choose books, listen to them read and even reading to the children who took part in 'Record Breakers' – the 2015 Summer Reading Challenge.
The volunteers collectively worked a total of 139 hours across seven libraries and actively promoted this year's reading challenge over the summer and also organised the award ceremony for the children that completed the challenge. They are now receiving certificates from the council's Library Service for their efforts.
This year, libraries in the county had a record number of children take up the summer reading challenge.  The Library Service also broke its own record for children completing this year's challenge compared with last year.
Cllr Graham Brown, Cabinet Member for Library Services, said: "Most young people at high school in Powys have enjoyed the Summer Reading Challenge in the past as primary school pupils but as reading activists, they were excellent and enthusiastic reading role models for young readers this summer and made a contribution to improving literacy levels in their communities.
"I would like to thank all those who volunteered this summer and helped make it a successful and rewarding initiative. Our Library Service wishes to continue this in the future as it offers valuable experience in promoting reading to children throughout the year."