WELSH LIBRARIES ARE BUCKING THE UK TREND!
January 5, 2015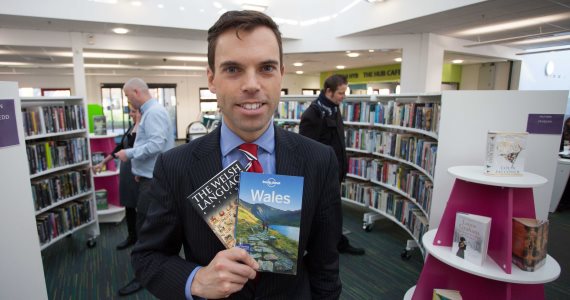 The number of people borrowing from public libraries in Wales is up by almost 5% in the last 12 months – whilst the UK as a whole has seen a decrease of over 4% according to figures released by CIPFA (Chartered Institute for Public Finance & Accountancy) for 2013-14.
Whilst visits to libraries and book issues have slightly decreased, there were still over 14 million physical visits to public libraries across Wales last year and over 12.3 million books issued to library users.
Audio-visual and electronic issues, including e-books and e-zines rose to over 1 million showing an increase in usage of 19% compared to last year. The all-Wales roll out of free e-books and e-magazines is a major factor in this increase. This is an excellent example of how libraries in Wales are continuing to meet the changing demands of customers by providing up to date services, relevant to them.
The level of enquiries made to library staff increased by 27% to over 2.6 million. And with many public services now being delivered primarily online this has led to an increase of over 3% in computer use in libraries, with over 2 million hours of free computer use.
The Deputy Minister for Culture, Sport & Tourism, Ken Skates AM, commented:
"I'm pleased to see the increase in the number of active borrowers in Wales and the increase in electronic issues. Libraries make a real difference to people's lives by improving literacy, developing digital skills and providing access to knowledge, which in turn helps to tackle poverty and support health and well-being. These are important priorities for us all.
"We are all facing challenging circumstances and it is clear we need to embrace change if we are to ensure the important services libraries provide can continue. Unlike England, I am committed to maintaining a quality community service. In Wales I have maintained the Welsh Public Library Standards and a capital grant programme which has allocated funding to modernise 98 libraries to date. I also announced £1 million of investment to this programme for 2015-16.
"Recently I was fortunate to visit a new library facility which is part of the Ely and Caerau Community Hub. It had all the services a traditional library would provide, in a welcoming setting, but with the addition of housing information, Communities First office, meeting rooms, and ICT Training Suites. The manager told me that as a result they had seen library members increase by over 60% as people who had never used a library before were enticed inside."
For more information about Welsh libraries, visit www.welshlibraries.org
For more information please contact:
Museums, Archives and Libraries Division
Welsh Government
Rhodfa Padarn
Aberystwyth
Ceredigion
SY23 3UR.
MALD@wales.gsi.gov.uk
0300 062 2112
Notes to Editors
For more information about Welsh libraries visit www.welshlibraries.org
CIPFA Public Library 2013-14 press release
http://www.cipfa.org/about-cipfa/press-office/latest-press-releases/cipfa-library-survey
The latest figures from CIPFA (Chartered Institute of Public Finance and Accountancy) for public library usage in Wales in 2013-14 show that:
• Over 300 public libraries service points in Wales are open 10 hours a week or more, including mobiles
• Over 14.1 million visits were made to Welsh public libraries (14,193,602)
• The number of active borrowers is 574,296 (defined as borrowing an item in the last 12 months)
• Over 12.3 million books were borrowed from Welsh public libraries (12,396,142)
• Over 1 million audio-visual loans were made, including music, talking books, films, e-books and e-magazines (1,033,807)
• There are over 2800 terminals with free internet access in Welsh public libraries (2833)
• Over 1.9 million hours of free computer use in libraries were made by the public (1,968,067)
• Over 2.6 million enquiries were handled by public libraries in Wales (2,660,559)