The Bridgend Mobile Library – Do you know all that your mobile library has to offer?
September 2, 2015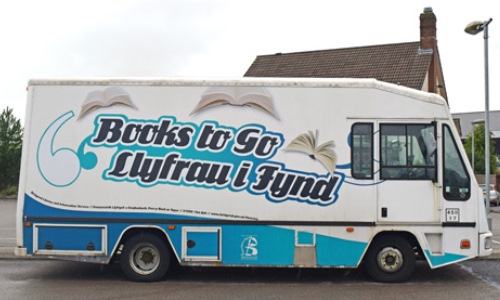 As well as being the place to pick up a great new read, local residents can now step on-board Bridgend County Borough's Mobile Library service for advice on using a computer and completing things online.
New digital equipment is enabling residents to use the internet on the Mobile Libraries to answer any queries they have, pay bills and carry out other online tasks such as internet banking. Residents can also access their favourite magazine online for free if they are signed up to the library service.
The Mobile Library service provides a wide range of books for adults and children, audio books, DVDs and information sources and can also provide large print books, while it has a stair lift for wheelchair users.
Any of the 350,000 books in libraries throughout Bridgend County Borough can be reserved free of charge and delivered to you by the Mobile Library. Residents are able to sign up when they visit their local stop if they aren't already a library member.
For Blaengarw residents who currently use the Mobile Library service, please note that a new stop is being introduced which will service that area. The Mobile Library will visit The Strand in Blaengarw at 9.45am – 10.45am this Thursday 27 August, and will return every three weeks.
Cabinet Member for Adult Social Care, Health and Wellbeing, Councillor Phil White: "The Mobile Libraries which serve our communities are a great help to residents who aren't able to make it to a library branch.
"In particular, it enables people who may have mobility issues or difficulties with transport to still benefit from using the libraries' services and what they have to offer. The new laptop and internet facilities are a brilliant addition as so many things are now easier to do online."
To view the timetable for your nearest Mobile Library stop, please visit www.bridgend.gov.uk/libraries. If you are house-bound and would like to learn more about the libraries book-link service, which can deliver books to you at home, please call 01656 754800 to find out more.