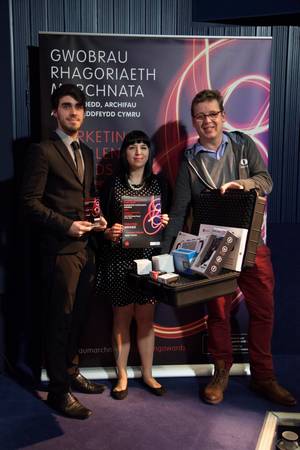 WINNER
The Egypt Centre – A Night at the Museum
Judge's Comments: Everything marketing should be – a subtle blend of science and art – planning and creativity and a little bit of opportunism too! I was impressed with the initial understanding of the issues relating to attracting audiences to the museum.  Great illustration of how to leverage partnerships and guerilla marketing and obvious staff engagement exercise too!
Take a look at a short film about the project
Other entries in this category:
Bridgend Libraries and Love2Walk
Judge's comments: I like the fact that you are building on best practice from previous years and adding new aspects to the initiative.  A good planning execution and I thought the metrics were transparent and should drive future activity.
Carmarthen Library and Dylan Thomas Boathouse
Judge's comments: A bit on the vanilla side of marketing this one – it captured a moment (DT) but I'm not convinced of the creative aspects as it really was about bringing together initiatives.  Also is this an existing audience?
Bangor Library and Wild Elements
Judge's comments: Good plan with an explicit and well framed aim.  The partnership angle was/is good – however I would have liked to have known a little more about the partner.  The initiative was successful and achieved many of the objectives – except sadly uptake by the targeted community.  Clear enjoyment by all involved – how will you harness this 'feel good factor' for future campaigns?
Anglesey Archives and the WI
Judge's comments: I really liked this entry, it started really strong with some obvious community links … and a potential for national footprint, perhaps this also falls into the category of an early stage campaign and I would like to revisit this one next year.
Gwent Archives and Chartist Anniversary Committee
Judge's comments: Commended for the detail of the plan – excellent.  Fully costed and shows some good creative marketing thought.  However, a disappointing outcome for the investment of time, effort and spend perhaps?  I would be interested to see some reflection of how you could overcome the issue of no shows and how to extend the project?
National Museum Wales, Cardiff Story and HLF
Judge's comments: Commercially speaking this project appears to have the lot! It combines Pop Up Culture, networks, crowd sourcing and digital all in one initiative.  So it scores highly there, however, although the objectives were SMART, the entry failed to tell me two things 1. What were the pre initiative targets? and 2. What was the big idea?  The one aspect worth noting is the staff engagement and envelopment of practice that has taken place – internal markets are still markets!