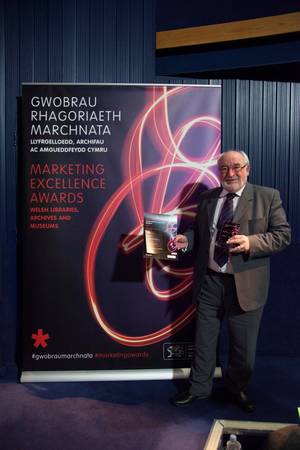 WINNER
Llandudno Museum – Bringing Blodwen Home
Judge's Comments: WOW! What a great idea and a generator of income too.  Case study example of using crowd funding for marketing and a very good plan around the initiative.  The key aspect here for me is the learning that has been achieved and reflected upon – how can this be used in the future and how can you share this learning… as I say great case study – well done.
View a short film about this project here
All other entries in this category:
National Museum / Amgueddfa Cymru – Peoples Collection Wales
Judge's Comments: A really well thought through digital marketing activity.  The plan was good and use of Google analytics are good to see – what use will you put the data to?  Some very god outcomes through social media too.
St Fagans – Food Festival
Judge's Comments: As far as the marketing goes – this achieves quite a lot really.  It picks up on the 'trend' for food festivals, my concern then is that it is a trend and may eventually burn out.  The planning is very good and some of the metrics are impressive – I just wonder how well the links are made to the museum aspect of the event – or is it just the venue?
The Egypt Centre – Night at the Museum
Judge's comments: Everything marketing should be, a subtle blend of science and art – planning and creativity and a little bit of opportunism too!  I was impressed with the initial understanding of the issues relating to attracting audiences to the museum.  Great illustration of how to leverage partnerships and guerrilla marketing and an obvious staff engagement exercise too.  Well done.
St Fagans – Escape to St Fagans
Judge's comments: Good use of data and IMC channels for audiences and in effect a good result – however given the agency involvement (cost?) I might have expected more.  What was missing for me was the metrics on the objectives… so just how many new visitors were you aiming at?