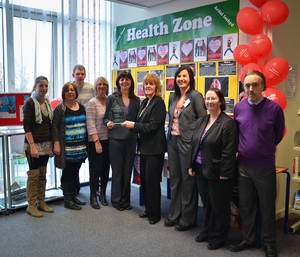 The Learning Resource Centre (LRC) team identified the increasing need for health information during the early part of 2011 but it was the partial refurbishment of the LRC at Grove Park during July 2011 that gave the impetus to find a permanent home for health related information.
Once the area was established at the start of the academic year in September, displays of current health topics were mounted and a number of resources were housed in the area including the 'Books on Prescription' collection which the LRC had launched in January 2011.
However, it was felt that a formal launch of the area was required to inform the wider college community and so it was decided that this should take place during the first 'Personal Safety Week' which the LRC arranged for October 2011.
Yale College won the Further Education category.
Judge's comments:
An entry that really shows how you can (and need to in times of tight budgets) leverage partnerships and co-creative opportunities to maximise impact and gain attention. An entry that scored particularly high on creativity, partnerships, promotion and sustainability… it always helps to get a politician involved! The sustainability factor is high in this entry with on going opportunities to be creative around the 'health' and 'safety' agendas – especially for young people.
We apologise that the above project document is only available in English