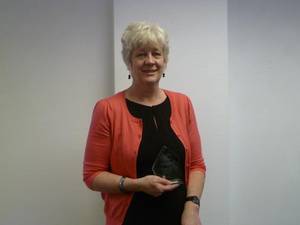 The 'Reaching Out To Young People' (NEETs) project started in September 2011 with the main objective library membership of NEETS and those who are at risk of becoming NEETS (a government acronym for young people (14-24) not in education, employment or training).
The basis of the project was to use the funding to purchase a range of incentives. The incentives were used as prizes in a free prize draw. A loyalty card was devised, to distribute to young people. A library stamp was gained after every use, this could be for book borrowing, computer use or research. After 5 stamps, the card was handed into the library, to be entered in into the free prize draw.
Blaenau Gwent Libraries were awarded Third Place out of the Public Libraries in the competition.
Judge' s comments:
A very difficult brief here – one that was driven by social and political needs – that of attracting THE most difficult of audiences: NEETS. However the team pulled together a pretty robust strategy to solve the problem and have achieved a great deal. By tapping into the outreach activity and the youth workers a good partnership appears to have been created. OK this is not a standard develop market/audience type of campaign but it has huge merit -sometimes marketing is about building traction with audiences at the edge of the normal distribution curve and the really successful executions change embedded behaviours (in main steam marketing think about the Government Health Warning messages: smoking, alcohol and seat belt…so in this case the numbers may not be large but influencing one mind at a time is priceless – and as such this entry scored the highest in attracting a new audience.
We apologise that the above project document is only available in English