Online Book Group Wales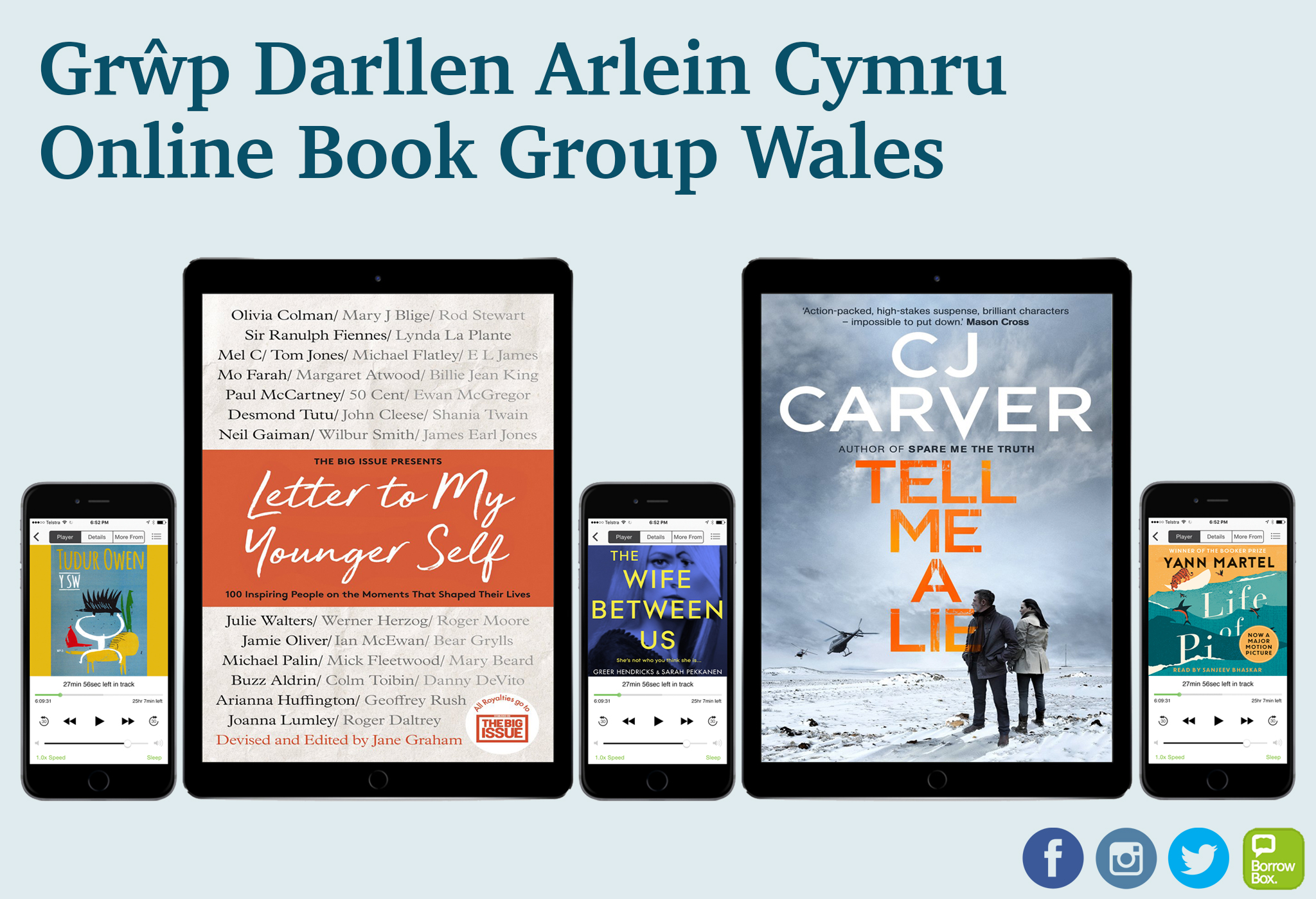 Online Book Group Wales
The Group was formed in April 2020 as a way of encouraging shared reading during the period of self-isolation as a result of the COVID-19 pandemic. The group operates from the @LibrariesWales Facebook, where you can join and take part in discussions.
Each month, titles will be chosen by popular vote. Titles will become available as eBook or/and eAudio through the Welsh Libraries Borrowbox service, or you can join in with your own print copy.  A Welsh & English title will be available for discussion every month, and a 'half-way' discussion will be prompted, followed by a final discussion at the end of each month.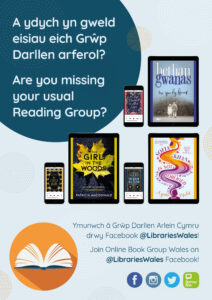 Library Reading Groups
Reading Groups have many positive benefits, from expanding 'reading horizons' to doing wonders for your communication skills, & feeling connected through shared-reading. There are many more benefits, including:
Joining a reading group can help to extend your reading, as you'll be tempted to try different types of books that you might not otherwise have chosen by yourself.
Book clubs can be great ways to 'travel' and appreciate other cultures – not only through the books themselves but also through any members with different backgrounds.
Participating in reading group discussions improves communication skills, listening techniques and appreciating different points of view and different ways of expression.
Book clubs are great social forums and provide many opportunities to meet and befriend new people from all walks of life.
Visit your local library authority website on 'Find My Nearest Library', & find a reading group near you:
Children's Reading Clubs
Reading for pleasure is more important to children's cognitive development than their parents' level of education and is a more powerful factor in life achievement than socio-economic background. Chatterbooks reading clubs help children build a lifelong reading habit. 
Chatterbooks started in 2001 and is now the UK's largest network of children's reading groups. The Reading Agency estimate that almost 9,000 children belong to Chatterbooks groups, which are run in libraries and schools to generate discussion and encourage children to enjoy reading. The groups are run by librarians, teachers, teaching assistants, or volunteers – anyone with a passion for reading. Chatterbooks is a flexible model that can be used with children from 4 up to 12, for all different abilities and in targeted or mixed groups.
For free resources and to sign up to the Chatterbooks network, go to www.chatterbooks.
How to run a Chatterbooks reading club
You need a meeting space, a session plan, and books for the children to borrow. We offer free downloadable activity packs each month, full of ideas to use in Chatterbooks sessions, plus recommended book lists on different themes. Each session should last a minimum of 40 minutes (many Chatterbooks clubs meet for 1 to 1.5 hours). You could follow our suggested session outline. 
There are typically 10 to 15 children in a Chatterbooks club. In a library setting, Chatterbooks reading clubs often meet monthly. In a school setting, the clubs meet weekly or fortnightly.
Tips for your Chatterbooks club
Here are five top tips for when you're starting off your club:
Buy a Chatterbooks group leader's toolkit, or invest in a training day for staff.
Sign upto the Chatterbooks network: get the newsletter, share tips and ideas, find out about new children's books and publisher offers.
If you're a school club contact your local library and School Library Service and plan what you can do together.
Make sure you have a mix of activities available for each meeting (look out for our themed activity packs and publisher promotions.
Ask the children what they want to read and talk about – Chatterbooks is their club!
See Reading Agency website for chatterbox FAQs & how to set up a Chatterbox Club