Plans for all-Wales library card to improve access and save money
September 4, 2015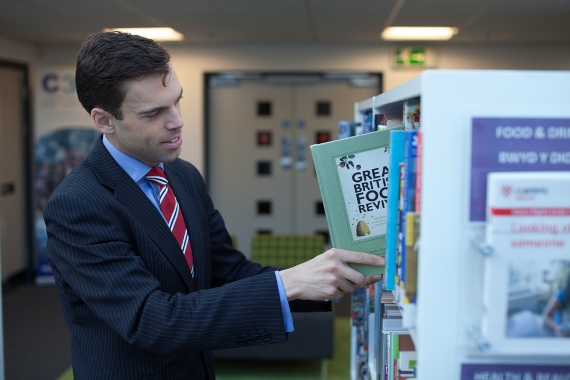 The Welsh Government has announced plans for an all-Wales library card, which would allow users to access library services wherever they are in Wales and could save local authorities up to 70% on current spend.
A single library card across Wales would mean users could borrow and return books in any library across the country. It would also open up access for people to take advantage of free computer use in libraries no matter where in the country they are and create a national e-books and e-zines service with free seamless downloads.
The plan is a step closer today as the Welsh Government awarded a single-supplier framework contract to SirsiDynix, one of the largest library management system vendors in the world, with customers in 70 countries.
Currently library users can only use public library cards within the local authorities they are registered. The system would provide a new and modern approach, which will benefit customers, for example those who work in a different local authority to which they are registered, and widen choice.
The move could also save local authorities up to 70% on current costs, with all local authorities adopting one single system rather than each having individual ones, as is the current practice.
The Deputy Minister for Culture, Sport and Tourism, Ken Skates said:
"We remain committed to supporting libraries to develop, improve and modernise so that, wherever possible, they can become more sustainable and cope with the challenges services across Wales are currently facing.
"I am pleased we've awarded a single-supplier framework and are a step closer to establishing an all-Wales library card, which will not only improve services for current users but also encourage more people to sign-up and use the excellent services available at libraries across Wales."
Local Authorities will gradually adopt the new system, with the six north Wales authorities the first to do so in 2015-16.
The contract has been procured by the National Procurement Service (NPS), a Welsh Government hosted organisation that has been established to generate annual savings across the public sector and deliver value for money and benefits to the Welsh economy.
Finance and Government Business Minister, Jane Hutt said:
"At a time of increasing budget pressures, the National Procurement Service is playing a vital role in generating annual savings on common and repetitive spend across the public sector in Wales. This new contract for a library management system will not only generate 70% savings for local authorities across Wales but will also provide the public with a range of new services to enhance their use of libraries wherever they are in the country."
The Vice President of Sales for Sirsi Dynix, Barbara Pacut, said:
"We share in Welsh Government's vision of a fully integrated, national public library service and understand, through experience, how crucial the technology solution underpinning this service will be. This project is our opportunity to deliver a state of the art, totally integrated, world class experience to the public and library services staff of Wales."
Steve Hardman, Swansea Library Service Manager and member of the Society of Chief Librarians Wales, said:
"The Society of Chief Librarians in Wales has worked closely with colleagues in Welsh Government and NPS to ensure the new system has both financial and customer benefits. Given the current financial climate it is hoped that the savings made can be used to reduce the impact on further reductions within the library sector."