Newborn becomes Llanelli Library's youngest member
October 19, 2015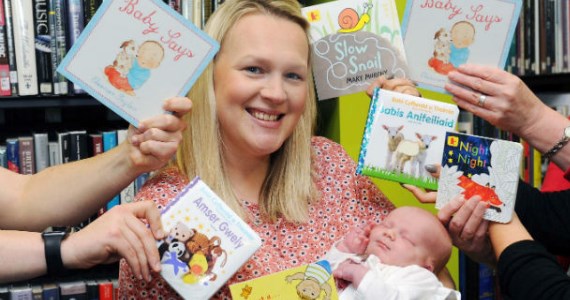 Llanelli Library welcomes its youngest member at just three days old.
Sienna James signed up after visiting with her mum Steffi who is also a member.
Carmarthenshire Libraries have dramatically changed since Steffi was a youngster with more people borrowing different items from DVDs, CDs, newspapers and magazines to visiting online services.  Due to the demand libraries are now changing the amount you can borrow from 10 cds or books to 20 per three-week period.
Sienna's mum Steffi said: "I wanted to join her early as her sister Olivia is a member and she loves attending story-time on Tuesdays at 10.30am.
"We also attend all the activities in the holidays, as well as messy play and language and play. Each of these sessions has helped my daughter to develop, not only her listening and exploring skills, but also taught her about being creative.
"As a working mother, you can't always give that type of attention to your child, but these sessions help to allow Olivia to be an independent young girl.
"She's very confident and loves going to the library. This is something I wanted for Sienna."
The family reads together at home, as well as attending the library's many events.
"At home, our favourite book to read together is We're Going on a Bear Hunt," Steffi said.
"This was a book we received from the library during a story-time session, and Olivia now enjoys reading her version of the book to Sienna.
"I look forward to taking both girls to the library to swap our books and enjoy story-time."
Whether you are an avid reader, enjoy films, love music, or just want to keep up to date with local and world news, libraries can fill your needs as there is something for everyone, from cradle to the grave!
The council's executive board member for leisure, Cllr Meryl Gravell said: "Sienna is believed to have become Carmarthenshire's youngest library member and the service is more than to ready to cater for her, with books which are specially designed with simple shapes for babies setting out on their journey of a lifetime – a love of books and learning!
"It's never too early to start a child on their reading journey, sharing books with your child is one of the nicest activities you can do, it develops so many skills and it all happens very naturally when you read and talk about books with your child."
Look out for the weekly children's Actif storytime sessions  at Ammanford, Carmarthen and Llanellil libraries and the ongoing events at each library, with multi functional room hire available for all occasions from birthday parties, memorials, concerts and meetings. Carmarthen, Llanelli and Ammanford library are open six days a week, and offer an IT Suite together with the reference department to help and assist with family history research.
Cllr Gravell added: "With over half a million books on offer between three regional, 13 branch and mobile libraries you're never too far away from a centre of knowledge. Public access computers and Wi-Fi are available at all libraries."