New online shopping initiative launched by Businessline of Wrexham Library service
April 16, 2015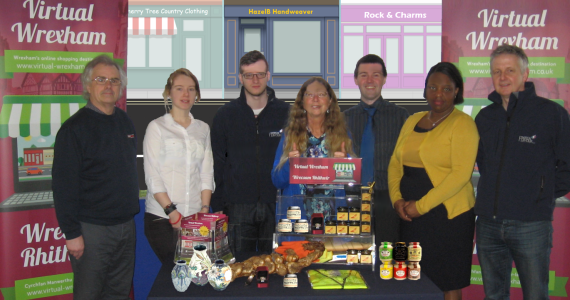 Easter Monday (6th April) marked the official launch of Virtual Wrexham; Wrexham's online shopping destination: www.virtual-wrexham.co.uk
Businessline of Wrexham Library service first began working on the Virtual Wrexham concept in 2014, with the aim of creating a new and convenient ??buy local scheme, to allow local residents along with people living outside of the Wrexham area, to support Wrexham based businesses, from the comfort of their home.
As a largely free business support service Businessline work with both new and established businesses on a daily basis and as a result are ideally situated to appreciate that Wrexham is home to a wide variety of retailers, ranging from skilled arts and crafts makers, fashion designers, health and beauty producers, bakers and much more. Support is provided to individuals that are both planning to or have already taken the brave step to launch their own business, trading via a retail outlet, crafts fairs, outdoor events and exhibitions.
Two of the largest issues new businesses face are; generating sufficient funding to be able to invest into shop premises and effectively raising awareness of their products. As a result the internet is often seen as a cost effective means of launching a business, with online shop platforms such as eBay, Etsy and Folksy often proving popular, as well as many businesses choosing to develop their own ecommerce website.
As the internet is such a competitive marketplace however, it's not always easy for people to discover the unique, home-made and original range of gifts and products which are made or sold in Wrexham.
The Virtual Wrexham initiative essentially provides a virtual high street aimed at supporting, showcasing and raising awareness of the Wrexham based businesses that sell online, to people living both within and outside of the area, with the core aim of the project being to bring money into and keep money within the Wrexham economy.
Whether you're looking for ?homemade, unique products or simply items sold from Wrexham, you'll now be able to find a fantastic selection via the Virtual Wrexham high street and will be supporting great local businesses.
By purchasing from Wrexham based businesses you'll be helping to grow and strengthen the local economy, which could result in the enterprises raising sufficient additional finances to be able to open a physical shop, if they don't already occupy a high street presence in Wrexham, and the creation of new employment opportunities.
Gareth Hatton of Businessline, who developed the concept and will be managing the initiative, said; "Many individuals I've spoken to over the years have been quite passionate about supporting local people that run their own business and as a result we wanted to break down any barriers or restrictions associated with this, such as the normal opening hours of shops and it simply being quite difficult to identify local businesses selling online. As well as showcasing what Wrexham has to offer, we very much hope that Virtual Wrexham will help improve business survival rates; it's a great shame that so many businesses unfortunately close due to people being unaware of the fantastic range of products that are available. Another key aim of the project is to help businesses raise additional finances which they could invest into their own shop, bringing more independent retailers back to the town and creating a more vibrant high street, phase two of the project will assist further in this respect."
Saffy Allen of Be.Loved Handbags added: "I thoroughly believe in supporting local businesses and think the wealth of skills and talents we have in the local area are undervalued and under promoted.  Handbag HQ here in Wrexham is ideally placed for me; all of my suppliers are with an hours drive and the Virtual Wrexham initiative is going to make it so much easier for people, like me, who want to support local producers of unique and gorgeous items for instance.  I can't wait to discover some hidden gems too!"
To keep up-to-date with new shops that are added to the Virtual Wrexham website, details of new products available from the existing participants together with any sales or promotions which may be held, please feel free to follow Virtual Wrexham on:
Facebook:        www.facebook.com/VirtualWrexham
Twitter:           www.twitter.com/VirtualWrexham
For further information please feel free to contact Businessline:
Telephone: 01978 292092      Email: businessline@wrexham.gov.uk