National Rugby Stories competition winners announced at new rugby display
September 18, 2015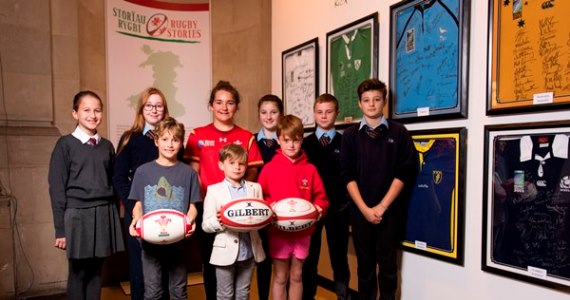 With only days to go until the biggest rugby competition in the world begins, rugby fans visiting Cardiff this autumn will be able to enjoy a special display at National Museum Cardiff as part of the celebrations surrounding the Rugby World Cup.
First Minister for Wales, Carwyn Jones officially launched the Kick-offs and Keep-sakes display at National Museum Cardiff today (16 September 2015) and announced the winners of the national Rugby Stories writing competition for young people.
The display in the Museum's main hall, on show until Sunday 15 November, looks at the story of rugby through Welsh eyes and features memorabilia from the Welsh Rugby Union's archives and stories and images relating to the Rugby World Cup competition. Hosted in partnership with the Welsh Rugby Union (WRU), Welsh Government and People's Collection Wales, Kick offs and Keepsakes promises to be an interesting insight into the unique history of the tournament.
The exhibition features a range of fascinating artefacts, memorabilia and historically significant items which relate to the Rugby World Cup from the WRU's archives. It includes items from rugby balls and framed signed shirts from every tournament, to a section of the Cardiff Arms Park stadium seating and diverse gifts presented by visiting nations to Wales. These objects are displayed next to a map navigating visitors across the globe to nations that participate in the Rugby World Cup and include such objects as a hand-carved whale's tooth from Tonga, a unique totem pole from Canada and a cockerel from France.
A digital rugby exhibition has also been created by People's Collection Wales (PCW). It is hosted on its website www.peoplescollection.wales and on display via an interactive kiosk as part of the Kick Offs and Keepsakes display. There will also be a PCW Digital Heritage Station located at the Museum as part of the events programme which encourages the local community to bring in their rugby memorabilia items for scanning and leaving their own legacy. PCW has already been working with the WRU and Newport Rugby Club digitising items and providing digital training.
Also displayed at the Museum are stories by winners and runners-up of this year's Rugby Stories competition, a national bilingual competition for young people, based on the theme of rugby and linked to a piece of creative writing or digital storytelling. Winners include:
Poetry Winner Rowan Lewis Swansea
2nd place Deio Jones Conwy (Welsh language entry)
3rd place Ianto Roberts Wrexham
Short Story Winner Morgan Parker Rhondda Cynon Taff
2nd place Scarlett Carpenter Rhondda Cynon Taff
3rd place Sophie Featherstone Vale of Glamorgan
Digital Story Winner Joe Orrells Rhondda Cynon Taff
2nd place Caitlin Dop Wrexham
3rd place Shay Fisher Rhondda Cynon Taff
To view the winning entries please visit www.rugbystories.wales
Libraries, archives and museums joined forces with the WRU to host the competition for young people to celebrate the Rugby World Cup.
Over 500 entries were submitted, based on the theme of rugby and linked to a piece of creative writing or digital storytelling. Over 20 events were held in libraries, museums and archives and many children had the opportunity to work with authors, poets and rap artists as well as the chance to meet some local and regional rugby players.
Young people aged between 7-16 years old let their imaginations run wild and entered a poem, short story or film. The entries were judged by a specially selected panel of judges comprising rugby personalities, authors, librarians and media experts.
Attending today's event were some of the judges – author, Dan Anthony and Bardd Plant Cymru, Anni Ll?n. Dan commented:
"Thank you to all the children and judges that have been involved in the competition; it has been a great opportunity for children to share what rugby means to them as well as developing their literacy and digital skills. It was great fun to read and watch the entries and a really difficult job to pick the winners and runners up – well done to everyone who entered."
First Minister Carwyn Jones, said:
"This excellent display only adds to the excitement heading into the Rugby World Cup and highlights the prominent role Wales has played in developing what is now a truly global sport. It's also great to see the success of the Rugby Stories competition – we've got some wonderful young creative minds in Wales and it's fantastic to see them given a platform to showcase their talents.
"Our proud rugby history, coupled with the thousands of rugby tourists set to visit Cardiff this autumn, mean that this exhibition is sure to be very popular. Our ongoing commitment to ensuring that everyone has access to culture and heritage means that this display, as well as entry to all Amgueddfa Cymru – National Museum Wales sites, remains free for all to enjoy and I thoroughly recommend a visit."
Gareth Davies, WRU Group Chairman, added:
"This is a fascinating time for rugby fans throughout the globe and we are privileged to once again be in a position where the eyes of the world will be descending on Cardiff.
"Fans will turn up in their droves, not just for the eight matches hosted at the Millennium Stadium, but to soak up the atmosphere and the rich rugby history of our capital City.
"National Museum Wales have done a tremendous job with this exhibit and we have been only too pleased to raid the WRU archives to supply the treasured and historic items on display.
"This exhibit will surely be a must see part of the Rugby World Cup experience for any visiting fan and we are more than proud to have had a hand in its creation."
Director General of Amgueddfa Cymru – National Museum Wales, David Anderson concluded:
"We are proud to host this display at National Museum Cardiff to coincide with the Rugby World Cup. If you have played rugby, it is forever part of your life, and how you experience the World. Rugby never leaves you.
"It's fantastic to be part of the celebrations, you can already feel the excitement in Cardiff and I hope rugby fans visiting the city take the chance to enjoy this display which traces the unique history of the competition."
Amgueddfa Cymru – National Museum Wales supports an innovative new Welsh Government policy initiative, Fusion: Tackling Poverty through Culture which links cultural bodies more closely together with the Communities First programme to inspire young people and adults. Fusion: Tackling Poverty through Culture is currently being trialled in six 'Pioneer Areas' across Wales. For more information visit http://gov.wales/topics/cultureandsport/tackling-poverty-through-culture/?lang=en
National Museum Cardiff's exhibition and activity programme has been supported by players of the People's Postcode Lottery.
Entry to National Museum Cardiff is free, thanks to the support of the Welsh Government.
Amgueddfa Cymru – National Museum Wales operates seven museums across Wales National Museum Cardiff, St Fagans: National History Museum, National Roman Legion Museum, Caerleon, Big Pit: National Coal Museum, Blaenafon, National Wool Museum, Dre-fach Felindre, National Slate Museum, Llanberis and the National Waterfront Museum, Swansea.