Looking for something FREE for the children to do this summer?
August 11, 2015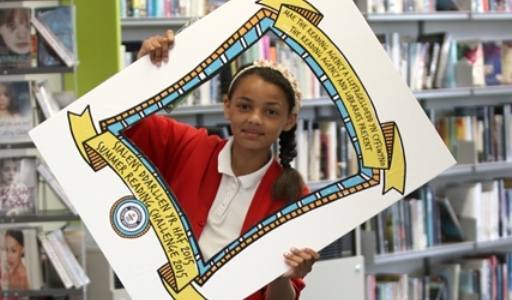 Libraries are running the amazing Summer Reading Challenge – over 23,000 children in Wales have already signed up! Just drop in to your nearest library, borrow some books and collect stickers, rewards and if you go 3 times and read at least six books your child will receive a certificate and a medal.
Organised by The Reading Agency and the public library network, the annual Summer Reading Challenge is aimed at 4- 11 year olds – this year the Summer Reading Challenge has teamed up with Guinness World Records – the global authority in record-breaking achievements and publisher of the annual Guinness World Records™ book – to establish a "Record Breakers" themed challenge.
Collecting stickers as they go, young readers will discover the weird, wonderful and wacky records from around the world in six different categories: Cool Tech, Way to Go!, The Big Stuff, Animal Magic, People Power and Action! Adventure!
Going on holiday? Just take the books with you or download some of the free e-books from you library onto your e-reader or mobile device. On days you can't get to the library, there is still the Record Breakers website, with so much for children to discover and they can keep a record of their Challenge too. Children can also recommend books and decide what to read next using the Book Sorter.
Taking part is FREE and the Summer Reading Challenge is just one of many exciting schemes public libraries offer to help children develop a love of reading, gain confidence and get new skills. Libraries across Wales are putting on lots of exciting events and activities during the summer holidays to keep children occupied and parents stress free!
Call in to your local library or visit welshlibraries.org to find out more.
For more information on the Summer Reading Challenge go to www.readingagency.org.uk/summerreadingchallenge
www.facebook.com/SummerReadingChallengeUK
www.recordbreakers.org.uk
Download the Record Breakers Summer Reading Challenge App from sol.us/records