Looking for a new challenge in 2016… but not quite ready for the zip wire?
January 4, 2016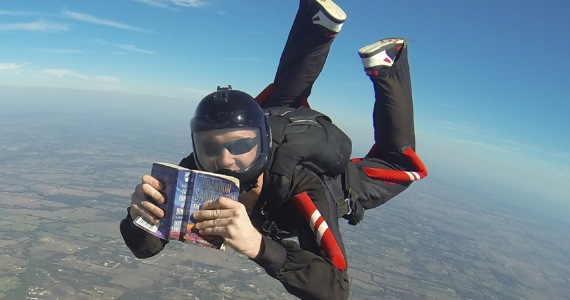 Why not sign up for a year of Reading Daringly with north Wales' libraries.
Each month two of the twenty four specially chosen books, one English language and one Welsh language, will be revealed creating a calendar of captivating reads.
Librarians from across North Wales will choose books that challenge you to read something different.  Whatever your reading tastes there is something here to entertain, challenge and enrich your reading experience – a real adventure in your armchair!
Additionally readers are encouraged to share their experiences and opinions of the books online via Facebook and Twitter or via the eye-catching postcards available from libraries.
The reading challenge has been devised by Estyn Allan a partnership of libraries in North Wales which aims to offer new opportunities for readers to take an active role in their own development and to share reading experiences with others; to develop imaginative projects which increase people's enjoyment of reading and take the pleasure of reading to new audiences and to promote contemporary writing in Welsh and English.
Bethan Hughes, from the Estyn Allan y Gogledd libraries partnership commented: "The idea is that 'a Year of Reading Daringly' would run almost like a reading group without the need to actually attend. People often get stuck in a 'reading rut' reading the same authors or genres and we are encouraging people to challenge themselves and try something new in 2016."
And as 2016 has been designated as the Year of Adventure in Wales this is a chance for people to sign up for lots of new adventures.
For more information visit the Year of Reading Daringly Facebook and Twitter page or pop in to your local library.
https://www.facebook.com/A-Year-of-Reading-Daringly-1506238289671199/?fref=ts
@ReadingDaringly