Libraries & schools across Wales join forces to get kids reading
January 4, 2016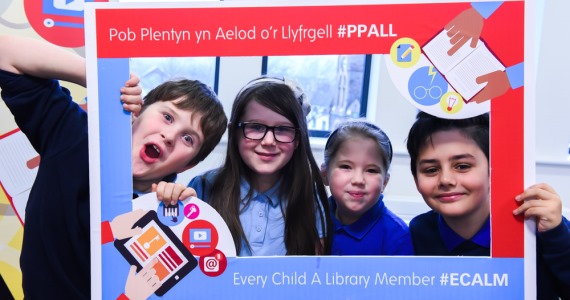 A scheme which sees libraries join forces with their local primary school to make every child a library member is today rolled out to every local authority in Wales.
The Every Child A Library Member initiative aims to improve the reading literacy and communication skills of children across Wales by introducing them to the wealth of material available at the local library – from a range of books, comics, audio-books, computers and magazines – and encourage reading for pleasure.
Initially introduced in six local authorities in March 2014, the scheme provides children aged 8-9 with a free library card and is today rolled out to across Wales.
Research shows that reading for pleasure is critical to later success. Early studies into the effects of the initiative so far found that 94 per cent of children like reading more now that they are using the library, while all the parents surveyed felt their child had benefited from using the library.
To celebrate the landmark all-Wales roll out of the initiative pupils from Hendre Junior School will today [3 December] be joined by authors Mike Church and Mark Brake at a special event in Caerphilly Library.
Welcoming the announcement, the Deputy Minister for Culture, Sport and Tourism, Ken Skates said:
"The link up between schools and libraries is a great way to introduce children to libraries and allow them to discover the wealth of material on offer, particularly for those who may not otherwise have had the opportunity.
"Libraries have all the equipment a child needs to develop their reading, communication and digital skills in a fun and encouraging environment. Here they can make their own choices, discover their own preferences – whether this is a particular genre or author – and importantly be inspired to enjoy reading."
Research conducted by the National Literacy Trust for Save the Children found that when children, particularly the poorest, fall behind in reading by age 11 the impact can last for the rest of their lives, affecting health and employment benefits.
Further studies have found that children who read from a young age are more likely to succeed in their education and career compared to those who rarely read.
Since the Every Child A Library Member scheme began over 625 schools have signed up, with at least 235 of these in Communities First areas. Over 12,700 children were issued with a new library card in 2014-15, resulting in 28,938 books being issued to children with the new cards over just a three month period. With all 22 local authorities now in the scheme over 33,500 pupils in year 4 will be targeted in 2015-16.
The Deputy Minister added:
"I am delighted the scheme has been so well-received and that we are reaching out to children in some of Wales' most deprived areas. Our Fusion: Tackling Poverty through Culture programme aims to get more people in these areas engaging with culture as a way to boost skills, confidence and aspiration. Libraries are supporting this aim, and I am pleased that so far 50 libraries in Communities First areas are taking part by linking with their local school."
Through the scheme children are automatically registered with their own library card, without needing a parent or guardian's signature of approval. The scheme supports the Welsh Government's Education Begins at Home and Make Time to Read campaigns. .