Information Literacy in Schools

Information Literacy in Schools
"Too many digital natives do not apply checks on the information they access: around one in four 12-15 year olds make no checks at all when visiting a new website, and less than one in ten ask who made the site and why" (Bartlett & Miller, 2011, p.5)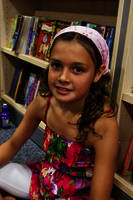 Information Literacy empowers school students to navigate the changing information landscape. 
Curriculum development in Wales emphasises independent and lifelong learning and developing cross-curricular skills for future education and employment. We believe information literacy is the foundation for independent lifelong learning and will support students throughout school, into further and higher education and the workplace. 
This section of the website is dedicated to the advocacy of information literacy in schools. We hope that you will find the resources and research gathered here useful. 
Information Literacy: Key Benefits for Schools
Information literacy:
Supports independent learning
Delivers areas of the Skills Framework for 3 to 19-year-olds
Supports transition between key stages and sectors
Reinforces literacy skills
Empowers students to become digitally included
Is essential for E-safety
Enables students to avoid plagiarism
Promotes the development of citizenship skills 
For further information on these key benefits for schools, please see the Schools Advocacy Resources listed below.
We believe that collaboration between teachers and librarians (in school libraries, school library services and public libraries) can effectively embed information literacy within the school curriculum. For examples of information literacy practice, see Schools Case Studies
"Effective collaboration is needed to ensure that both teachers and professional librarians are aiming towards the same shared vision to equip students with the skills to use information to make decisions and solve problems in school and in all other avenues of life". (Williams, Wavell, 2006, p.55) 
School Advocacy Resources
These resources can be used to promote information literacy to school librarians, school library workers, teachers and students on initial teacher training.
You can also find up to date information and news on IL in Schools with the WILP School IL Champions monthly mailshot and the project Scoopit! page
The following presentation and infographic outlines the benefits of information literacy within schools. 
Information Literacy in Schools
Mapping National Literacy and Numeracy Framework to WILP
Infographic Information Literacy Benefits for schools
The following leaflet outlines the benefits of information literacy within schools.
If you would like printed copies of the leaflet, please contact us.
Information literacy benefits for schools
Llythrennedd gwybodaeth buddion i ysgolion
The following presentation is specifically aimed at promoting information literacy to students on initial teacher training.
Ysgolion cyflwyniad ar gyfer hyfforddiant cychwynnol athrawon
Information literacy for initial teacher training
Useful Resources
Information Literacy
Department for Education and Skills (2012) Review of Qualification for 14-19 year olds in Wales. Cardiff: Welsh Government and our blog post reflecting on implications for the project.
Digital Classroom Task & Finsih Group (2012) Find it Make it Use it Share it – Learning in Digital Wales. Cardiff: Welsh Government
Andrews, Leyton (2012) Learning in a Digital Wales – Written Statement. Cardiff: Welsh Government.
Bartlett, J & Miller, C (2011). Truth, lies and the internet a report into young people's digital fluency . London: Demos Streatfield, D et al. (2011).
Information Literacy in United Kingdom Schools. Journal of Information Literacy. 5(2), pg5-25. 
Barrett, L (2010). Effective School Libraries: Evidence of Impact on Student Achievement. The School Librarian. 58 (3) 
Streatfield, D et al. (2011). Information literacy in United Kingdom schools: evolution, current state and prospects. Journal of Information Literacy, 5 (2), pp.5-25
Education Scotland. (2011). Information and Critical Literacy
Information Literacy Website – Schools
Journal of Information Literacy – International, peer reviewed journal 
School Library Association – Information Literacy Page
School Libraries Group (CILIP)
CoPILOT (Community of Practice for Information Literacy Online Teaching)
Child Safety Online – Guide to Protecting Children Online
The Hwb – All Wales Learning Platform (previously NgFL Cymru).
If you use Twitter, we recommend following hashtags #addcym #infolit  #digilit