How would you like to save £1000 this year?
January 18, 2016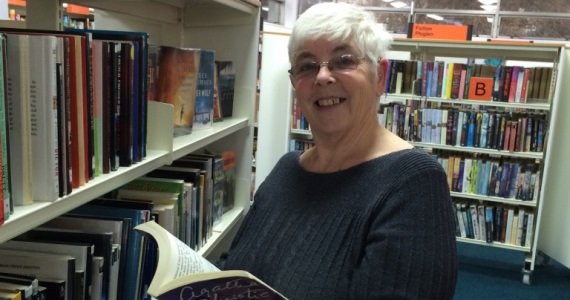 Joining your library and accessing the amazing free services they have on offer could save you hundreds of pounds a year!
Over 83,000 e-books were downloaded for free from Welsh Libraries last year.  There were over 155,000 downloads of e-zines in 2015 saving the people of Wales approximately £310,000.
The people below are all regular library users from across South Wales and are keen to share their stories and encourage more people to join the library:
Mary Neck – Aberdare Library
Mary Neck, aged 67, lives in Aberdare in Rhondda Cynon Taf. She has been a member of the library service for many years, nearly all her life in fact. In 2014 alone she borrowed 61 books – saving £970 – goodness knows how much she has saved over the years!
"As I am a pensioner I could not afford to buy these books through the year. Therefore I appreciate the library and the staff who are very friendly and helpful and it also gives me a chance to meet other people."
Mary has even learnt how to use computers at her local branch and now regularly sends email, shops online, and Skypes her grand-daughter in Kent. All thanks to the support and help of her local library.
"I really enjoyed learning how to use the computer and becoming a silver surfer!  It also means I am now able to chat to my grand-daughter over the internet, its marvellous stuff!"
George Beale – Abergavenny Library
George Beale from Abergavenny uses his library almost every day for a variety of things, especially:
Reading local and national newspapers and magazines
Research using the internet and reference library
Sending and receiving e-mails
Book borrowing
Social Inclusion
George estimates that the national newspapers alone would cost around £780 per annum and the additional local papers bring this up to over £900
He also uses the internet for family history research and other research to use this at home would probably incur a capital cost of at least £250 plus a £10 per month broadband subscription and the annual costs of two ancestry type websites which is about £200 per year.
George is also keen to point out the additional benefits of being in a warm, welcoming environment and meeting lots of different people which are incalculable.
Graham Anderson
"I have been visiting Rhydypennau library for around 6 years with our daughter, Gigi who is now 11 years old. Our trips to the library started with me reading her stories, borrowing numerous books on a weekly basis, listening to story time and generally having a great time. As she grew and started to read, even more books were taken home. I cannot imagine the cost if I would have had to buy these books and it would never have been much fun without going to the library.
"Gigi's brother, Steen, has been a library member ever since he was able. Just like Gigi, we read at the library, took volumes of books home, Julia Donaldson,  picture books, Thomas The Tank, early reading etc. Joined the reading club with Clare and read with the PCSO Joe, this would never have happened without the library. The Summer Challenge, wow reading books AND get stickers!! What a bonus!
"I have saved many hundreds of pounds by using the facilities of the library, buying many withdrawn books for private use and to take to the school library. But the friends made at the library and the fun we have had and are still having is priceless! "
The librarian has worked out that Graham's total savings for events, books and loans in 2014 was probably around £500.
Jeff Parsons
Jeff is a 52 year old maintenance craftsman from Cardiff.
"I can only roughly guess as to how much I've saved over the years, it's easily hundreds of pounds quite likely thousands (over my whole membership period) more than that it's just the scope and diversity that I have access to that has been such a constant.
"I have a passion for music and like to travel, I'm married and have no children I live 10mins from the library so it's ideal for me. I realised a long time ago I've learnt more from the library than I did at school!
"I honestly think the person selecting the music must read the same magazines as me and has a real passion for it too…it's been like a domino effect really, listening to artists that I might not ordinarily have thought about. I attempt to play guitar and piano, again I've borrowed tutorial DVD's to help my understanding of chord structure, inversions etc….
"I borrow from the library virtually every week unless we are on holiday! The service provided and the staff are second to none……..I do appreciate it."
Jeff's local library has worked out that his average saving based on the 149 items (films, books, music) that he borrowed in 2014 is in the region of £1170
Jeff commented: "Well I'm amazed at the amount I've saved, I knew it would be good but to think of that amount in one year! I can't begin to imagine how much I've saved during my entire membership."
Rick Eaglestone
Rick Eaglestone 37, lives in Fairwater and has been a member of the library service since the age of five. "I read over 60 books a year and the library service has saved me a fortune as most of the books I get from the library are new release titles. I also use the library because I find the staff have wonderful local knowledge and I am also a member of the library book club."
If Rick had bought all 60 new release titles that he read last year – this would have cost him at least £1000.
Miranda Millett
Miranda is aged 30 and is a midwife – she lives in Cyncoed with her family.
"My partner and I both work at the University Hospital of Wales and so my mum often cares for our young child whilst we are at work.   My mum and I frequently take my daughter to Rhydypennau Library.   The setting is lovely for children of all ages and is perfect for under-fives who are just finding their feet in the outside world.  There is a huge range of books (with or without CDs), drawing materials, comfy furnishings and of course many other parent-carers and children just browsing or attending the special story sessions.
"My young daughter has greatly benefitted from the friendly & calm atmosphere and avidly collects her stickers and certificates to show her involvement.  This Children's Library provides a perfect start to the world of education for my young child and is a very valuable resource for families and the local community. "'
Miranda and her family have saved hundreds of pounds by borrowing books and other resources, taking part in rhyme times and craft activities but as she says it's not just about how much you save, it's also about how much you gain.
In addition, libraries are free to join – so no upfront costs either!  To find out more please call in to your local library or visit www.welshlibraries.org
Roha Rafiei
Roha is only six years old and loves her library so much that she was driven to write to her local council (see image) in a bid to save it from closure.
During 2014, Roha borrowed 231 books, assuming that the retail price for these books averages out at £5.00 per book, then she has saved over £1100.00!