First-time author scoops Tir na n-Og Award
May 15, 2015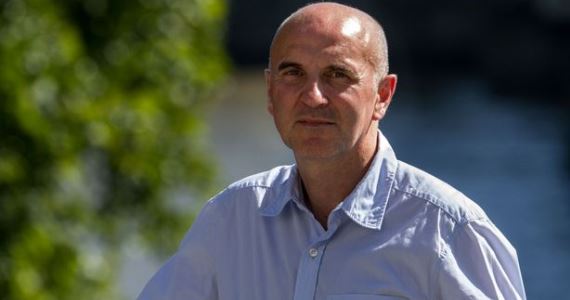 Cardiff-raised author, Giancarlo Gemin, has won the annual Tir na n-Og Award with his début book,  Cowgirl.
The Tir na n-Og Award  – organised by the Welsh Books Council, and sponsored by CILIP Cymru/Wales  – celebrates the best English-language title with an authentic Welsh background. In a prestigious event held at Swansea Central Library on 14 May, the award was presented to Giancarlo Gemin for his book  Cowgirl  (published by Nosy Crow).
Cowgirl  is the funny yet moving story of Gemma. Growing up on the embattled Mawr Estate in south Wales, all Gemma sees are burglaries, sadness and boredom. With a dad in prison and a mum who has given up hope, she's holding out for better times ahead. With the abrupt arrival of Cowgirl, the big angry weirdo girl from school, everything in Gemma's life starts to look different.
The panel of judges agreed that  Cowgirl  skilfully showed aspects of contemporary life in Wales, and is brimming with personality.
Bev Bannon, Chair of the Tir na n-Og English-language Panel, stated of the winner:  "Cowgirl  is a great read and Giancarlo has done a superb job in developing that feel-good factor in the novel."
Giancarlo Gemin, who is currently developing his second novel based on the Italian-run cafes of south Wales, stated,  "I'm delighted to win the Tir na n-Og Award  – it's great to win this important prize for my ?rst book, as it certainly encourages me to keep writing. I was very moved and proud to receive such an acknowledgement from my native country.  Cowgirl  was the first book I decided to set in Wales, and in writing it felt immediately at home."
The Tir na n-Og English Award  – which recognises the exceptional quality of books with a Welsh background for children and young people  – is sponsored by CILIP Cymru/Wales (The Chartered Institute of Library and Information Professionals).
The award-winning titles for the Primary and Secondary Welsh-language categories will be revealed at a ceremony held during the 2015 Caerphilly Urdd Eisteddfod.
Elwyn Jones, Chief Executive of the Welsh Books Council, said:  "A number of exciting books were considered for this year's Tir na n-Og Award, reflecting the quality and range of titles available for children. It is with great pleasure that we warmly congratulate Giancarlo Gemin and Nosy Crow on on their achievement."
YouTube video:  https://youtu.be/00SWtSXnGTo