Deputy Minister pledges commitment to quality library services
February 6, 2015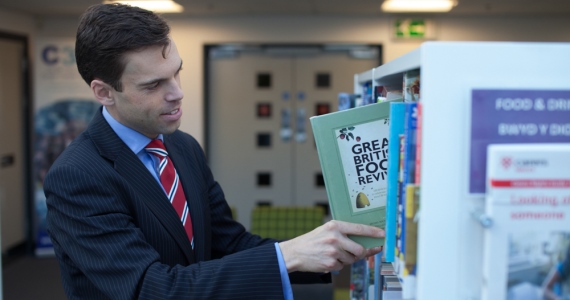 Deputy Minister for Culture, Sport and Tourism, Ken Skates, has pledged his commitment to providing quality community services for library users, despite the challenging times.
Speaking ahead of National Libraries Day (Saturday 7th February), the Deputy Minister said Wales is ahead of the game in modernising and co-locating services to make libraries more sustainable and user-friendly.
In the past year the Welsh Government has committed almost £1.7million to modernise libraries across Wales and develop services.
This includes creating hubs within libraries, offering a range of local authority services and meeting rooms, as well as the traditional library services.
Wales is also leading the way in the UK on the roll-out of e-services on a national level. Free e-magazines are the latest digital resource available and complement the e-books, newspaper and family history services already provided.
The Deputy Minister said:
"I recognise the real difference that libraries make to the lives of people from all areas and backgrounds. In these difficult economic times, it is clear they are more important than ever.
"This is why we remain committed to supporting libraries to develop, improve and modernise so that, wherever possible, they can become more sustainable and cope with the challenges services across Wales are currently facing.
"A recent independent report into libraries in England found that the value of libraries was not being recognised by decision makers there and that more needed to be done to modernise libraries. I'm pleased to say this is not the case in Wales.
"In fact, we already have many of the key recommendations of that report in place, from free Wi-Fi in branches open over 30 hours a week, to our national e-services and  our capital grants programme, which has overseen the modernisation of 98 libraries, investing over £13million into Welsh libraries, creating modern, bright and vibrant places.
"It's no surprise therefore that Wales is bucking the UK trend, with the number of people borrowing from public libraries in Wales up almost 5 per cent in the last 12 months, while the UK as a whole has seen a decrease of 4 per cent."
The Deputy Minister added:
"Libraries are under increasing financial pressure and I recognise that difficult decisions have to be made by local authorities. However, I would urge all local authorities to recognise the value of cultural facilities and services.
"This week I have written to all local authorities reminding them of the recommendations of our Expert Review of Public Libraries that any proposed changes to services should only be progressed following the production of costed options. This includes appropriate timescales, impact assessments and consideration of collaborative working with neighbouring authorities or other delivery partners."
Take a look at a list of all the events taking place in libraries throughout Wales for National Libraries Day 2015 HERE