If you enjoy reading comics and graphic novels you can access over 16,000 titles to download and read, free from your public library service in Wales. The Comics Plus: Library Edition service has titles for all age ranges in a wide range of genres, and also includes popular series such as Peanuts, Angry Birds, My Little Pony, Sonic, Dungeons and Dragons, Star Trek, Doctor Who, Archer & Armstrong, as well as adaptations of classic novels. 
Whether you're interested in action and adventure or vampires and zombies, there's something to suite all tastes including sci-fi, comedy, superheroes, manga, steampunk and fantasy.
You can download as many titles as you like, and each loan lasts seven days. You can view the comics online, or download the comics to your computer, tablet or smartphone. Further details are given on the ComicPlus website. There are also iOS and Android apps available.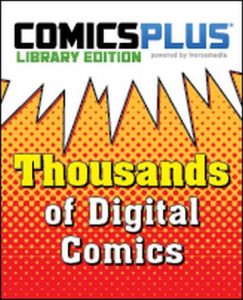 To start using this service you will need:
an Internet connection;
a computer, tablet or smartphone running the Comics Plus: Library Edition app;
an RB digital Gateway account. You can create a new account or log in with the credentials you've created for another RB digital product, such as Zinio for Libraries. The login for the e-magazines in Wales is the same as for the e-comics;
to be a member of a public library service in Wales.
To find out more, go to the ComicPlus website for Wales.
If you are not already a library member, you can join online by following the link to your local library website: