Can you and your children help break a record this Summer?
July 10, 2015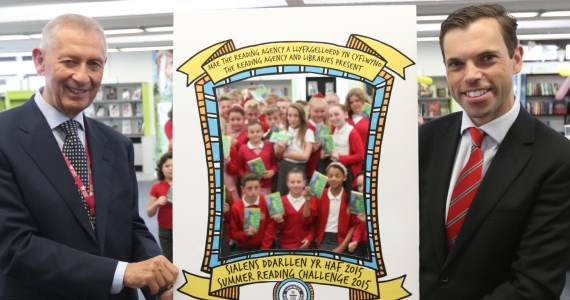 Libraries across Wales are getting ready to encourage young readers to explore some of the astonishing real-life achievements and world records featured in the Guinness World Records Books as part of this year's Summer Reading Challenge.
Launching the challenge at Cefn Mawr Library in Wrexham today, Ken Skates, AM, Deputy Minister for Culture, Sport & Tourism commented: "Reading for pleasure is important to help children develop literacy and wider skills and we should encourage children to read in all forms – from factual books like the Guinness World Records through to fantasy filled fiction, magazines, comics or the classics. I'm delighted to be here today to launch the Summer Reading Challenge in Wales and to pledge my support to the challenge – and especially pleased that the children are attempting to set a new record by reading one of my favourite authors – Roald Dahl!"
Over one hundred children from four local primary schools are attempting to set a Welsh record for the largest number of children reading the same passage aloud from the same book at the same time. They will be reading from The Twits by Roald Dahl.
Councillor Hugh Jones, Lead Member for Communities and Partnerships from Wrexham Council said: "It's a pleasure to see so many children reading together in our community library. Reading is an important life skill and access to the free resources available in libraries is a key driver in addressing the future skills and employability of our children and offers a safe place for them to learn and experience new things."
Organised by The Reading Agency charity and the public library network, the challenge is supported in Wales by the Museums, Archives and Libraries Division of Welsh Government and by the Welsh Books Council. Now in its 17th year, the annual Summer Reading Challenge, aimed at 4- 11 year olds and their families is simple, fun and FREE to do. Children are encouraged to read six or more library books of their choice during the summer holidays with collectable incentives and rewards, plus a certificate, or medal for every child who completes the challenge.
As part of this year's challenge, children, parents, carers, young volunteers, teachers, much-loved children's authors and others will be asked to make a pledge to help set a new Guinness World Records™ title for the Most Pledges Received for a Reading Campaign! Public libraries are collecting pledges across the UK between Friday 10 and Monday 13 July –check with your local library to find out when you can submit your pledge – a minimum of 100,000 pledges are needed to set the record!
Taking part is FREE and the Summer Reading Challenge is just one of many exciting schemes public libraries offer to help children develop a love of reading, gain confidence and get new skills. Libraries across Wales are putting on lots of exciting events and activities during the summer holidays to keep children occupied and parents stress free!
Call in to your local library or visit welshlibraries.org to find out more.
For more information on the Summer Reading Challenge including how to get involved, and resources for schools, go to www.readingagency.org.uk/summerreadingchallenge
www.facebook.com/SummerReadingChallengeUK
www.recordbreakers.org.uk
Download the Record Breakers Summer Reading Challenge App from sol.us/records