Automatic library card for every child in Monmouthshire
March 9, 2015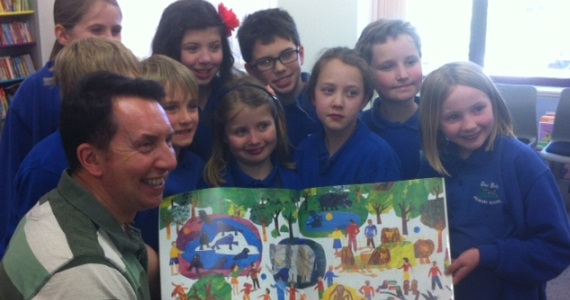 Welsh libraries and primary schools are joining forces to provide every primary school child with a library card – the project started in March this year with six local authorities piloting the initiative and, thanks to Welsh Government funding from the Department of Culture, Sport & Tourism, this has now been rolled out to ten more local authorities (16 in total) targeting another 25,000 children.
Launching the initiative in Monmouthshire today, Dr Rhys Jones – best known for his hit BBC series including 'Rhys to the Rescue' and 'Dr Rhys Jones's Wildlife Patrol' said: "Libraries are such an important resource – they are a great place for children to let their imagination grow and to develop and it is vitally important that we encourage our children to read more not only to improve their literacy levels but also to help them with life skills and future opportunities."
Pupils from across Monmouthshire will be taking part in events in libraries, schools and sports halls.
The library card will allow the children to borrow books straight away and get a great bag to carry their books home with them. Once proof of address is provided, they can then have access to thousands of free books, use the computers and access lots of other resources.
Use your local library to access the amazing range of services including:
FREE fiction, non-fiction, comics, graphic novels and talking books
FREE homework help – online and in the library
FREE e-books and e-magazines
FREE computer use and internet access
Clubs, games, events, activities and classes in the library
Friendly, helpful library staff
Somewhere safe to meet friends
This initiative is targeting year four pupils in sixteen Welsh authorities: Blaenau Gwent, Bridgend, Carmarthenshire, Conwy, Denbighshire, Flintshire, Gwynedd, Merthyr Tydfil, Monmouthshire, Neath Port Talbot, Pembrokeshire, Powys, Rhondda Cynon Taf, Swansea, Torfaen and Wrexham.
This initiative supports the Welsh Government's Education Begins at Home campaign which encourages parents to help their child at home by making time to read which can help their performance in school.
For more information please visit: www.welshlibraries.org/schools